Trump seen in awkward exchange of salutes with North Korean general on state TV
The video showed President Trump saluting a North Korean general.
U.S. President Donald Trump saluted a North Korean general in an awkward moment captured on video and broadcast by North Korean state media Thursday.
The brief interaction was featured in a 42-minute-long program about Tuesday's unprecedented summit between Trump and North Korean leader Kim Jong Un. The program, narrated by North Korea's most famous newscaster, Ri Chun-hee, aired on state-run television two days after the summit in Singapore and a full day after Kim returned home to his country's capital, Pyongyang.
In the video, Trump can be seen going to shake the hand of a North Korean general, who salutes the American president instead. Trump then returns the salute before the two finally shake hands, while Kim looks on as a grin spreads across his face.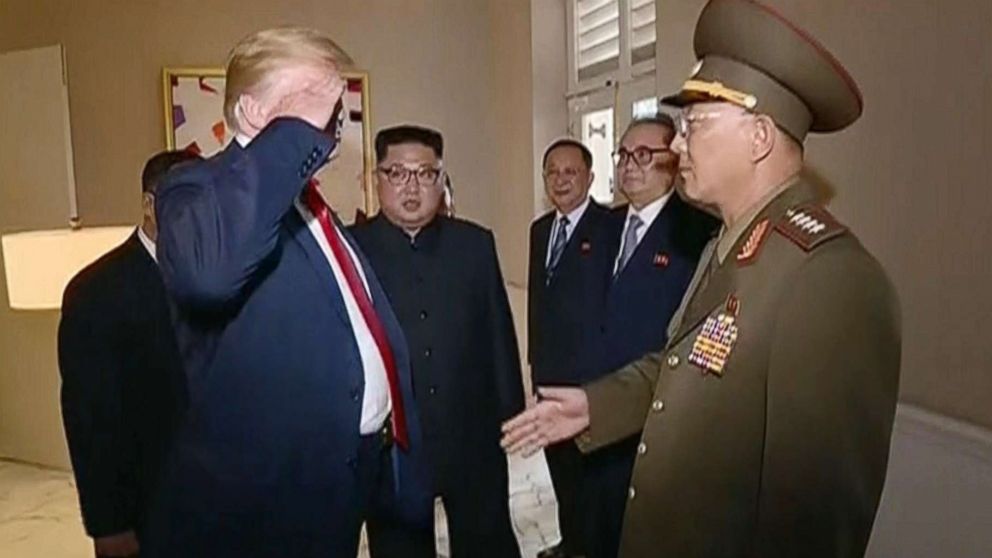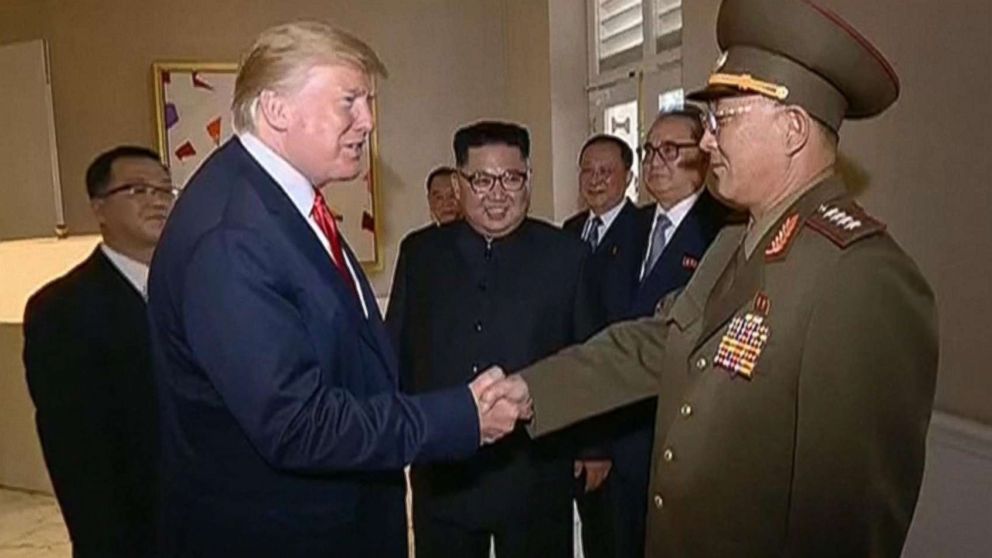 The footage also offered a rare, behind-the-scenes look at Kim's trip, including his arrival in Singapore on a chartered Air China flight and his motorcade driving past what appeared to be a warm welcome from throngs of people crammed on the streets.
In the video, Kim can also be seen lounging in his swanky room at the St. Regis Singapore, one of the most luxurious hotels on the island city-state, and heading out for an evening tour the night before the summit.
North Korean viewers had to wait almost 20 minutes into the program for Trump's first appearance. The video included the lengthy handshake between the two leaders, which took place before their one-on-one meeting at the luxury Capella Hotel on Singapore's Sentosa Island.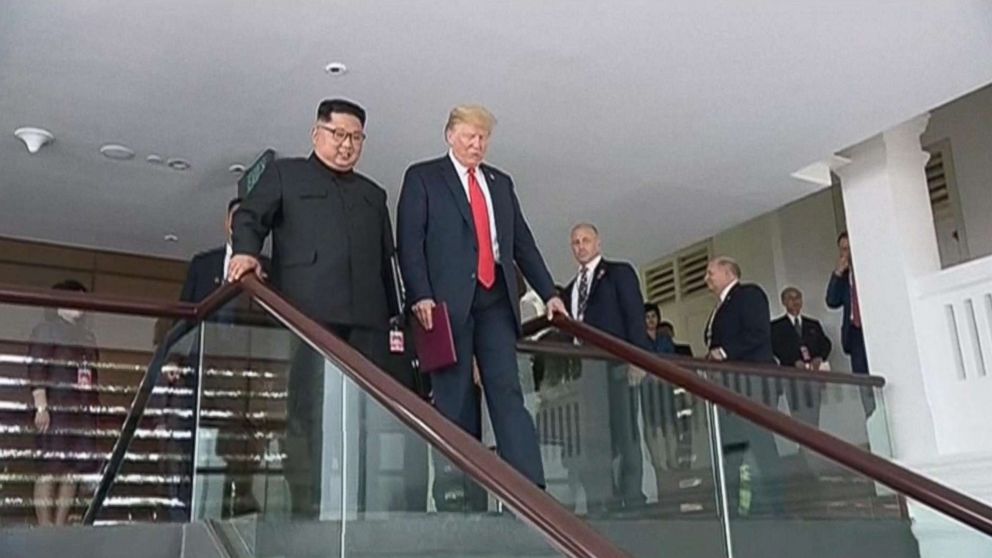 The summit was the first time a sitting U.S. president met face to face with a North Korean leader. On the agenda were North Korea's illicit nuclear weapons program and a potential deal to denuclearize the country.
The North Korean state TV broadcast also showed Trump and Kim after the meeting, signing their joint agreement in which North Korea pledged to take steps to denuclearize, while the United States vowed to end military exercises in South Korea. Both leaders invited each other to visit their respective capitals in the future.
The carefully-crafted program repeatedly showed North Korea's supreme leader smiling and depicted him as polite, confident and completely in control. Kim has ruled with an iron fist since 2011 when he assumed power following his father's death.
All media in North Korea is controlled by the state and so the program's entirely positive view of Kim, the summit, and its results come as no surprise.