BORODYANKA, Kyiv Region -- "When you're cooking, steam comes out of your mouth," Svetalana told us, standing in her bitterly cold, pitch-black kitchen, near where seven months earlier a Russian bomb caused the windows to blow out and her bedroom walls to cave in.
Svetlana is now dealing with another kind of Russian attack, as Putin wages a war on the Ukrainian people's power supply. With temperatures dropping well below freezing in the winter months, Russia has launched waves of missiles and drones at Ukraine's energy infrastructure since October in an attempt to envelop an entire nation in cold and darkness. As a result of these attacks, power outages have become part of daily life for millions of Ukrainians.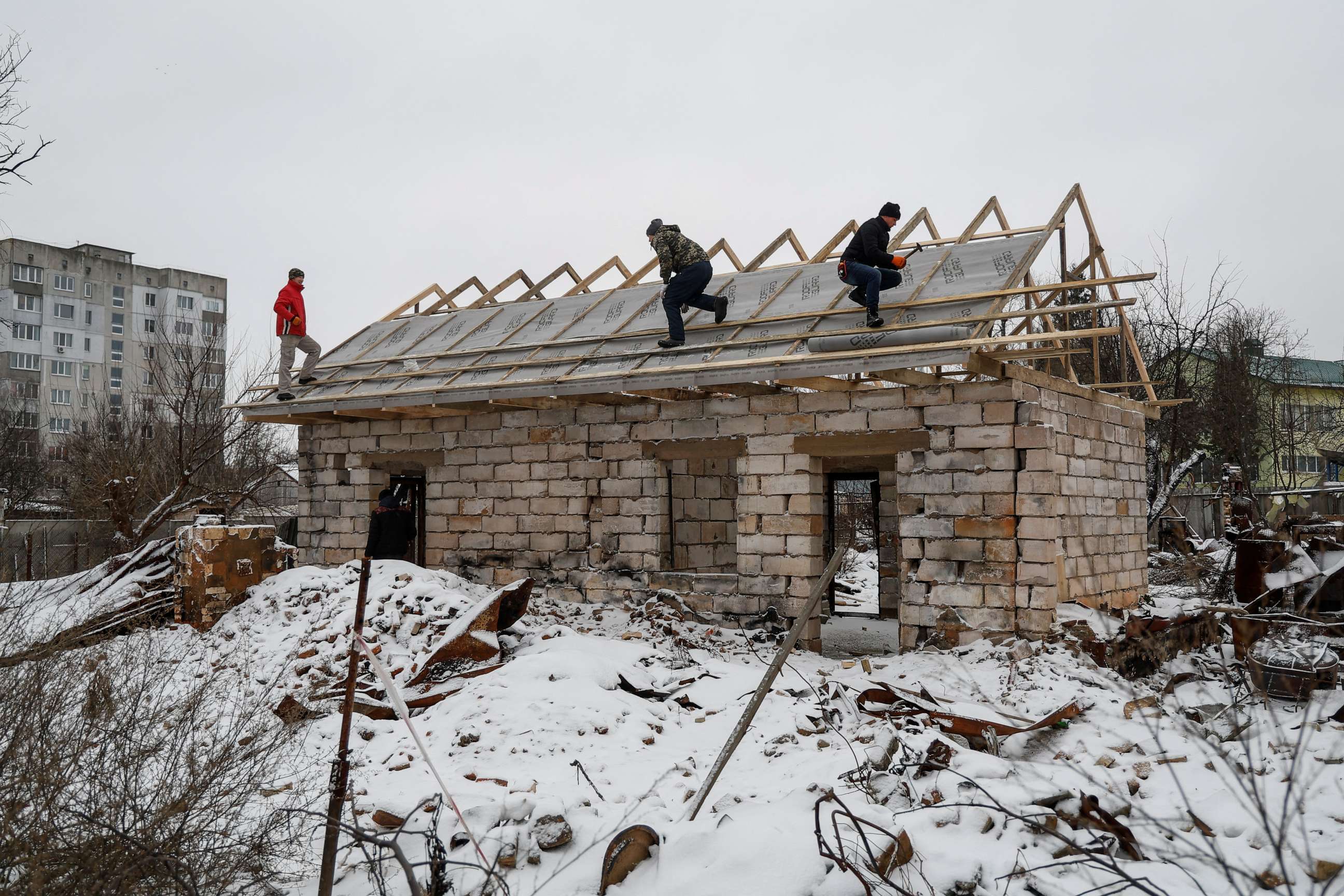 Reaching over the stove to boil the kettle, Svetalana said, "Thankfully it's gas. I made borscht yesterday, I needed to cook because we were told we wouldn't have water for days."
Svetlana gestured to the several buckets of water and a stack of pancakes sitting atop her kitchen counter. Without running water, her family must go outside to use the toilet. Svetlana said that it was so cold at one stage that all the drain pipes broke like Christmas tree ornaments, and are now having to be replaced one by one.
Svetlana, like many Borodyanka residents, is picking up the pieces after coming under heavy bombardment in the early days of the war in the spring of last year. Parts of this rural town, sitting around 30 miles northwest of Kyiv with a population of close to 15,000 before Russia's invasion, were razed to the ground by Russian bombers as Putin's troops tried to close in on the capital.
Most buildings along the main road were impacted, including Svetlana's multistory apartment complex. Entire walls collapsed, windows broke to pieces. But others fared even worse. The block of flats next door was annihilated and dozens were killed, Ukrainian officials said, with some estimates claiming at least 200 perished under the rubble. Months later, a gaping hole in the ground remains where Svetlana's neighbours once lived.
We had met with a teary Svetlana in June in her apartment. The attacks were still fresh and she had only just started to come to terms with what had happened. She showed us a desk in her living room where her 16-year-old son had been sleeping when the bombs hit: "My son was stuttering after the first attacks, I was afraid he would never be able to speak again."
While the stutter has since disappeared, remnants of the destruction continue to haunt Svetlana and her family. Despite attempts to renovate the shattered parts of her apartment, the energy crisis fanned by Russia's onslaught of missiles means Svetlana's rebuilding efforts during the winter months have virtually ground to a halt.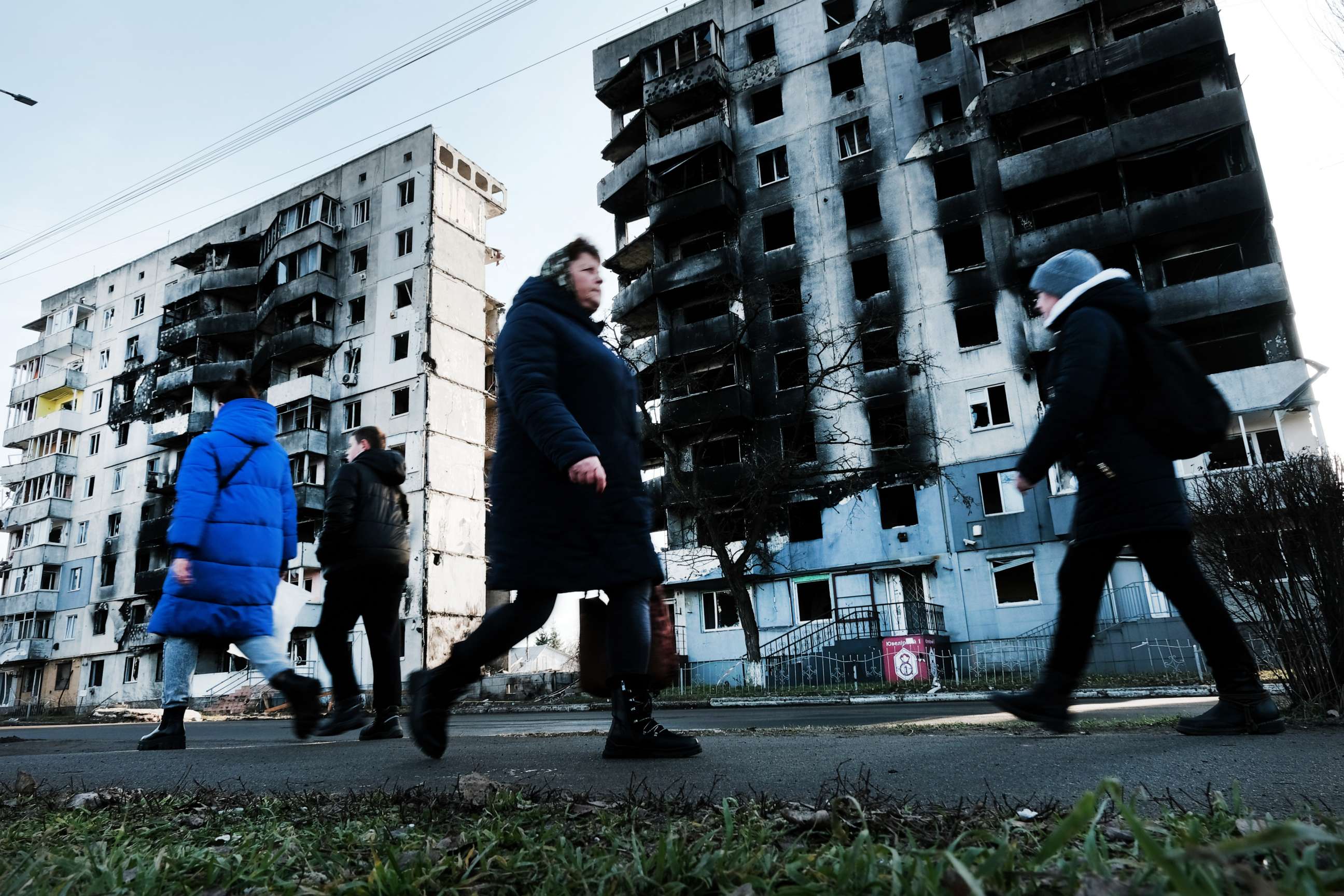 Yet Svetlana still considers herself lucky. As a teacher at a local kindergarten, Svetlana says she's fortunate to have heating during her working hours.
Svetlana admits she would have moved out by now, "My son and husband refuse to leave, so we're all staying."
ABC News' Tatiana Rymarenko contributed to this report.