— -- A New York woman arrested on terror charges was big news in the chat rooms of the online pro-jihad community, where female ISIS sympathizers warned each other to sever their own ties with the suspect, as evidenced by this exchange of messages obtained by ABC News:
"Hey did you hear sis got picked up by the kufar [unbelievers]," one message says.
"Which sis?" another responds.
"Sis Amtu Shaheed," the first says.
"Subhanallah [Praise God] not her," a third person says.
"Uh huh delete her from you[r] phone," the first says.
The message are referring to Noelle "Amtu Shahid," also known as Noelle Valentzas, an accused ISIS and al Qaeda sympathizer and Brooklyn mother arrested last week, along with another New York woman, for allegedly conspiring to carry out a terror attack in New York City.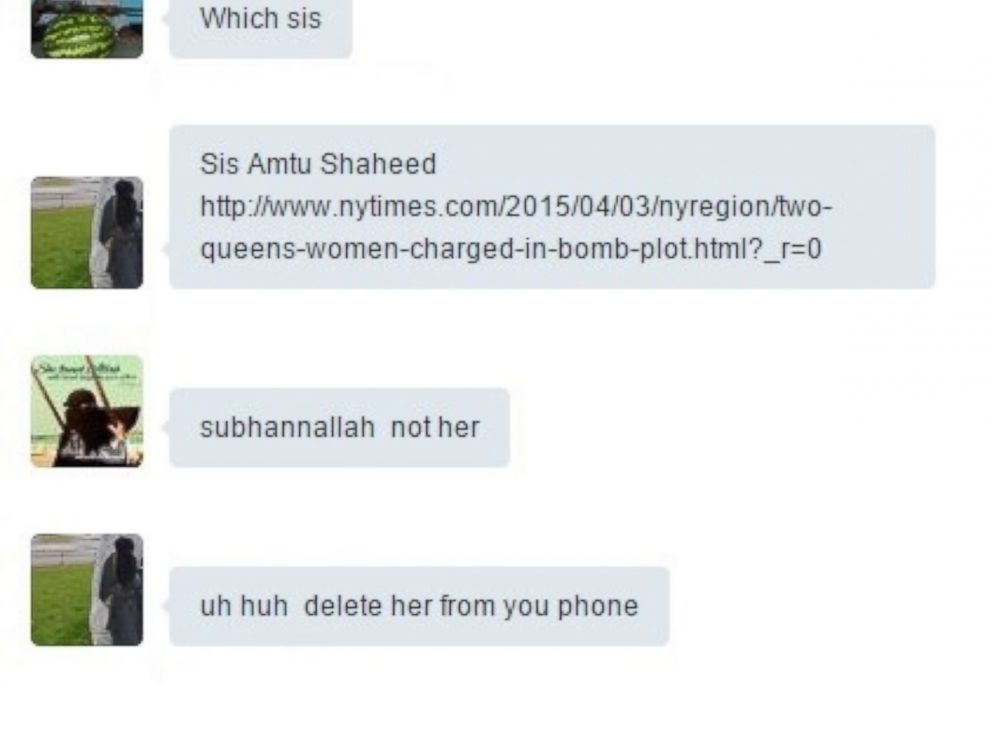 Jessica Stern, former White House National Security Council staffer and co-author of "ISIS: The State of Terror", told ABC News the messages offer a glimpse into underground, online communities sympathetic to extremists – the same communities used to recruit for terror groups like al Qaeda and ISIS.
"It often starts out on Twitter and once it's clear someone is a potential recruit, it goes on to more private communication channels," Stern said. "Women recruiting women… Unfortunately it appears to be quite effective."
Mia Bloom, professor at the Center for Terrorism and Security Studies at UMass Lowell, said some of the networks can be found on well-known social media channels, while others are on the dark web, or use password-protected communications.
"Not only are they communicating online, but they're using about 15 different social media platforms," Bloom said. "It's very difficult to monitor these communications."
According to court documents, Velentzas and Siddiqui spent months researching bomb components and chemicals involved in explosives, a criminal complaint says, but they were unaware that a would-be third accomplice was really an undercover agent.
Though she described herself as a "peaceful person" who later said she would not want to hurt anyone, Velentzas once told the undercover agent, "I like to know how to defend myself, because I feel that the people that control things are very f****d up," according to the complaint. Velentzas allegedly considered targeting a police funeral, and once said people should refer to her as a citizen of the Islamic State, meaning ISIS.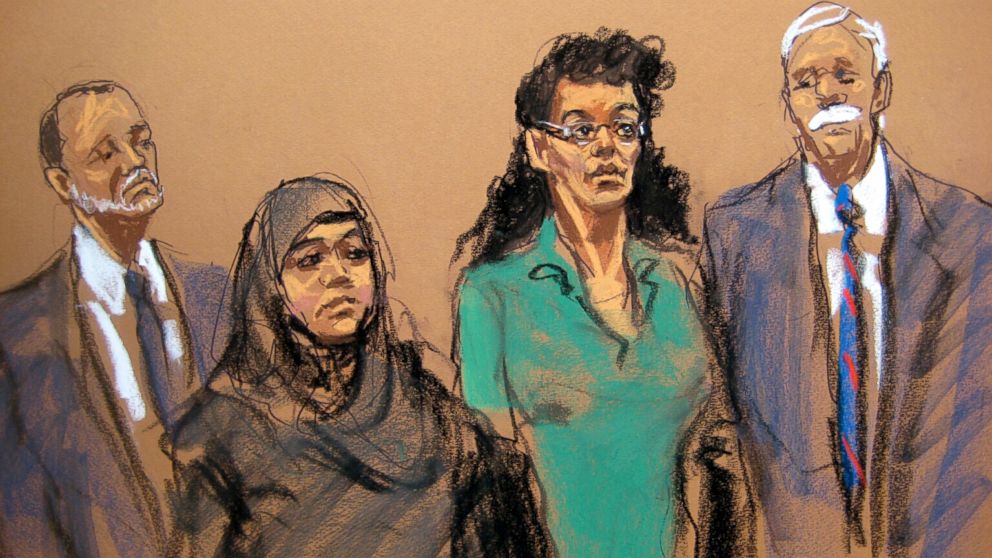 The complaint also detailed the duo's alleged terror connections online. Siddiqui claimed she had known American al Qaeda member Samir Khan, who was the editor of the al Qaeda magazine Inspire before he was killed by drone strike in September 2011, and Velentzas said she was Facebook friends with Tairod Pugh, a former Air Force serviceman arrested last month on terror charges.
Velentzas and Siddiqui were arrested last week after the agent was led to believe that Siddiqui, who had obtained propane tanks, may attempt to execute an attack without telling the undercover agent first. They are just the latest in a string of young women who have been arrested in the U.S. and abroad on suspicion of terrorist activity, including a Philadelphia woman arrested last week for allegedly attempting to join ISIS.
Velentzas' husband told NY1 the mother of two was set up by the female undercover agent.
A far cry from the committed terrorist that the FBI describes, Velentzas appears mild mannered in a video filmed in 2013 and posted online last year, discussing her years living homeless in New York and the Muslim charity that she said made her feel "human" again.
In the video, Velentzas described converting to Islam at age 17, after years of observing the "peace" Muslim students in her school appeared to experience. Her father, she said, died of AIDS when she was a child, after which her best friend abandoned her.
Velentzas said after her teenage conversion, her mother became ill and couldn't work as much, forcing both of them out of their apartment. Velentzas was able to find a place for her mother, but was forced herself to live in her car for what she indicated was three years.
Then, after meeting another Muslim woman in the community, she was led to ICNA Relief, a Muslim organization that aims to provides disaster relief, family support services, health clinics, women's shelters and temporary housing.
Velentzas said she stayed with ICNA for "nine months to a year" and praised the group for making her feel like a "human being again," like when she was shown her new room.
"For the first time in three years, I saw my bed," she says in the video. "To actually see a bed that's mine, with clean sheets that are mine, is a beautiful thing. It changed my life a lot because I needed that."
A representative for the Pakistani program, TVOne, did not say exactly when the interview was conducted in 2013, but federal officials said by May 2013 Velentzas and Siddiqui had already begun down a path that could have led to a terrorist attack on U.S. soil.