The Oscar Pistorius trial has become a worldwide blockbuster, but the fate of the Blade Runner paralympian is in the control of one judge who will pronounce the athlete innocent or guilty of murder in his girlfriend's shooting death.
Interested in
?
Add as an interest to stay up to date on the latest news, video, and analysis from ABC News.
In South Africa, jury trials were abolished in 1969 -- during the white minority rule known as apartheid -- as there were fears of racial prejudice by jurors.
Here's a look at how the trial is expected to progress and what Judge Thokozile Masipa will have to weigh as she makes her decision.
Read More: Key Questions in Oscar Pistorius' Murder Trial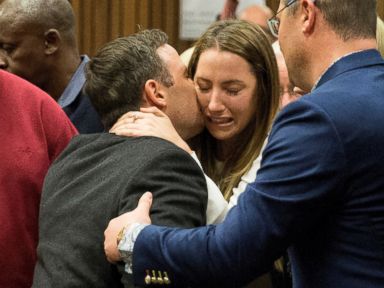 Meet the Judge
Judge Thokozile Masipa will be helped by two assessors, who will likely be legal experts, as she decides her verdict.
The assessors were appointed by the judge but have not yet been named, according to the Associated Press.
Masipa, who used to work as a newspaper crime reporter before turning to law in 1990, was the second black woman to be appointed a judge in the country.
The judge, 66, has a reputation for being tough but fair.
Last year, Masipa sentenced a serial robber and rapist to 252 years in prison, according to the Telegraph.
In 2009, she handed down a life sentence to a policeman who was convicted of killing his ex-wife during an argument over their divorce settlement.
The Charges
The prosecution is trying to prove that Pistorius, 27, intended to kill Steenkamp when he fired four shots through a locked bathroom door -- fatally wounding the 29-year-old model, lawyer and reality TV star.
Apart from the murder charge, he's also accused of illegal possession of ammunition and two counts of discharging a firearm in public. The additional firearms related charges, two of which were only added late last year, are not related to the Steenkamp shooting. One refers to an accidental firing in a restaurant and the other alleging Pristorius fired a gun through the sunroof of a girlfriend's car. Those charges will form part of the state's tactics to prove that Pistorius was a gun-toting hothead with a violent temper.
Judge May Consider Reduced Charge
Aside from finding him guilty or innocent of premeditated murder, the judge may also be able to consider a lesser charge of culpable homicide, which is basically the equivalent of manslaughter.
Decision Time
After closing arguments, the court will adjourned until a later date when Masipa will hand down the verdict. Her judgment will contain a summary of all the evidence. She might also comment on the credibility of witnesses.
If Pistorius is found guilty, he will be led down to the holding cells. His legal team will then bring an application for his bail to be extended as he awaits sentencing.
The Sentencing Process
When sentencing proceedings start, the state will call witnesses to testify in support of aggravation of a sentence while the defense will call witnesses to testify in support of mitigation of sentence. After witnesses are called on both sides, the state and defense will deliver closing arguments.
What's At Stake For Pistorius
If Pistorius is convicted of murder, he faces a mandatory life sentence, which in practice boils down to 25 years behind bars. South Africa does not have the death penalty.
A culpable homicide charge could send Pistorius to prison for up to 15 years, although a non-custodial sentence could also be imposed.
The Appeals Process
The appeals process to South Africa's Supreme Court of Appeal would likely take years.
"Unlike in the U.S., the appellate court in South Africa has a bit more latitude to review the facts," ABC News' chief legal affairs anchor Dan Abrams said. "In South Africa you have a judge trial. Here in the U.S., appellate courts try not to review the facts based on a jury finding. Generally they don't want to overturn a jury, they want to review the legal decisions made by a judge. Because it [the verdict] was made by a judge, there is more latitude."
If he's not guilty, the legal drama could still drag on for Pistorius, who could also face a civil lawsuit from Steenkamp's family.