JERUSALEM -- A battle is brewing over illegal immigration, but this one doesn't involve building a new wall.
Unlike the controversy in the United States over President Trump's proposed wall along the Mexican border, this immigration debate is taking place 6,700 miles away in Israel.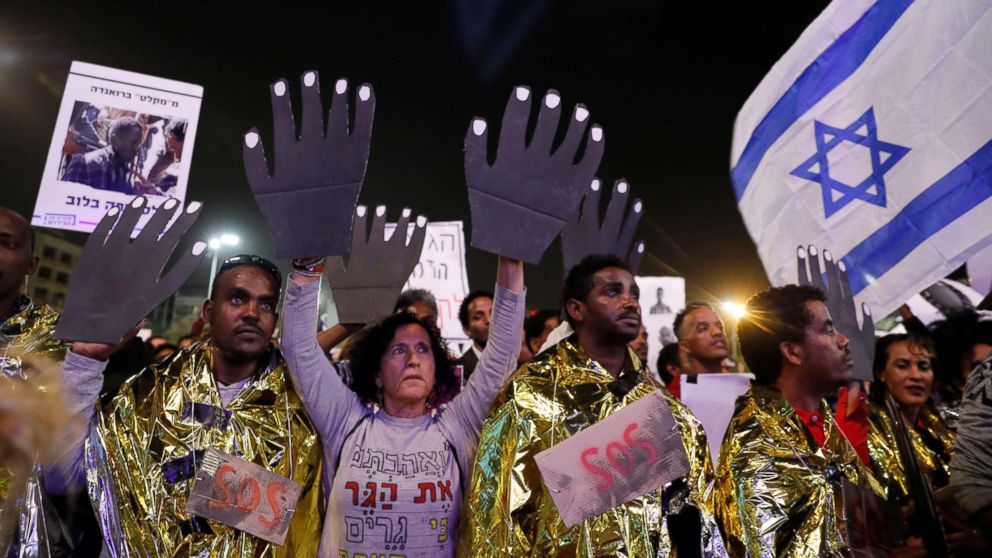 Thousands of Israelis have taken to the streets of Tel Aviv to protest a new deportation initiative by Benjamin Netanyahu, which calls for the deportation of 20,000 African Eritrean and Sudanese asylum seekers -- whom the prime minister has called "infiltrators" and illegal economic migrants.
The vast majority of them crossed illegally into Israel between 2006 and 2014.
The movement against the deportations has drawn a vocal minority, including Israelis who have compared what the Africans are facing to the plight of the Jews during the Holocaust.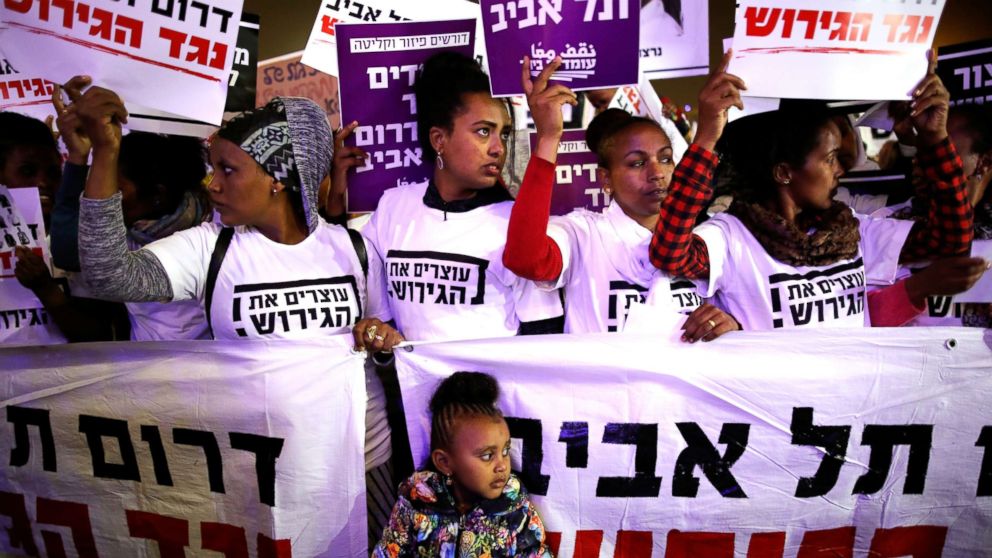 Among the protesters -- who were chanting, "We demand justice!" -- was activist Avigail Harel, the granddaughter of a Holocaust survivor.
We do not want to send refugees to African countries, back to slaughter, back to hell.
"My grandmother is a survivor of Nazism, of [a] totalitarian regime," Harel said. "We do not want to send refugees to African countries, back to slaughter, back to hell."
The deportation plan calls for the removal of single male African asylum seekers who have illegally crossed into Israel from Egypt's Sinai desert. They have a choice: take $3,500 and a plane ticket and leave voluntarily, or face jail and forced deportation.
The policy was supposed to take effect Sunday, but Israel's High Court froze the plan until April 9 after asylum seekers filed a petition, questioning its legality.
Much of the controversy surrounds the plan to deport the asylum seekers to Rwanda and Uganda.
"If they give me $8,000, $100,000, I will not go to Rwanda or Uganda," said Worede Ghirmay, a 37-year-old asylum seeker, during a protest in February. "I will not go."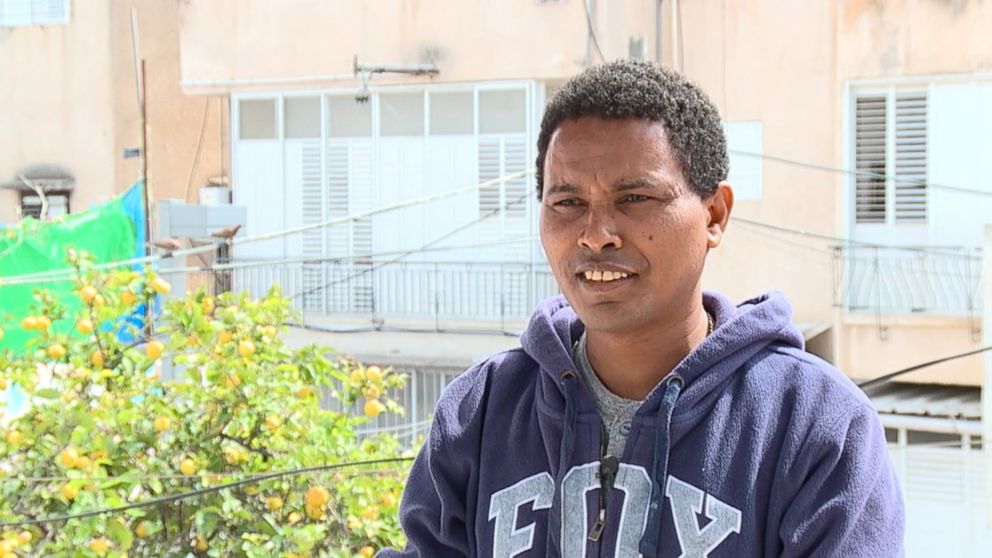 Ghirmay adds that he doesn't believe it's safe in those countries.
"It's better for me to stay in prison until they decide," he said.
Days after the rally, from his apartment in South Tel Aviv, Ghirmay told ABC News that he fled Eritrea in 2011 to avoid being conscripted into the army, which according to the United Nations can last decades and often includes torture.
Ghirmay says he had planned to go to Europe through Libya, but was kidnapped in Sudan, smuggled into Egypt's Sinai desert and tortured. ABC News could not independently confirm Ghirmay's account.
Ultimately, Ghirmay's journey landed him in an Israeli deportation center in July 2011, and then into South Tel Aviv, where most of 38,000 Africans in a similar situation live. He has since married a fellow asylum seeker, with whom he had two children: Israel, 3, and Yosef, 2.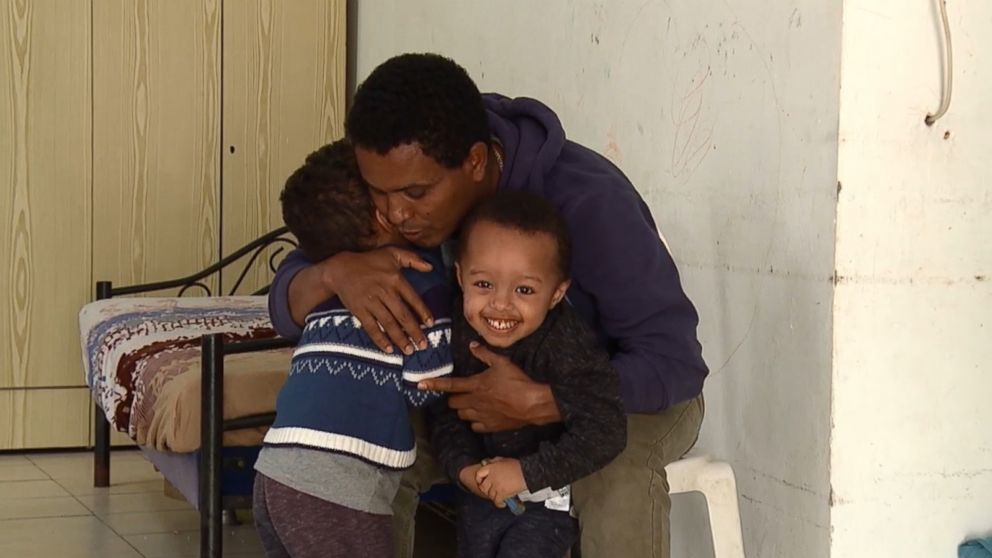 Ghirmay's marriage status protects him, but he fears it's just a matter of time before he faces deportation, too. His chances of getting political asylum are slim: out of 7,000 seekers, Israel has only given refugee status to 11 Africans.
I'm afraid of this. I'm a man with nowhere to go.
"Tomorrow it will be for me," he says. "100 percent, I'm afraid of this. I'm a man with nowhere to go."
Ghirmay is particularly concerned about the safety and health of Israel and Yosef if the family is deported to Rwanda or Uganda. There have been reports saying some Africans who have agreed to be deported have been robbed, assaulted, had their passports stolen and have been thrown out of temporary housing.
He is angry that his children have no legal status.
"My kids are born here -- Israel and Yosef," Ghirmay said. "By law, if a kid is born in the country, they have to have the residence of the country. But my kids don't."
The deportation plan is not without its supporters, however. In fact, according to a poll by the Israeli Democracy Institute, 66 percent of Israelis support deportation.
And Education Minister Naftali Bennett recently tweeted, "The government must not fold in the face of the campaign to keep the illegal job infiltrators in Israel. Otherwise we will become the employment office for the world."
For those who support the policy, they believe Africans are contributing to an increase in crime and drugs, and threaten the Jewish character of the state. One Israeli, who attended a rally in support of the deportation plan in February, said he wants Israel to follow the United States' lead.
They are staying here illegally and we don't want them here.
"They are staying here illegally and we don't want them here," said Moti Cohen, referring to the African asylum seekers. "Like the United States, like Trump and I really appreciate it. He wants to build a wall between Mexico and the U.S., so illegal people can't come to the States. The same here."
A major theme of then-candidate Donald Trump during the 2016 presidential election was to build a wall along the southern border of the United States and have Mexico pay for it. Now, President Trump still wants the border wall, but has proposed other payment methods, including having the U.S. military foot the $25 billion bill.
Netanyahu, meanwhile, built an electric fence along the 150-mile Israeli-Egyptian border in 2014, which significantly drove down immigration.
Still, Israel's deportation plan has drawn the ire of the United Nations, Amnesty International and various non-governmental organizations. They say deporting asylum seekers to Rwanda and Uganda violates international law because it will endanger them.
"It is a cruel government policy," said Dror Sadot, the spokeswoman for Hotline for Refugees and Migrants, which organized rallies in Tel Aviv in February and March.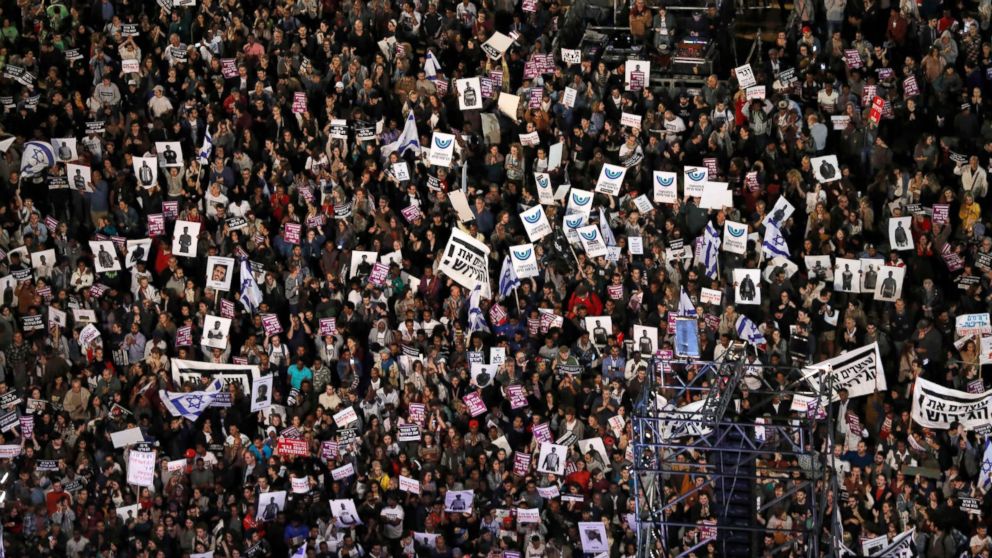 She is holding out hope that the rallies, which drew tens of thousands of supporters for the asylum seekers, will help reverse the policy.
"If the government sees the huge support of the public," Sadot said, "the deportation can be stopped."