Twelve people were killed early Friday morning when a commercial airplane carrying 98 passengers crashed just seconds after takeoff from Almaty International Airport in Kazakhstan, according to officials.
The Kazhak Health Ministry confirmed that eight others still remained in critical condition Friday.
Kazakhstan officials said 40 ambulance teams went to the accident scene to provide medical care.
"A total of 67 people have been injured," Kazakhstan's Deputy Health Minister Kamalzhan Nadyrov said in a press briefing on Friday. "Of those, 47 have been hospitalized, eight are in critical condition and 38 in moderately serious condition."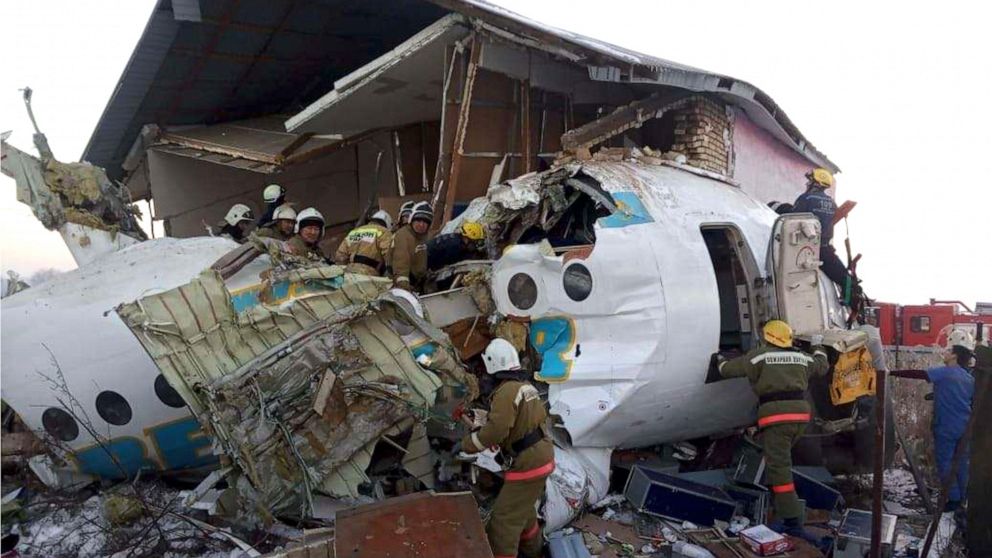 The flight was operated by Bek Air -- a low cost regional carrier in Kazakhstan. It was en route from Almaty, Kazakhstan's largest city, to the country's capital of Nur-sultan, according to the registered flight path.
Data from FlightRadar 24 shows the plane took off at 7:21 a.m. and lost altitude seconds after takeoff. It then struck a concrete fence and collided with a two-story building, according to Kazakhstan officials.
FlightRadar24 data puts the crash site only 3.1 miles away from the airport.
Photos of the jet after the crash appeared to show that both the front end of the plane and tail section had separated from the fuselage during impact. No fire was reported as a result of the crash.
The involved aircraft was a Fokker 100 -- a regional twin-turbofan jet designed by the Dutch company Fokker, which has since gone bankrupt. The Aviation Safety Network lists 39 accidents involving Fokker 100 planes.
The plane involved was 23 years old, according to Kazakhstan officials, and was last deemed airworthy in May 2019.
Bek Air has 10 Fokker 100s in its fleet and Friday's crash marks the airline's first fatal accident.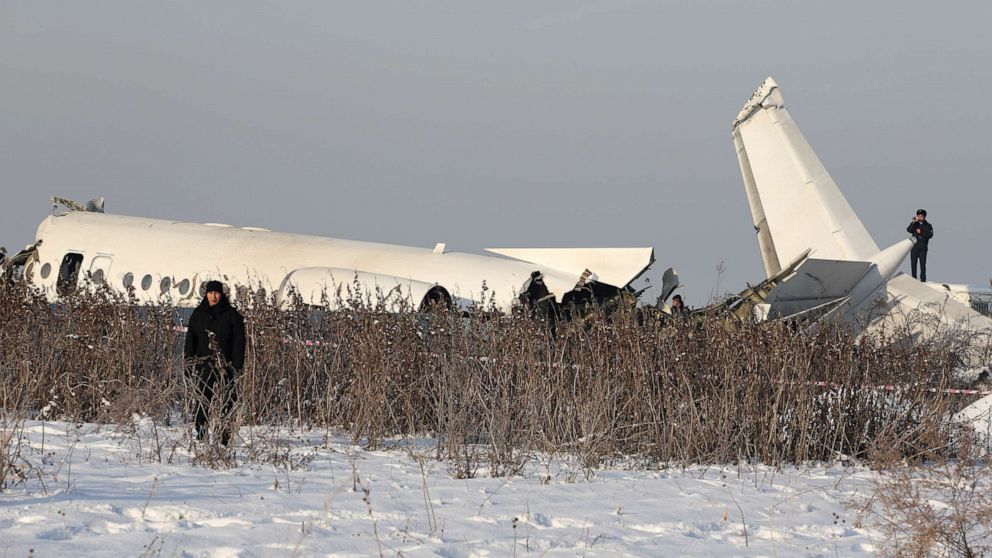 The Aviation Safety Network listed Bek Air as being banned by the European Union from April 2009 through December 2016.
The Kazakh Aviation Administration has temporarily suspended all Bek Air airline operations as a result of the crash.
A government commission has been established to investigate the crash.
The President of Khazakstan tweeted Friday that he held a meeting in which financial assistance to the families of the victims was discussed as well as checks of all the airlines and airports in the country.
The commission intends to release a report on the outcome of the investigation by Jan. 10, according to the tweet.
It's unclear at this time if any other countries will step in to assist in the investigation.
Kazakhstan declared a national day of mourning on Saturday for the victims of the crash.
ABC News' Tomek Rolski, Rachel Katz, Amanda Maile, Matthew Vann, Jeffrey Cook and Alex Faul contributed to this report.