Suspect claims Swedish journalist died when she was hit by submarine hatch cover
Peter Madsen, 46, made his first appearance in a Copenhagen court on Tuesday.
September 5, 2017, 5:29 PM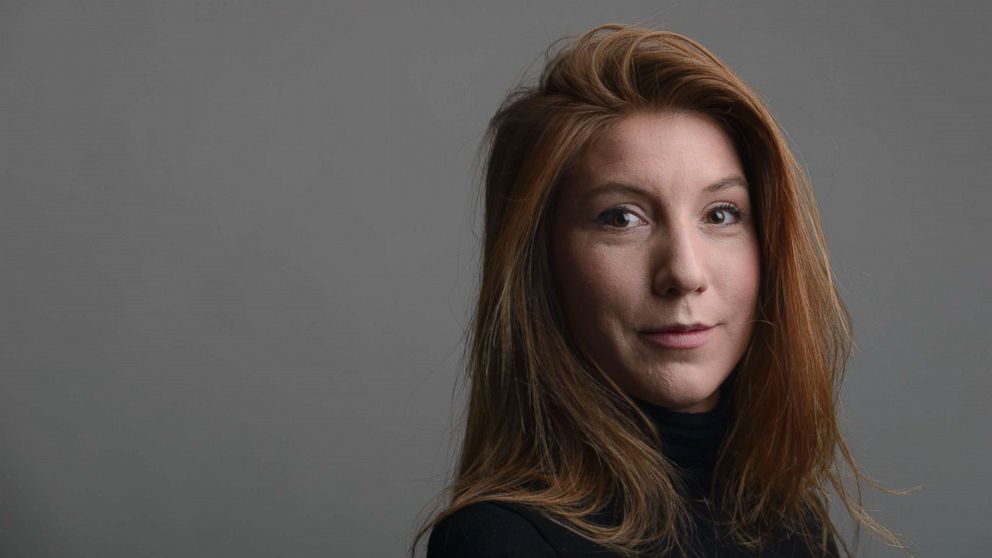 — -- The Danish inventor accused in the death of Swedish journalist Kim Wall says that she died aboard his submarine after she was accidentally hit in the head by a 155-pound hatch, prosecutors revealed in court today.
Peter Madsen, 46, is being held on charges of manslaughter and indecent handling of a corpse, The Associated Press reported. On Tuesday he made his first public appearance in a Copenhagen court, where prosecutors read the explanation he gave during a closed court hearing on Aug. 12.
During the hearing he said that while in his submarine's tower on Aug. 10, he slipped and lost grip of the heavy lid to the vessel, according to Danish media reports. Wall, 30, was on her way up to the tower and was hit in the head with the cover, he said.
Madsen said that Wall sustained an open skull fracture and was bleeding from the head, according to Danish media. She also had cramps, but they stopped after about 20 seconds, he told the court. After 20 seconds, she had no pulse and was dead, he said.

After she died, he said, he wanted to kill himself. But he didn't want the submarine to become her grave, he said, which was why he decided to throw her into the sea. First he decided to rest for two hours to think things through, he said, according to Danish media. At some point he changed his mind about killing himself, because he wanted to see his wife and cats first, he said.
"I just wanted to have five minutes to say goodbye," he said.


Madsen at first changed stories regarding what happened to Wall. On Aug. 11, he denied to police that he killed her, saying instead that he dropped her off on land at the tip of Refshale Island in Copenhagen. That day, he was arrested and charged with reasoned suspicion of negligent manslaughter, and he admitted to police that Wall died as a result of an accident, and that he'd buried her at sea.

When asked in court why he didn't tell police about Wall's death right away, he said he thought he'd be able to go home to his wife first, Danish media reported. He said he realized that he needed to give the real explanation after he was locked up, so during a court appearance on Aug. 12 he said that she died on the submarine.
Madsen says that he is guilty of indecent handling of a corpse, but not of killing Wall. In court, he said he tied a type of homemade lead weight around Wall's body and threw her in the sea, Danish media reported.

Wall, a freelance reporter, was last seen on Aug. 10, when she was to embark on a brief ride aboard Madsen's submarine that evening for a story about the inventor.
The submarine sank "suddenly' the next morning, police said, and added that it was intentionally sunk. Madsen was then rescued on a private motorboat.
On Aug. 21, a cyclist found a woman's torso in the same area where Wall went missing. Two days later, police confirmed that the torso belonged to Wall.
Wall's head, legs and arms have not been found and were deliberately cut off, police said.
Madsen said in court that he didn't know anything about the dismemberment of Wall's body parts, according to Danish media. In court today, prosecutors showed Madsen that Wall's head, arms and legs were cut off on purpose, and asked him who else would have cut off the body parts, Danish media reported.
A prosecutor then asked Madsen if he had a saw aboard the submarine. Madsen replied that he owned a type of saw used to cut wood, but said it wasn't in the submarine when he was with Wall, and that as far as he knows it's still in his workshop. The prosecutor said that the saw is not in his workshop.
Blood was found on the floor of the submarine, the prosecutor said in court. A pair of women's panties, tights and locks of hair were also found in the submarine. Neither Madsen's nor Wall's cell phones were found in the submarine, the prosecutor said.
A Danish judge decided in court Tuesday that the results of Wall's autopsy report would be off the record. The results were read out in court, but the media was prohibited from reporting them.
Madsen, who has taken people sailing in the submarine on several occasions, confirmed to prosecutors that the sea was calm the day Wall disappeared, but then said that boats in the sea create waves.
The purpose of Tuesday's hearing was to determine whether there was sufficient evidence to maintain Madsen's detention, which the judge extended. The judge also ruled that Madsen is to be mentally examined, which the prosecutor had requested.
The Associated Press contributed to this report.