In another milestone for American Duchess Meghan Markle, the newest member of the royal family has made her first appearance alongside Prince Harry to celebrate Queen Elizabeth's official birthday at Trooping the Colour.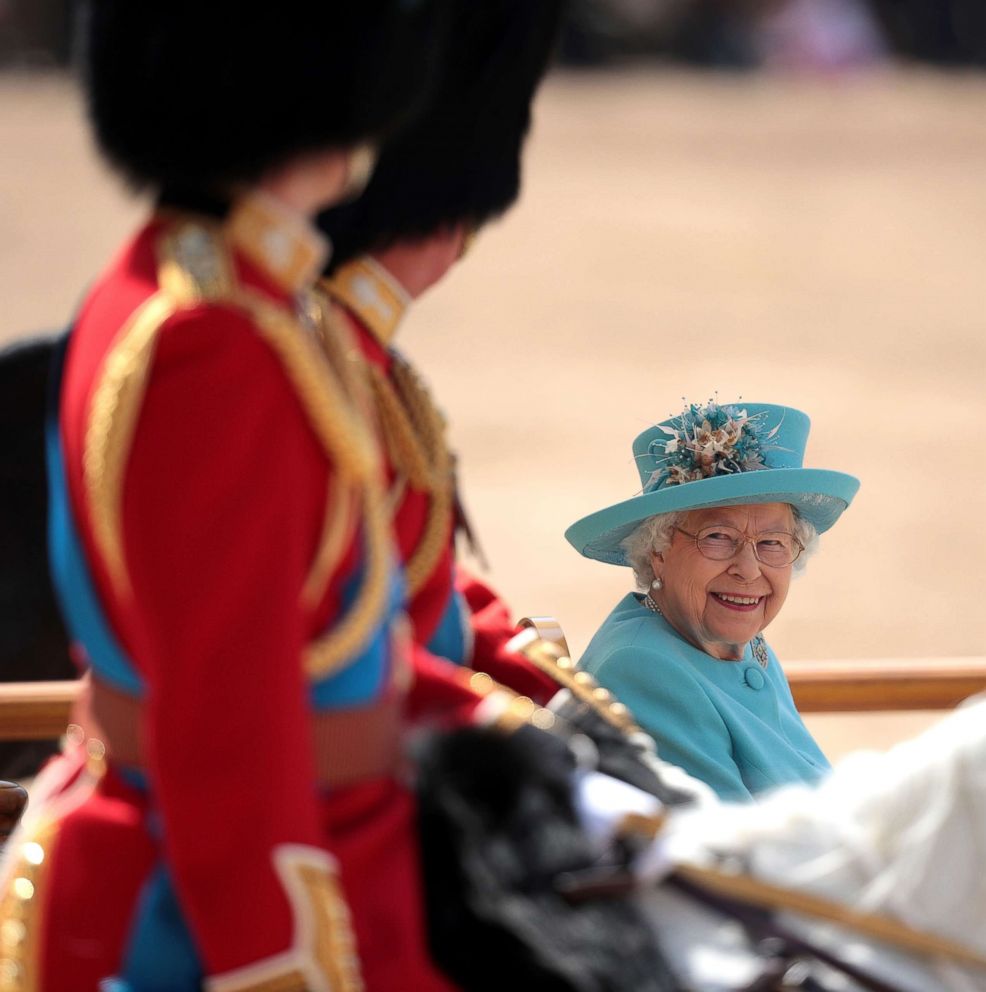 The Duke and Duchess of Cambridge, along with their children Prince George and Princess Charlotte, and the Duke and Duchess of Sussex, paid tribute to Her Majesty Saturday at the annual birthday parade as the nation celebrated the monarch's 92nd birthday. Her actual birthday is April 21 but the country always celebrates in June.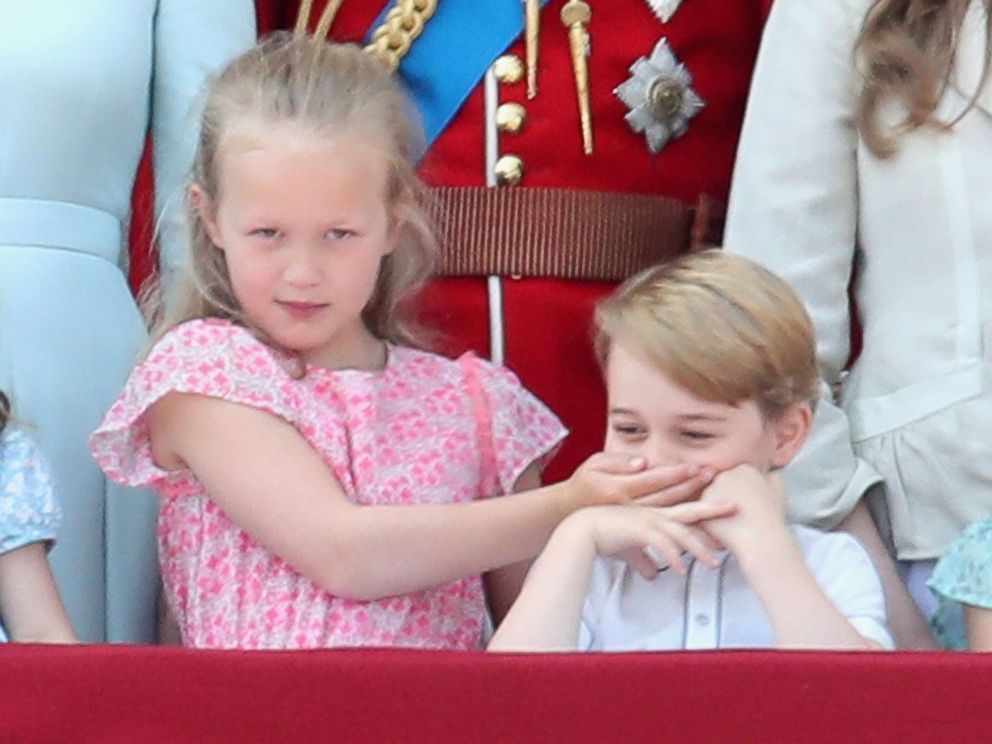 Queen Elizabeth, who recently underwent a successful cataract operation, arrived in an open Ascot Landau carriage to Horse Guards Parade in Whitehall from her home at Buckingham Palace.
The parade, which features regiments of the British Armed services, included all of the royal colonels -- Prince Charles, Colonel of the Welsh Guards; Prince William, Colonel of the Irish Guards; and Princess Anne of the Blues and Royals; along with Prince Andrew, taking over for his father as Colonel of the Grenedier Guards -- all appearing on horseback.
Prince Philip, the Duke of Edinburgh, did not take part today, in line with his retirement from public life last year. His absence had nothing to do with his recent hip surgery.
Prince Phillip, who was recently at Prince Harry and Meghan's wedding at St. George's Chapel, is instead spending the weekend privately. He will celebrate his 97th birthday Sunday.
Queen Elizabeth opted for a blue sky blue coat and dress by designer Stewart Parvin and a hat by Angela Kelly while Camilla, the Duchess of Cornwall, wore a pale blue dress by Bruce Oldfield and Hat by Philip Treacy. Princess Kate was dressed in one of her favorite designers, Alexander McQueen, while Meghan opted for a one-of-a-kind creation by Carolina Herrera and hat by Philip Treacy, a favorite of the Royal Family.
Tens of thousands of Royal fans flocked to Buckingham Palace and the Mall to catch a glimpse of the pomp and pageantry surrounding the celebration for Queen Elizabeth. More than 1,000 soldiers and 250 horses traveled down the Mall from Buckingham Palace to Horseguards Parade with members of the Royal Family in carriages.
The ceremony culminates with a magnificent balcony appearance by the Royal Family.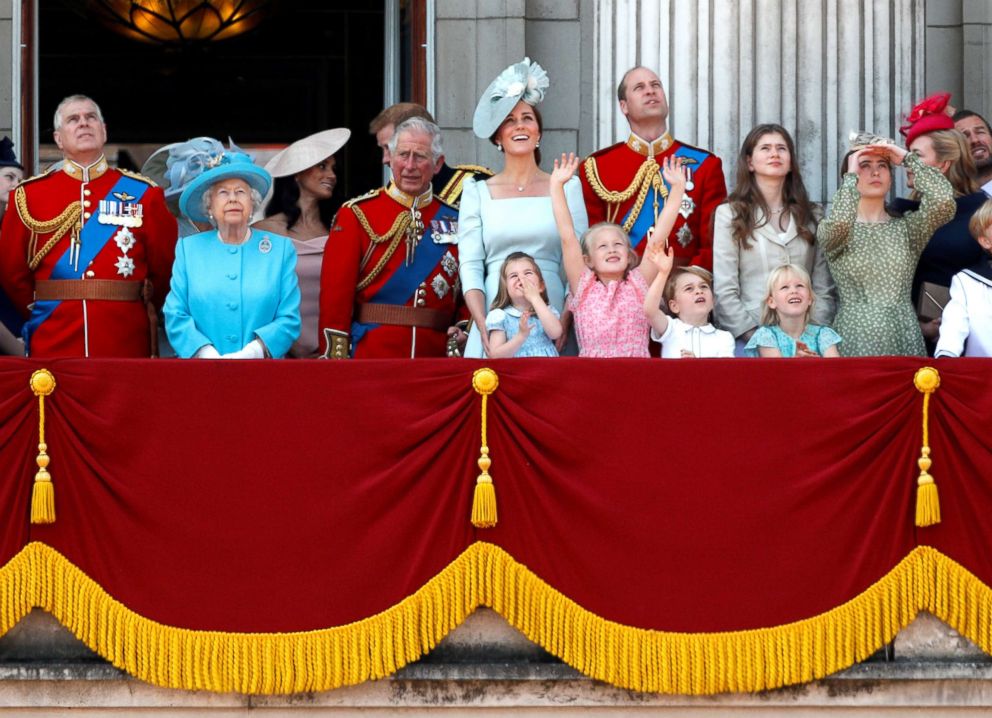 Princess Kate, who has been on maternity leave since giving birth to Prince Louis, left the newborn home. Princess Charlotte made her first appearance at 13 months and George shortly before his 2nd birthday. The next time the public is likely to see Prince Louis will be at his christening later this summer.
Meghan, the new Duchess of Sussex, who has been welcomed into the Royal Family with open arms, has a busy week of appearances ahead. She is due to join Queen Elizabeth in Cheshire for her first solo appearance alongside the Queen on Thursday.
The couple postponed their honeymoon by several days to attend a garden party at Buckingham Palace in honor of Prince Charles three days after their spectacular wedding last month. Meghan has become particularly close to her father-in-law, who walked her down the aisle and was instrumental in helping Meghan and Harry with wedding planning.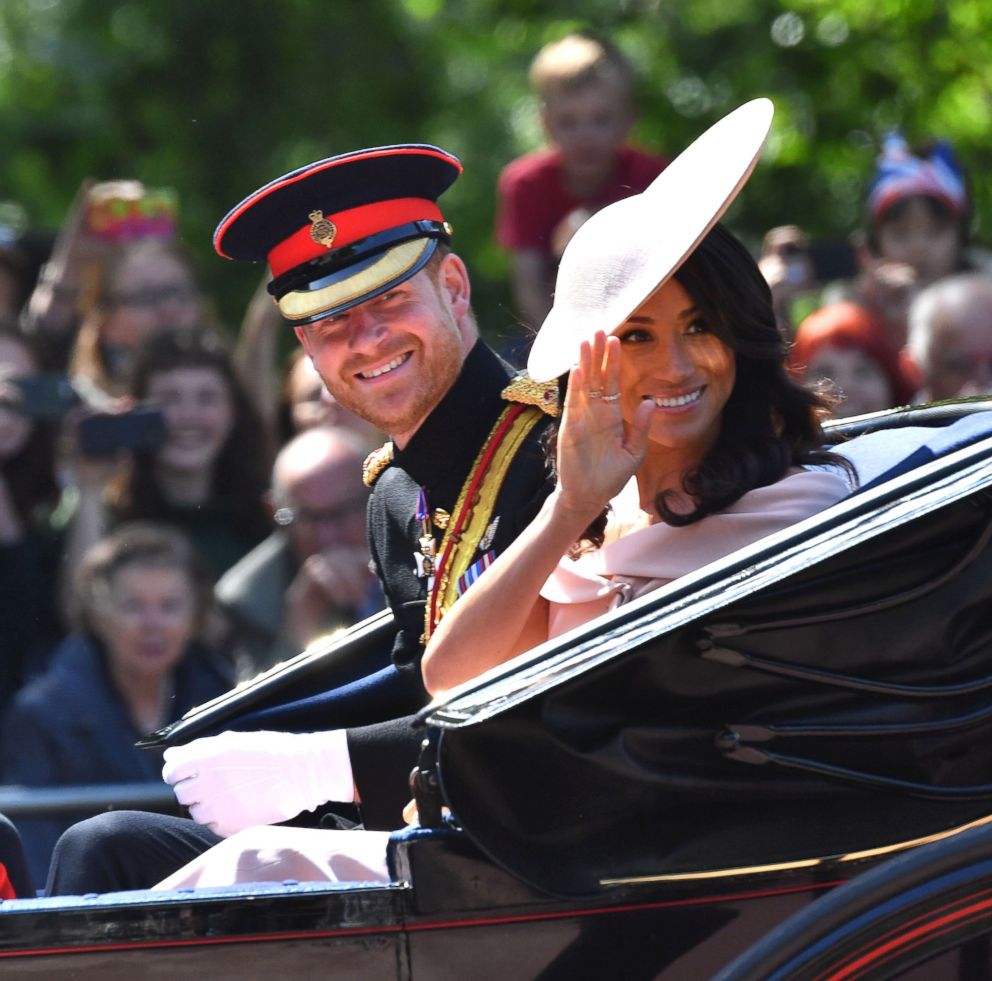 Kensington Palace is also expected to shortly announce Meghan's first charitable patronage since becoming the fourth member of the Royal Foundation behind by Prince William, Princess Kate, and Prince Harry. While the Palace hasn't given any indication how Meghan will focus her charitable work, given her previous interest in women's empowerment, she may select a charity that benefits from her experience in this arena.
Queen Elizabeth recently named Harry as Commonwealth Youth Ambassador and the couple has a busy few months ahead. Meghan and Harry have stated their desire to jump right in and get to work in their new roles.
"Both of us have passions for wanting to make change, change for good, and, you know, with lots of young people running around the commonwealth, that's where we'll spend most of our time hopefully," Harry said shortly after the couple's engagement was announced in November.
Harry and Meghan's first major tour as husband and wife will be in October as part of Harry's Commonwealth Youth Ambassador role. They are expected to travel to Australia, New Zealand, Fiji and Tonga.
In Australia, Meghan and Harry will visit Sydney for the 2018 Invictus Games, the Paralympic-style sporting event Harry founded for service men and women.