How the Russia-Ukraine conflict became a cultural war
The cultural battleground is not just symbolic, experts say.
KYIV -- In the basement of the Syayvo book store in Kyiv, hundreds of Russian language books stand piled, waiting to be pulped.
The books -- ranging from everything between the classics of Russian literature, detective novels translated into Russian and Soviet-era textbooks -- have been donated by Ukrainians who have turned away from Russian culture to embrace their own since the invasion last year.
They are set to be recycled and turned into Ukrainian language texts or other products, with all profits going to support the war effort, Nadia Kibenko, 32, the store worker who is handling the books, told ABC News. They have recycled 75 tons -- around 150,000 volumes -- since last July, she said. As a child, Kibenko grew up in a Ukrainian speaking household but, more often than not, only had the choice to read in Russian.
"We do not burn books," she said. "We just give them second life."
The cultural battleground is not just symbolic. Witnesses from the Russian occupied territories say that, in schools, Ukrainian language books were thrown out and replaced by Russian ones, for a new curriculum which taught Putin's view that Ukrainians and Russians are "one people."
A report by PEN America published in Dec. 2022 said that "culture was on the frontlines" and that Putin "seeks not only to control Ukrainian territory, but to erase Ukrainian culture and identity."
Olga Kozyrieva lives in the eastern settlement of Petropavlivka, Kharkiv region, which was occupied by Russian forces before being liberated in Ukraine's counteroffensive in September last year.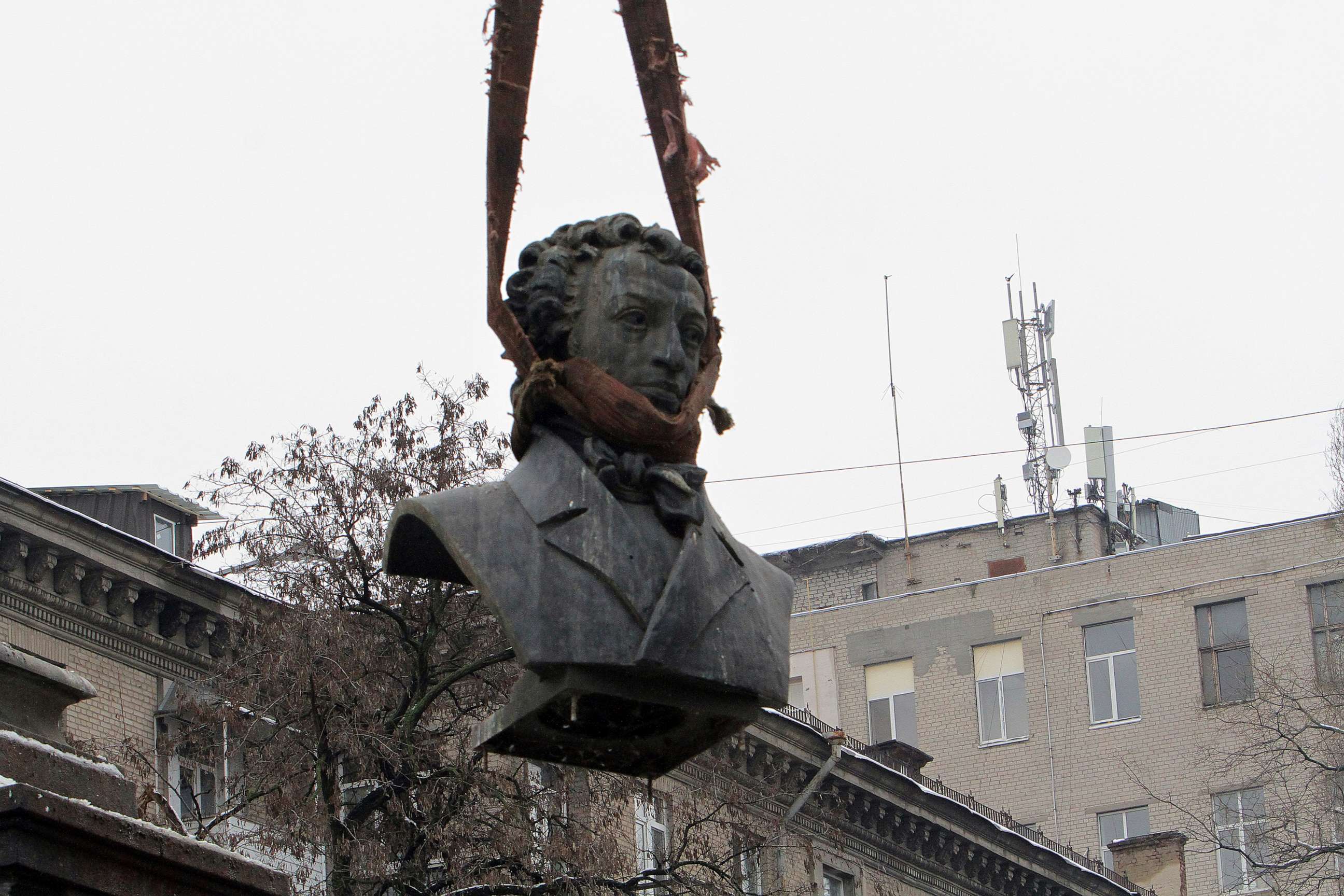 "Many children came here for books in Ukrainian," Kozyrieva told ABC News, standing in the ruins of a school that was shelled. "But during the occupation, the Russians brought their own books and they wanted to teach our children the Russian language and literature."
Families there said they hid Ukrainian books in their homes -- evidence that Russia was not just trying to take Ukrainians land, but turn it into Russia.
While other places like Petropavlivka will be in Russia's sights as they launch a new offensive, it is one of the ironic consequences of Russia's war in Ukraine that, far from bringing the country back into Moscow's sphere of influence, the invasion has proved a rallying cry to strengthen Ukrainians' sense of national unity.
"I want to get rid of all the books in Russian and instead buy new ones in Ukrainian," Oleksandra Kovalenko, a student in Kyiv who brought books to be recycled, told ABC News. "I'm disgusted with the Russian language because I've lost many relatives in this war. I want to throw it all away."
Most Ukrainians are bilingual, but many have refused to speak Russian since the war began. Even those with Russian as their first language have taken up Ukrainian.
"People switched to Ukrainian because they believe it's important," Orysia Lutsevych, the head of the Ukraine Forum at the think tank Chatham House, told ABC News. "They want to break away from anything that has to do with this Russian world. Be it language, be it culture, be it even religious calendar."
The significant proportion of Russian-speaking Ukrainians has led to misconceptions about Ukraine abroad, according to Dr Marnie Howlett, a political scientist at the University of Oxford who has researched the growth of national identity in Ukraine.
"The International community have assumed that Ukraine has just continued to be this divided east versus west, a Russian [speaking] versus Ukrainian [speaking] country," said Howlett. "And it's really it's so much more complex than that."
The recycled Russian books in Kyiv are just one symbol of this. Things like street and place names have been changed and statues to Soviet leaders have been pulled down, angering the Kremlin. In 2019, a law was passed that required Ukrainian to be the official language of all government activities.
Since the illegal annexation of Crimea by Russia in 2014 , the process of "de-russification" -- the term for the removal of Russian cultural influence from Ukraine -- has accelerated since the invasion last year.
"There has been a desire from the bottom up to move away from that and Ukraine has really been working towards that," Howlett said. "To Russia, that suggests the loss of the empire that once was."
"Now you, the Russian occupiers, are creating this problem. You are doing everything to make our people stop speaking Russian themselves. Russia itself is doing everything to ensure that de-russification takes place on the territory of our state," President Volodomyr Zelenskyy said in an address one month after the full scale invasion.
On the monument formerly known as the Friendship Arch in the capital, built to commemorate the close ties between Ukraine and Russia under the USSR -- a crack has now been painted to symbolize that break. It too has been renamed -- and is now known as the "Arch of Freedom" for the Ukrainian people.
Since the invasion, Ukrainians who may have felt closer affinity with Russia in the past have been forced to choose -- particularly in the face of atrocities committed by occupying forces that U.S. Vice President Kamala Harris recently declared were "crimes against humanity."
"In the east and south, where there was always a stronger connection to Russia, people are fighting back to protect their existence and their existence within the borders of Ukrainian nation," Lutsevych said. "Since Russia invaded, that ambivalence became impossible."
Not all Ukrainians may agree. Ties with Russian culture still run deep in many parts of the country. But, with the path to peace a long way off and as the full-scale war passes the first-year mark -- Ukrainians are largely united around President Zelenskyy's vision for a modern Ukraine, polls reported in the country suggest, a vision that looks to the West and Europe as the future and away from its past with Russia.
"If there is a threat to your identity, you start defending it and appreciating it," Lutsevych said. "The moment the other attacks you like has happened in Ukraine, you suddenly become this porcupine, with a cultural shield."
ABC News' Patrick Reevell, Yulia Drozd and Natalia Kushnir contributed to this report.