— -- The historic U.S.-Cuba talks are under way and they may have attracted a new addition to the Havana port.
The Russian spy ship Viktor Leonov CCB-175 parked there Tuesday, laden with high-tech software, radar and 30-millimeter cannon and anti-aircraft guns, replacing a cruise ship that had been there the day before.
Normally, the surveillance ship travels up and down the American Eastern Seaboard in international waters, with its radars pointed in the direction of the United States.
On Tuesday, however, just as the Americans were due to arrive for big talks with Cuban officials -- the first such high-level talks held in Cuba since the Carter administration -- the ship with reportedly 200 sailors on board was moored.
The radars did not appear to be active -- none of them were spinning around -- but the ship's arrival has many wondering whether it's a coincidence or intentional intrigue.
The Pentagon said that it tracks the Viktor Leonov all the time and that there is nothing to worry about. The Russians said the visit was scheduled long ago. Today, the ship was opened up for the children of Russian diplomats. Cubans, who have a three-decade-long dependence on the Russians, said it felt like old times.
"We have normal relations with Russia," Raphael Hernandez said. "One day, when we have normal relations with U.S., we could have an American ship visiting."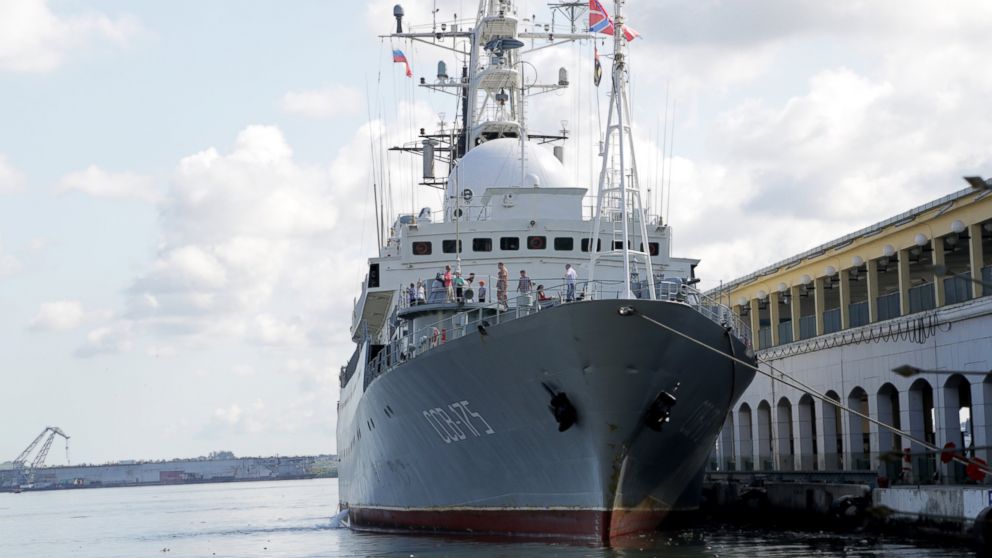 On Tuesday night, President Obama asked Congress to lift the 50-year-old embargo against Cuba during his State of the Union address.
Last month, he established more ways for Americans to travel to the island nation and announced plans to open trade and full embassies in both countries.
"Our shift in Cuba policy has the potential to end a legacy of mistrust in our hemisphere; removes a phony excuse for restrictions in Cuba; stands up for democratic values; and extends the hand of friendship to the Cuban people," he said.