Five Lebanese militants released today from prison in Israel received a hero's welcome home just hours after being awarded their freedom.
The men were freed by Israel in exchange for the return of the bodies of two Israeli soldiers kidnapped two years ago.
"Your return is a new victory and the future with you will only be a shining march in which we achieve the sovereignty of our land and the freedom of people," Lebanese President Michel Suleiman told the men during a speech in Beirut. The leader of Hezbollah, Hassan Nasrallah, made a rare public appearance in Beirut to greet the freed men.
Earlier, the former prisoners, some wiping away tears, walked down a red carpet before hundreds of cheering people, just after crossing the border near the town of Naqoura in southern Lebanon, The Associated Press reported.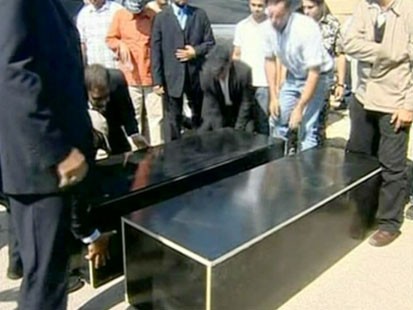 "I congratulate the resistance [Hezbollah] for this new achievement," Suleiman would later add.
The most notorious of the released prisoners is Samir Kantar, who had been sentenced to life in prison for a grisly attack in 1979 that left a 4-year-old Israeli girl, her father and a policeman dead.
The kidnapping of the two Israeli soldiers, during a Hezbollah cross-border raid in July 2006, triggered a 34-day war between Israel and Lebanon.
The families of the two soldiers, Ehud Goldwasser and Eldad Regev, had long worked for the return of the remains, but many in Israel felt the price was too high.
"Samir Kantar is a brutal murderer of children and anybody celebrating him as a hero is trampling on basic human decency," said Mark Regev, a spokesman for the Israeli prime minister (no relation to the soldier).
Goldwasser's mother had high hopes for this morning's exchange. "My hope is that I will hold my son in my arms," Miki Goldwasser told ABC News Tuesday.
After today, all she can hope for is a funeral.
Israeli television showed people gathering outside the Regev home, lighting candles and praying.
"All of Israel will be uniting around the families, mourning together with the families," Regev told ABC News.
Shlomo Goldwasser, Ehud's father, told Israel Radio that the sight of the coffins was not easy to take. "It didn't come as much of a surprise," he said. "But coming face-to-face with reality is always tough."
The stark contrast in reactions is causing some Israelis to feel that the deal is unequal. "It's not fair," Yamima Attias, who lives just outside Jerusalem, told ABC News.
"They get to dance, to sing, to be happy in Lebanon. What did we get? Two black coffins."
Attias said that she sobbed this morning when she saw the footage of the coffins arriving at the border.
"The last two years have been terrible, we all were so sad and afraid," she said. "Then at the last minute, after all our hoping, they finally told us they were dead."
Since Israel requires three-year compulsory military service from all citizens when they turn 18, these "sons" of Israel could have been anyone's son. The two soldiers were captured on their mandatory reserve service, which all Israelis participate in yearly.
Regev said that today's deal demonstrates Israel's commitment to its soldiers at all costs. "Today's deal is not weakness, it is strength," he said. "Every Israeli serviceman knows that if he or she is ever held behind enemy lines, we as a society will do what needs to be done to get them back home."
This confidence seemed to be shared by Israelis. "I have confidence in the values of my nation, who put pressure on the government all this time to return the soldiers," 24-year-old student Mati Leiken told ABC News. "It's this link between the people and the government that makes the soldiers feel safe."
Chanie, an Orthodox woman from Jerusalem who did not wish to give her full name, said that she spent the last few years praying for the soldiers' rescue. She felt that today's deal was not worth the price.
"My own husband is in the army, [as are] the husbands of my friends. I believe in Israel, the country, the army," she said. "But there's a price for everything, and this one is too high."
Yedidia Naccache, 18, also thought the deal was a mistake. "If we liberate more prisoners, then we will have more families who will lose more soldiers, who will lose more sons," he told ABC News. "If we talk about peace and make concessions all the time, then we will eventually lose from it."
But Israeli Moti Attias told ABC News that his country would emerge stronger from this morning's events. "Hezbollah is hoping that people will be scared," he said, "but it will turn out the opposite."
"In times of need, the Jewish people stick together," he said. "That's our strength. Things like this will only make us stronger."
The Associated Press contributed to this report.