— -- The 18-year-old gunman who officials say fatally shot nine people before killing himself at a busy shopping mall in Munich on Friday had a book about the Columbine and Virginia Tech shooters at his home.
Police found a copy of a German translation of the 2009 book "Why Kids Kill," written by American psychologist Peter Langman, in the suspect's bedroom.
Among the 10 case studies the book investigates are the Columbine High School shooting by Eric Harris and Dylan Klebold that killed 12 students and one teacher in Littleton, Colorado, in April 1999, as well as the Virginia Polytechnic Institute and State University massacre by gunman Cho Seung-hui that killed 32 people at the college in Blacksburg in April 2007.
Investigators are still conducting searches of the apartment where the suspected attacker, who was born in Germany and of Iranian descent, is believed to have lived with his parents. Materials seized suggest the teen was particularly interested in frenzied attacks.
Both the fifth anniversary of the Norway massacre of 69 summer-camp youth by Anders Behring Breivik and the train axe attack on Monday in Germany "could be considered as motivations" for the gunman, Bavarian Interior Minister Joachim Herrmann said during a news conference Saturday afternoon.
"I don't want to speculate, this needs to be investigated carefully," Herrman added. "There are clues that the perpetrator has been looking into rampages for some time, and that he was collecting information on that." The suspect was a student who was born and raised in Bavaria's capital and who had a dual-citizenship with Iran. T
The deadly shooting began shortly before 6 p.m. local time at a McDonald's across the street from Munich's Olympia-Einkaufszentrum mall. Ten people are dead, including the gunman, and 27 others are injured. Among the dead were seven teenagers, a 20-year-old and a 45-year old.
There is no evidence tying the suspect to ISIS or terrorism, authorities said.
The gunman was later found dead of a gunshot wound at the scene. A police officer fired at the shooter when he was on a car park's roof, but an autopsy revealed that it wasn't the officer that killed him.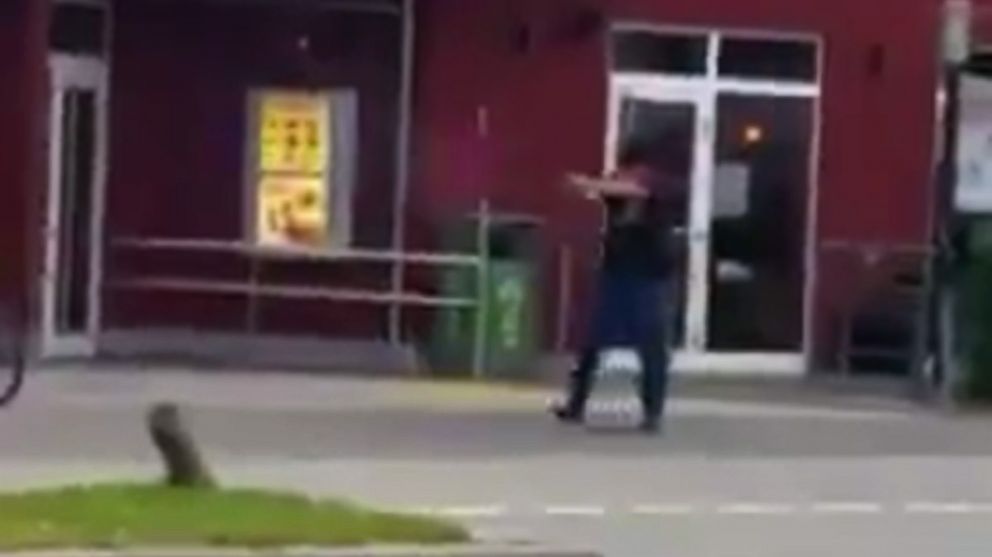 German Chancellor Angela Merkel called the attack "a night of horror."
"We are still under shock of the pictures and the reports of the witnesses and people who were going shopping on Friday evening or wanted to eat something, they are now dead," Merkel said at a news conference Saturday afternoon.
Police said it appears that the suspect hacked a Facebook account and sent a message urging people to come to the mall for a free giveaway prior to the attack. The posting, sent from a young woman's account, urged people to come to the mall at 4 p.m., saying: "I'll give you something if you want, but not too expensive."
"It appears it was prepared by the suspect and then sent out," police investigator Robert Heimberger said at a press conference Saturday morning.The woman shortly after reported that her Facebook account had been hacked.
Police said the shooter was armed with a 9mm Glock pistol and was carrying more than 300 bullets in a backpack. Officials also found newspaper articles about school shootings and a pamphlet called "Why Pupils Shoot." Police said they believe the teen was in therapy for mental health issues.
At the press conference this morning, Munich police president Hubertus Andrae described the tragedy as a "classic shooting rampage," "killing spree" and "shooting massacre." He said the suspect was the lone attacker and had "absolutely no" link to the issue of refugees.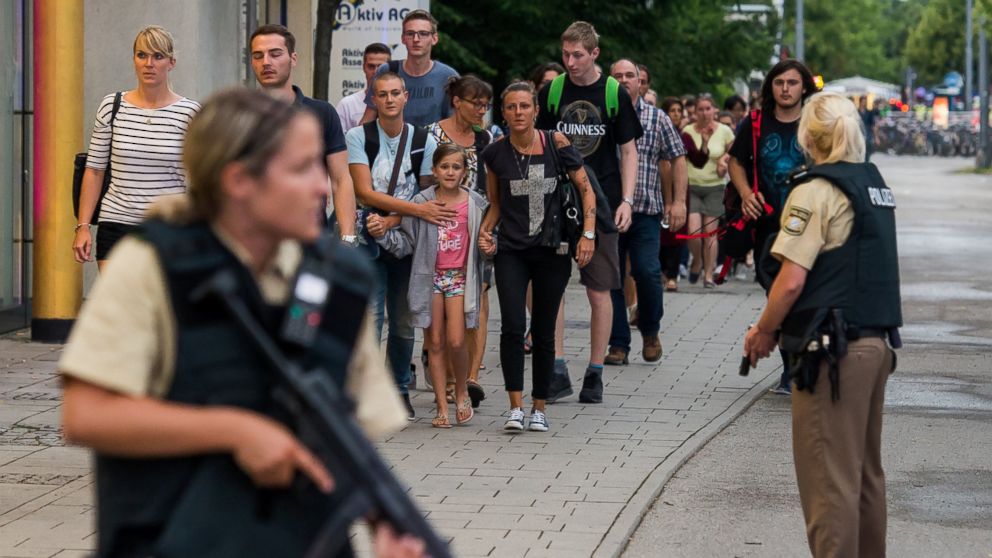 Officials said the shopping mall where the shooting took place is in the process of reopening, but the fast food restaurant remains closed. The Olympia-Einkaufszentrum mall is located in what was the Olympic Village for the 1972 Munich Olympics, during which 11 Israeli athletes were taken hostage and killed along with a German policeman.
Munich mayor Dieter Reiter wrote on his Facebook page that Saturday was "a day of mourning."
U.S. President Obama was briefed on the situation, and later offered sympathies and pledged support to Germany -- which he described as one of America's closest allies. White House Press Secretary Josh Earnest said in a statement that the United States condemns "the apparent terrorist attack" and would "make available any resources that would assist their investigation."
The Munich shooting comes just days after a 17-year-old Afghan refugee attacked passengers with an axe and a knife onboard a train heading towards Würzburg at Heidingsfeld in Bavaria, southeast Germany. The attacker was shot and killed during an altercation with police after seriously injuring three People and fleeing the scene, a Bavarian police spokesman told ABC News. The Islamic State group claimed responsibility hours later.
ABC News' Paul Blake, Josie Le Blonde, David Caplan, Louise Dewast, Alexander Marquardt, Kirit Radia, Rex Sakamoto, Emily Shapiro, Devin Villacis and Jon Williams contributed to this report.