— -- Sweden has dropped a rape investigation into WikiLeaks founder Julian Assange, the Swedish prosecutor's office announced on Friday.
"The investigation against Julian Assange is discontinued," according to a statement issued by Sweden's director of public prosecution, Marianne Ny.
Chief prosecutor Ingrid Isgren and Ny explained their decision to end the preliminary investigation and lift the arrest warrant at a press conference Friday, saying there's no possibility of arresting Assange in the foreseeable future. However, the prosecutors said the case "could be reopened if Assange returns to Sweden before the statute of limitations ends in 2020."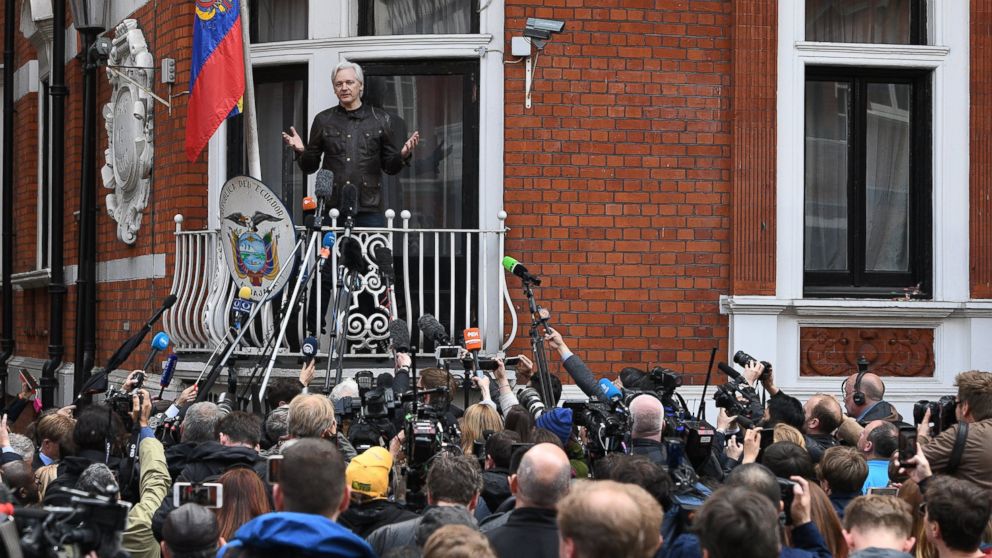 Assange's Swedish lawyer, Per Samuelson, called the prosecutor's decision a "total victory" for his client.
Assange, 45, has been living in the Embassy of Ecuador in London since 2012 to avoid extradition over allegations of sexual misconduct made by two Swedish women. One of the allegations was dropped in 2015 after the time limit for prosecution had passed, but Swedish prosecutors continued probing an accusation of rape from one of the women.
Despite the Swedish prosecutor's decision, U.K. authorities said Assange still faces arrest should he depart the Ecuadorian embassy.
In a statement issued after the decision, Metropolitan Police Service in London said, "Now that the situation has changed and the Swedish authorities have discontinued their investigation into that matter, Mr. Assange remains wanted for a much less serious offense" and the police force is still "obliged to execute that warrant should he leave the embassy."
Assange made a rare public appearance from a balcony at the Ecuadorian embassy Friday night, telling reporters that the prosecutor's decision was an important victory for him but that U.K. authorities would arrest him if he left the sanctuary "regardless." He called U.K. authorities' claim to arrest him "untenable" and said talks between his attorneys and authorities are ongoing.
The WikiLeaks founder also described his stay at the embassy as "detention without charge" and said it seems unlikely he will leave anytime soon.
Shortly after the prosecutor's announcement, Assange posted an old photo of himself on his personal Twitter account on Friday. A few hours later, he tweeted a brief comment, "Detained for 7 years without charge by while my children grew up and my name was slandered. I do not forgive or forget."
ABC News' Joseph Simonetti, Dimitrije Stejic and Mike Trew contributed to this report.