Asma Assad Star of Syrian President's Instagram Account
Assad recently launched a second war - a battle of public relation
September 5, 2013, 10:28 AM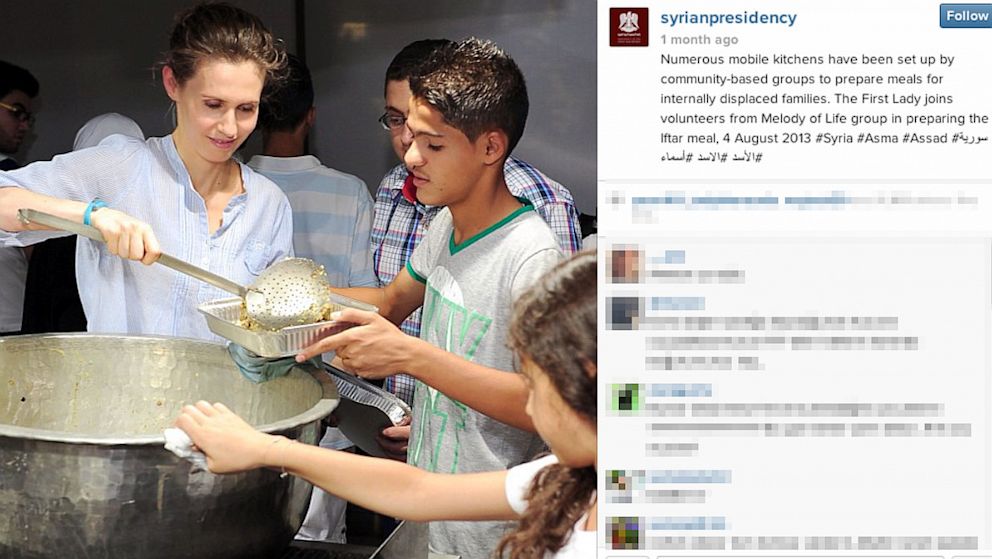 Sept. 5, 2013— -- A bloody war has raged in Syria for two years, while rebels and President Bashar al-Assad wrestle for control of the country, but Assad recently launched a second war - a battle of public relations, using his wife as his strongest weapon.
In the midst of a summer filled with bombings and an alleged chemical attack, Assad and his administration launched an account on Instagram, a photo-sharing social media site where he could post photos of himself to help convince the public that Syria was in good hands.
The account shows countless photos of Assad, clean-shaven and clad in dark suits, interacting with civilians and miltiary personnel.
But the star of the photos is his glamorous wife, Asma al-Assad, smiling and posing and showing off her volunteer work.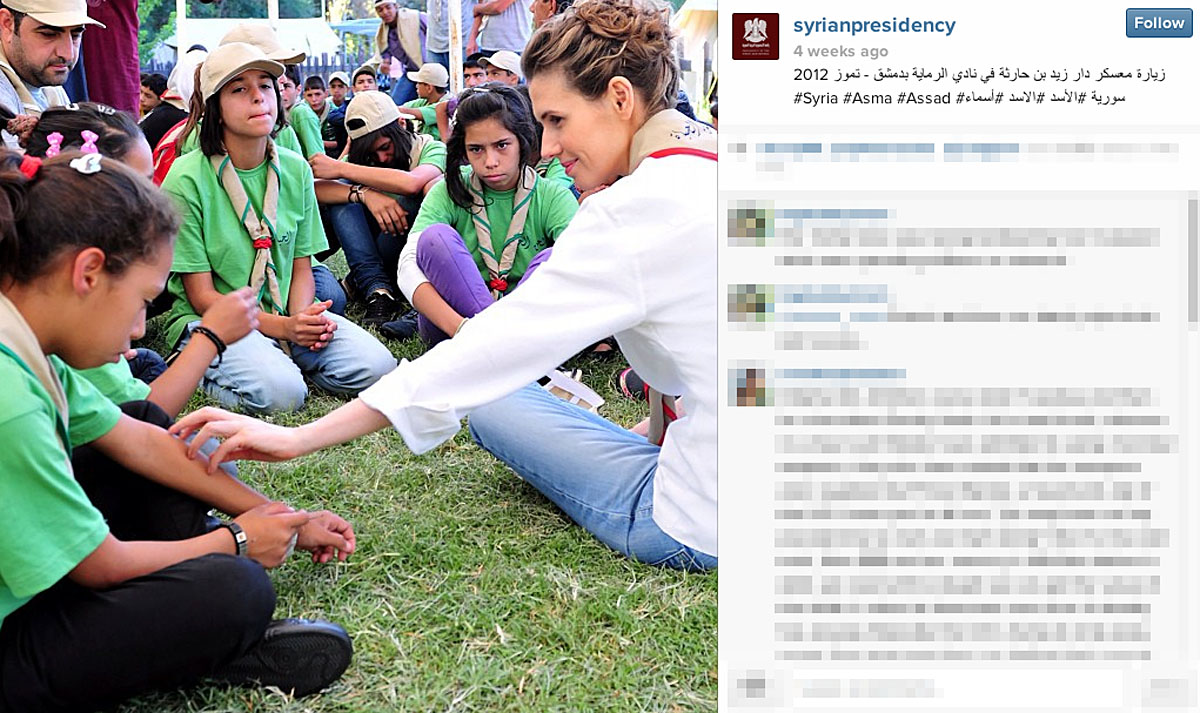 Asma has long captivated Syria's and the world's attention as the fashionable, educated first lady of a Syria. Born in Syria to a surgeon, she spent much of her life in England known as "Emma" and graduated from King's College in London. She even worked briefly at Deutsche Bank before becoming engaged to Assad and moving to Syria.
As first lady of Syria, Asma Assad was compared to Princess Diana of Britain for her charitable and humanitiarian work, and profiled in fashion magazines including Vogue for her style.
When Syria descended into civil war two years ago, Asma temporarily stayed out of the public eye, leading spectators to wonder whether she was against her husband's crackdown on rebels. She soon appeared by his side smiling at a rally, however, and has been part of his public relations campaign since.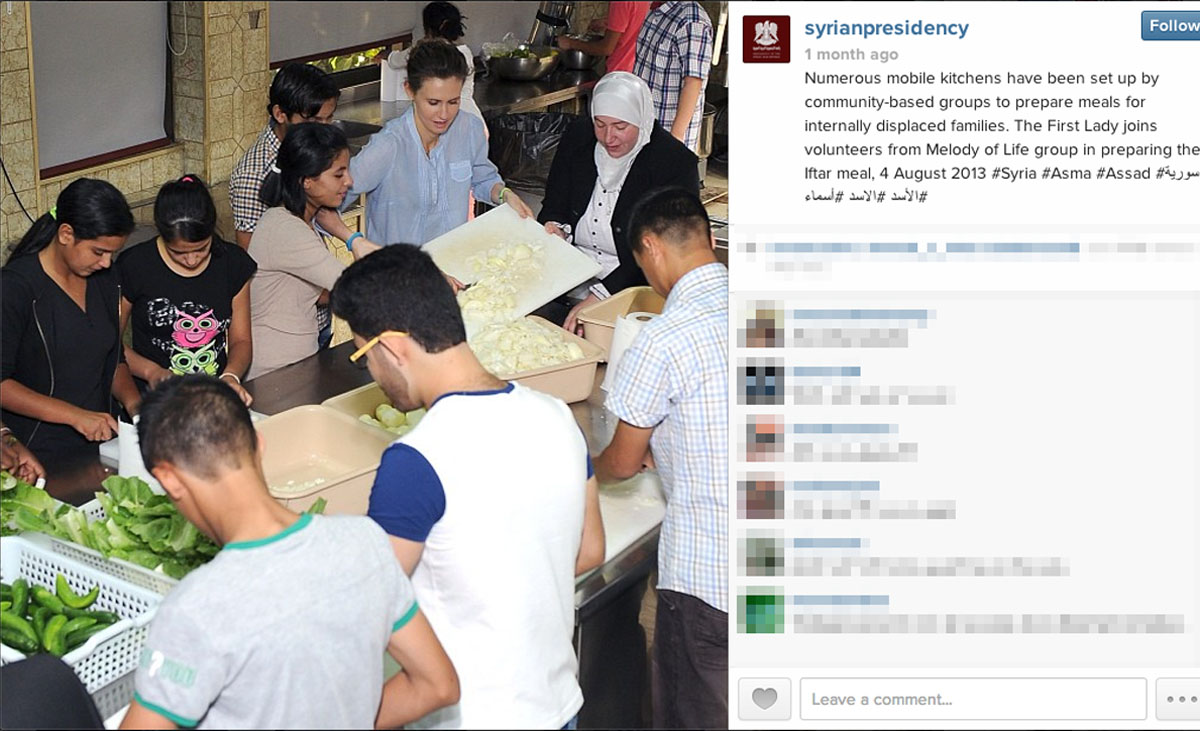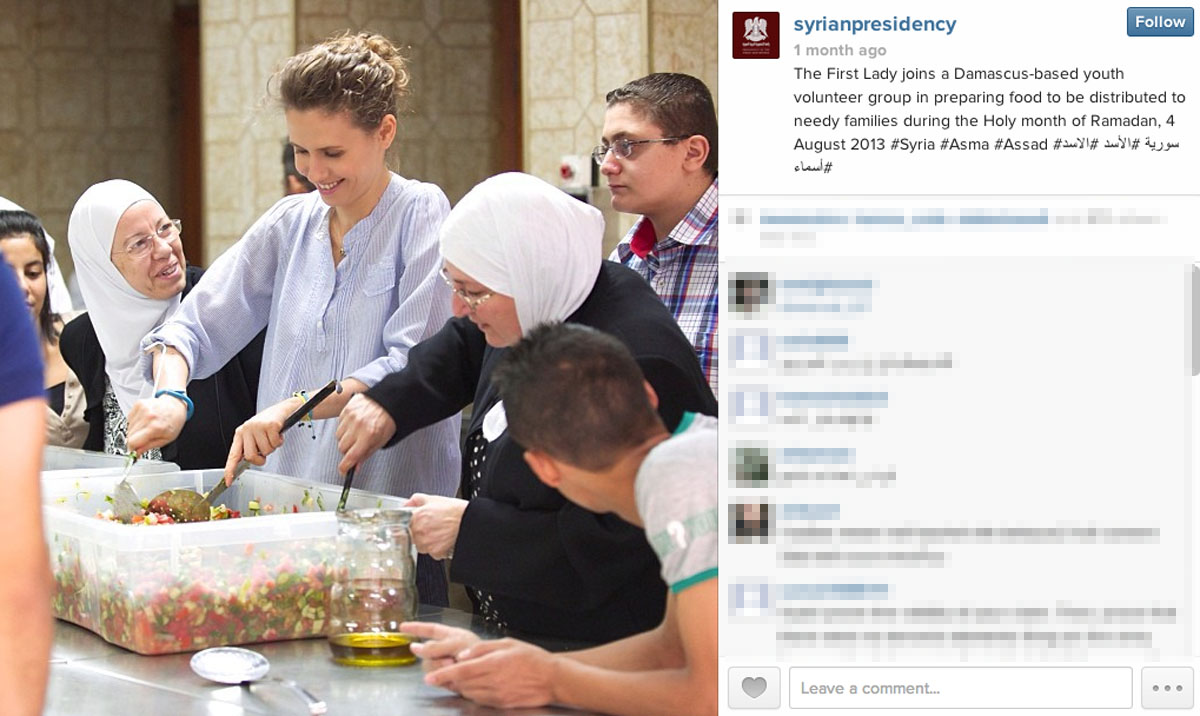 Now, Asma can be seen smiling with children and ladling out food to hungry Syrians in the photos posted to the Instagram account. Still dressed fashionably and wearing full-makeup, Asma presents a stark contrast to other images leaking out of Syria as Assad's forces and rebel forces battle viciously for control of cities.
In one photo, Asma is seen wearing a Jawbone UP! band, which measures fitness levels, while she spoons food into a a bowl at a soup kitchen.
The couple are not the only ones using social media to further their message in the country's two-year war. Last week, someone alleging to be their son Hafez posted a lengthy diatribe to Facebook daring the U.S. to launch a military strike against Syria and warning the West of possible consequences.