Sarin gas used in Syria chemical attack, Turkey's Health Ministry says
Turkey's Health Ministry confirmed the use of sarin after conducting autopsies.
— -- Sarin gas was used in a chemical weapons attack in northern Syrian on Tuesday, Turkey's health ministry confirmed in a statement today after autopsies were conducted on victims.
"According to the results of preliminary tests, the findings suggest the patients were exposed to chemical material (sarin)," the statement read.
A U.S. official told ABC News the symptoms exhibited by the victims pointed to sarin gas, a banned nerve agent.
The U.S. official said it was a Syrian military fixed-wing aircraft that dropped chemical weapons on what was an underground hospital run by an al-Qaeda affiliated rebel group formerly known as Al-Nusra Front.
Harrowing footage from the scene shows victims gasping for air and being hosed off, as well as the lifeless faces of those who didn't survive. It's the worst chemical attack the war-torn country has witnessed since 2013.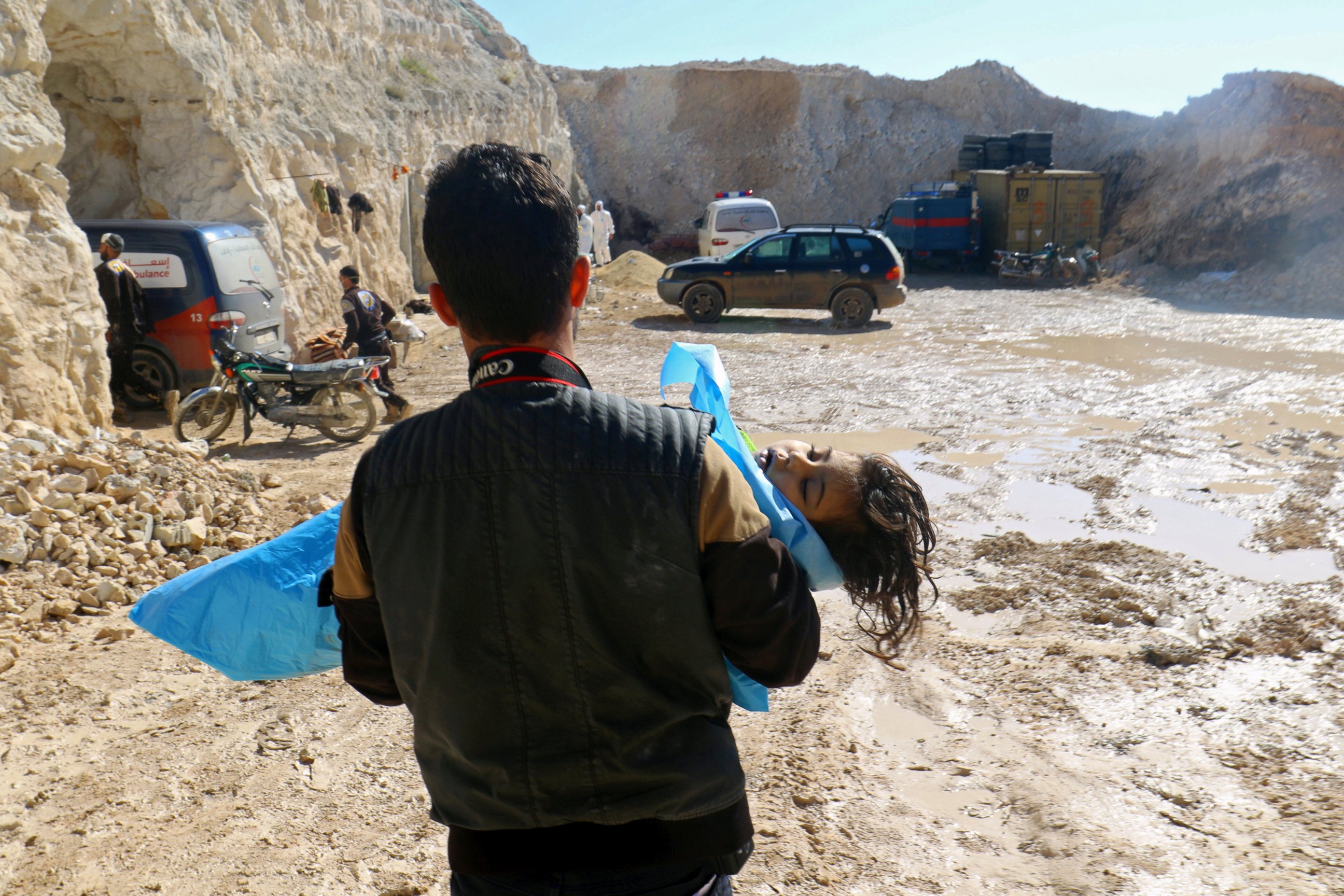 The death toll from the attack in Syria's Idlib province has climbed to at least 86 civilians, including 30 children and 20 women, according to the Syrian Observatory for Human Rights.
Thirty-two victims injured in the attack were brought across the Syrian border into southern Turkey for treatment. Three of them have since died, according to the Turkish justice minister.
Possible action against the Assad regime
The White House and the Pentagon have been having discussions about possible military action against Syrian President Bashar al-Assad's regime, a U.S. official told ABC News, including a meeting held Wednesday night at the National Security Council.
Possible military action could include "stand-off strikes," or strikes from weapons fired from afar, the official said.
When asked if Assad should relinquish power, President Donald Trump told reporters on Thursday, "I think what happened in Syria is a disgrace to humanity. He's there, and I guess he's running things, so something should happen."
Trump also said that he has not yet discussed the issue with Russian President Vladimir Putin.
Secretary of State Rex Tillerson took a harder stance on Assad, saying in a press conference this afternoon in West Palm Beach, Florida, "Assad's role in the future is uncertain and with the acts that he has taken, it would seem that there would be no role for him to govern the Syrian people."
The process for removing Assad would require an "international community effort, both to first defeat ISIS within Syria, to stabilize the Syrian country, to avoid further civil war and then to work collectively with our partners around the world through a political process that would lead to Assad leaving," Tillerson said, adding that "steps are underway" to organize an international coalition to remove Assad.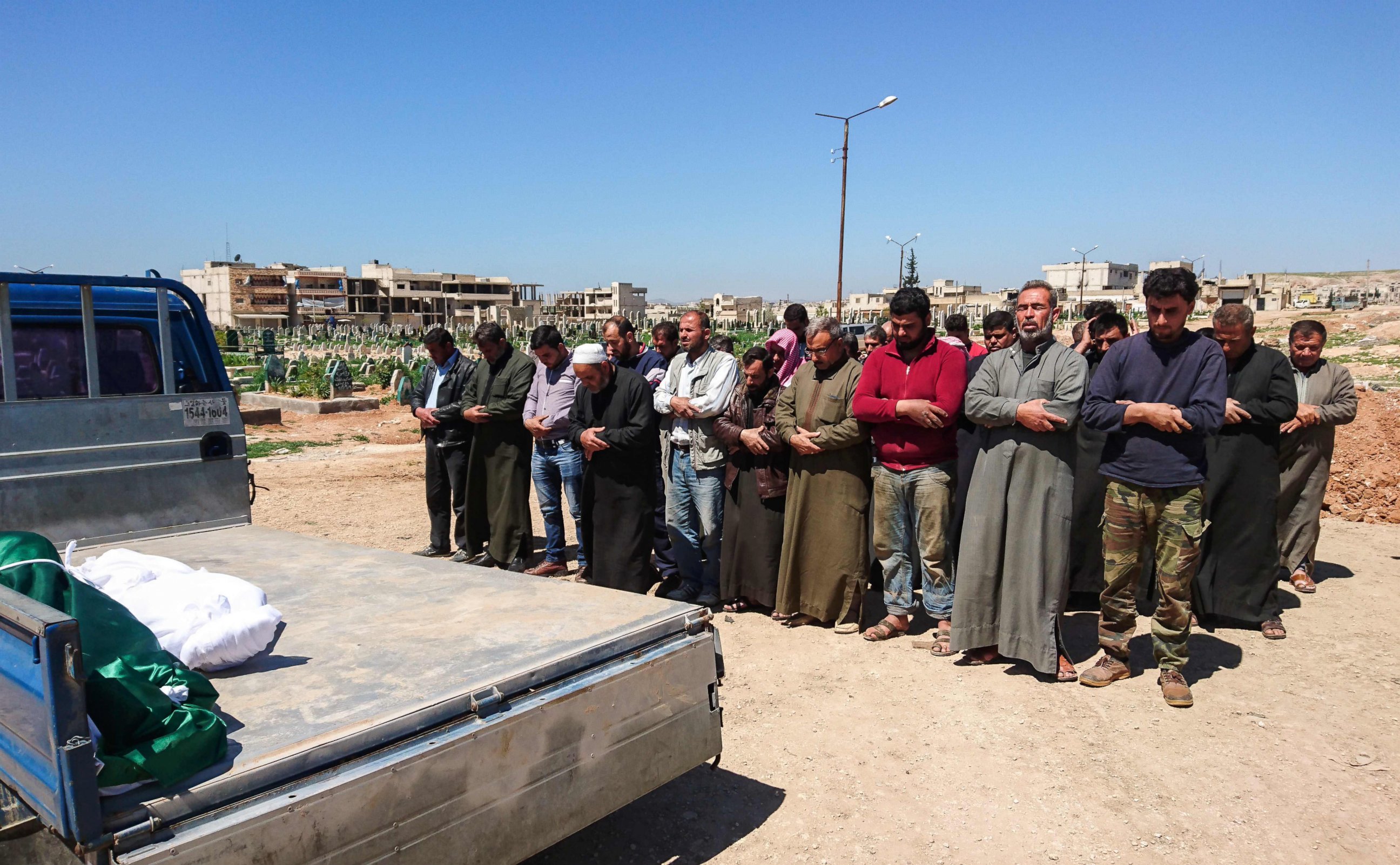 The United Nations Security Council is expected to debate a resolution on Syria today.
A text draft of that resolution, which was obtained by ABC News, would demand that Syria turn over data about flight plans and other information that could reveal who was responsible for the attack.
Yesterday, Russia indicated that it would not accept such a resolution. On Thursday, China also vetoed at least five UN resolutions against Syria.
What Syria is saying
Syrian Foreign Minister Walid Moallem firmly denied that his government used chemical weapons in the attack on the town of Khan Sheikhoun. He told reporters at a televised press conference in the capital of Damascus on Thursday that "the Syrian Arab Army has never used chemical weapons and will not use chemical weapons against Syrians and even against terrorists."
Moallem said rebels linked to al-Qaeda and ISIS have brought chemicals from Iraq and Turkey into the country and have been stockpiling them in residential areas.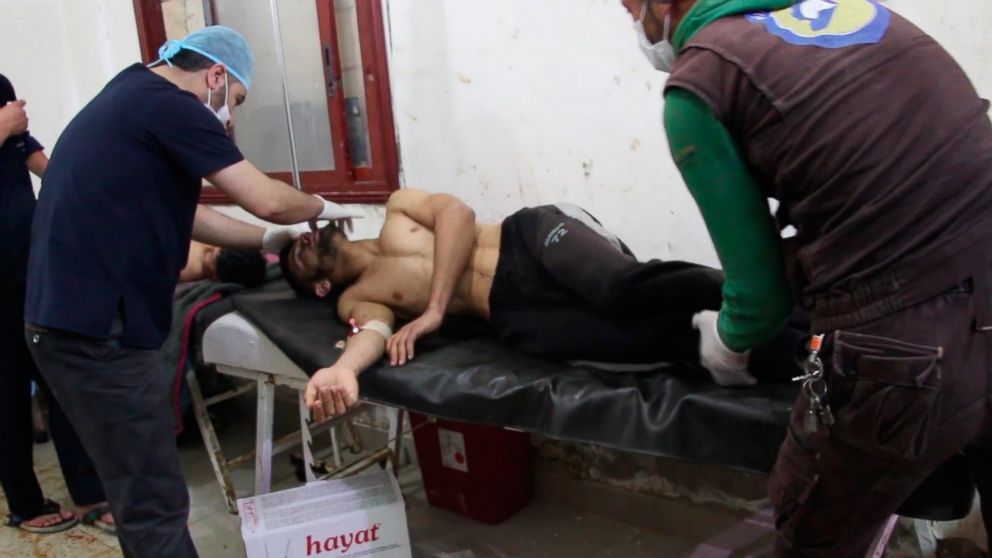 What Russia is saying
The Kremlin said in a statement Thursday that Putin spoke on the phone with Israeli Prime Minister Benjamin Netanyahu and "exchanged views" about Tuesday's attack in Syria, according to Russian state media.
"Putin particularly stated that it was unacceptable to bring accusations against anyone until a thorough and impartial international investigation was conducted," the statement said.
In an interview Thursday with The Associated Press, Kremlin spokesman Dmitry Peskov said Russia's support for the Assad regime is not unconditional.
Russia, which launched its military operation in support of Syrian government forces in September 2015, has an estimated 4,000 troops in Syria and is Assad's key backer.
Earlier Thursday, Peskov told reporters that the use of chemical weapons in Syria was "absolutely inadmissible," but his comments hinted that it's "terrorists" who are deploying them.
"Of course, we believe that the use of chemical weapons [in Syria] is absolutely inadmissible. We also think that everything should be done to rule out chemical attacks in Syria," he said. "Certainly, one can count on the Syrian army to do its best so that terrorists do not come into possession of any substances which can be used as chemical weapons and do not use them."
On Wednesday, Russia's Defense Ministry blamed Syrian rebels for the attack, saying that the Syrian air force struck a warehouse where opposition militants were storing chemical weapons — a statement that contradicts testimony from residents, doctors and White Helmets on the ground.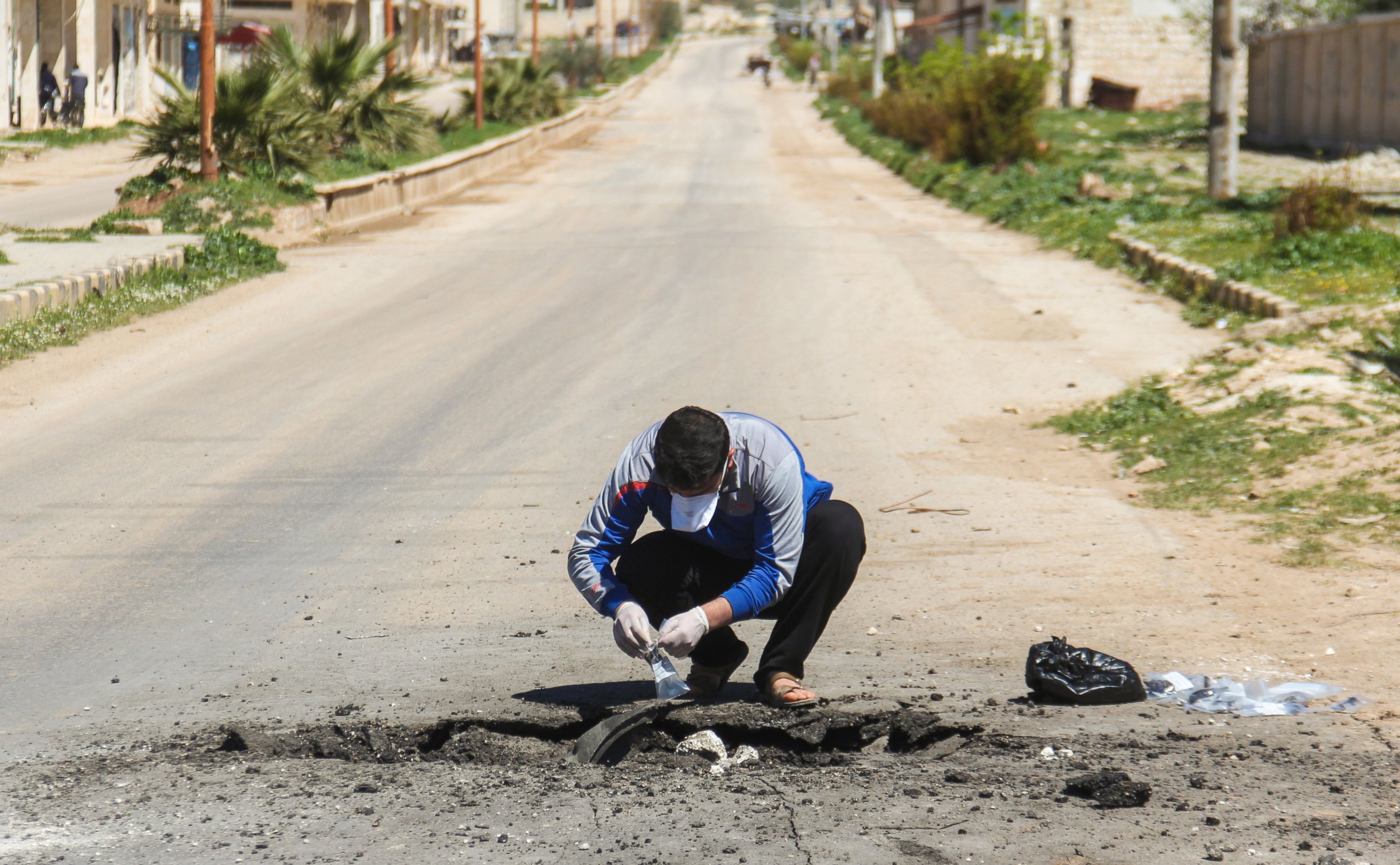 The US government's initial response
Trump on Wednesday firmly condemned the "heinous actions" in Syria, telling reporters that the attack "crossed a lot of lines for me."
"I do change, and I am flexible, and I'm proud of that flexibility. And I will tell you that attack on children yesterday had a big impact on me," he said during a press conference at the White House with Jordan's King Abdullah II. "It's already happened, that my attitude towards Syria and Assad has changed very much."
Trump also continued to fault his predecessor Barack Obama, saying his administration mishandled the conflict and humanitarian crisis in Syria. Under President Obama, the United States and its allies launched airstrikes against ISIS targets in Syria in September 2014.
"I think the Obama administration had a responsibility to solve the crisis a long time ago. And when he didn't cross that line in making the threat, I think that set us back a long ways, not only in Syria but in many other parts of the world, because it was a blank threat. I think it was something that was not one of our better days as a country," he told reporters.
Trump added, "I now have responsibility, and I will have that responsibility and carry it very proudly."
Previous chemical attacks in Syria
Reports of the first mass use of chemical weapons by Assad's regime began four years ago amid the country's ongoing conflict.
In March 2013, both sides in the Syrian civil war traded accusations over a gas attack that killed dozens of people, including government soldiers, in Khan al-Assal. An investigation by the United Nations later concluded that sarin nerve gas was used in the attack, but the international body did not identify a culprit.
In August 2013, Syrian government forces were accused of using chemical weapons against rebel-held suburbs outside the capital, Damascus. More than 1,400 people were estimated to have suffocated to death in Ghouta, with many suffering symptoms such as convulsions, constricted pupils and foaming at the nose and mouth and rapid heartbeat, according to a U.S. intelligence report.
Syria's ongoing conflict
Tuesday's attack is the latest atrocity in Syria's ruinous six-year war.
What started as a local protest movement in Syria's southern city of Dara'a expanded into a full-fledged civil war by 2012. ISIS, which grew out of al-Qaeda in Iraq, took root in northern and eastern Syria in 2013 after seizing swaths of territory in neighboring Iraq. The jihadist group is fighting to overthrow Assad's regime and establish a caliphate.
The civil war has pulled in the United States, Russia, Iran and almost all of Syria's neighbors. It has become the largest humanitarian crisis since World War II, according to the U.N.
ABC News' Anastasia Butler, Conor Finnegan, Benjamin Gittleson, Aaron Katersky, Sekar Krisnauli, Luis Martinez, Lena Masri, Kirit Radia, Joseph Simonetti contributed to this report. The Associated Press also contributed to this report.