— -- Tens of thousands of visitors to Bali, Indonesia, are stranded after the island's Mount Agung erupted, blowing ash far into the air.
Flight operations at Bali's main international airport, Ngurah Rai International Airport, have been suspended, the airport said Sunday. The danger zone affects about 90,000 to 100,000 people and 22 villages, according to The Associated Press.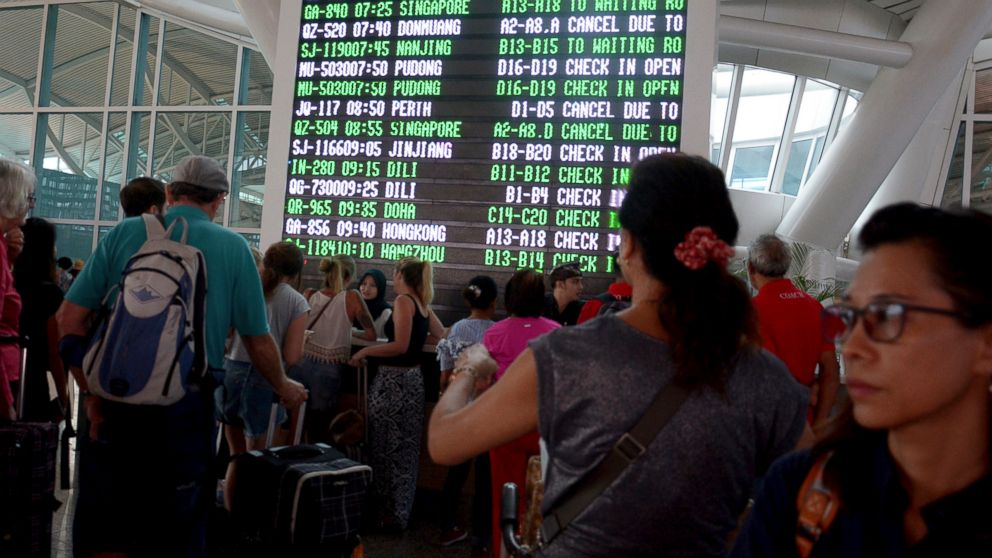 The eruption has left many trapped on the island, including visitor Hassan Hamka. The lawyer from Melbourne, Australia, said today his Tuesday flight was canceled, stranding him for seven more days and costing him thousands of dollars.
Hamka said he missed one of his best friend's engagements and that his job had been affected. "I am a lawyer so it has caused major disruptions," he told ABC News. "I missed a hearing for an alleged terrorist. And other cases. I was due in court but it didn't work out."
He said that he was stranded with friends in Bali and their families were very worried. He said communication has been poor and that his insurance company will not be covering him.
"I contacted my insurance company who stated there has been an embargo since September regarding travels to Bali and as such my insurance is void," Hamka said. "So I am out of pocket to stay in a place I don't want to be in."
He estimated he would spend an extra $5,000 this week.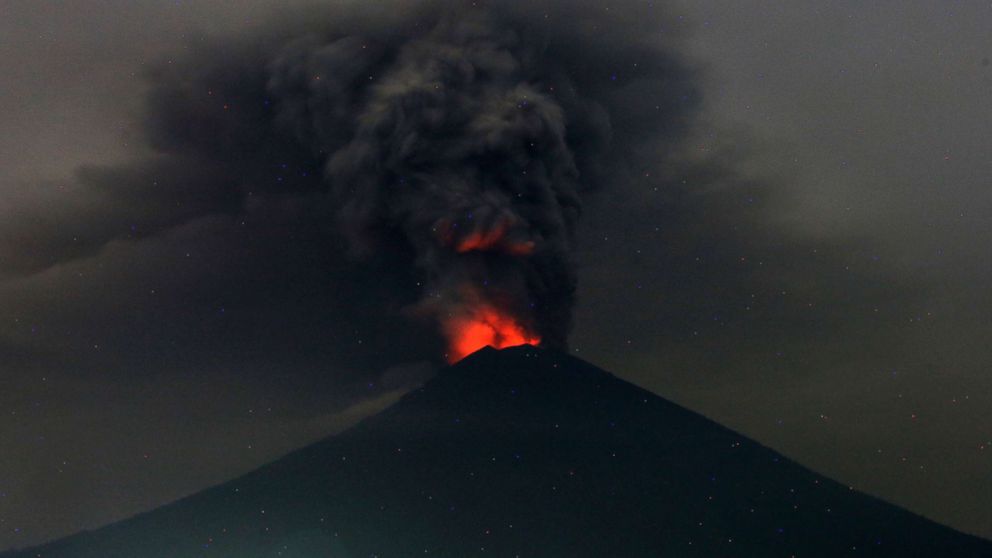 Thousands of Indonesians faced a choice of whether to flee. Sutopo Purwo Nugroho, a spokesman for Indonesia's National Disaster Mitigation Agency, said 40,000 people had evacuated but that others remained due to concerns about leaving their livestock or because they felt safe staying at home, according to the AP.
Indonesia has over 120 active volcanoes and is located on the "Pacific Ring of Fire," according to the AP. Mount Agung's last major eruption took place in 1963.
While many took to social media posting about their experiences being stranded, some visitors did not seem to mind being stranded on the beautiful beaches or in their hostels overlooking Bali's greenery. Others kept an eye on the winds and whether they would shift and bring the ash away from the airport.
One man who moved to Bali from Ibiza, Spain, seven years ago, said he was worried about the winds sending ash inward over the island.
"The airport closed today. Winds changed direction," Jason Guebhard told ABC News.
Guebhard hopes the winds change, sending the ashes toward the ocean instead.
"We are entering wet season and winds are supposed to come from the west. That will be very good," he said.