— -- Turkey has named two of the three suicide bombers who struck Istanbul's international airport on Tuesday night.
Rakim Bulgarov and Vadim Osmanov were identified today as two of the attackers by Turkish state media, which cited an unnamed prosecution source close to the investigation. ABC News has contacted Turkey's prime minister's office and the interior ministry for confirmation.
Kyrgyzstan's foreign ministry issued a statement saying Turkish authorities had identified two of the suicide bombers and that both held Russian passports. In the statement, the ministry provided the same names as reported by the Turkish state media but did not specify whether either of these men were also citizens of Kyrgyzstan.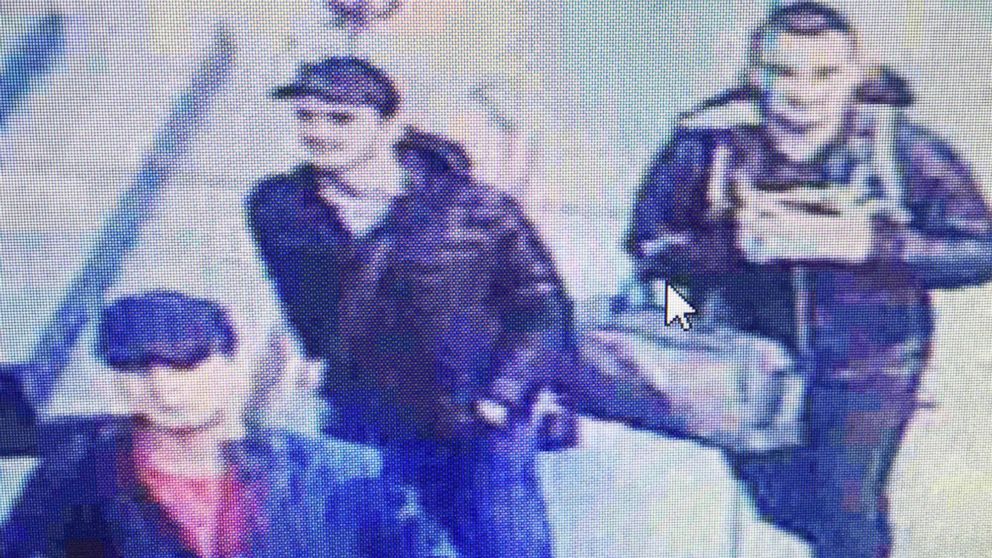 The three attackers were from Russia, Kyrgyzstan and Uzbekistan, according to the Turkish prime minister's office. A Turkish official said the Russian attacker was from the country's restive Dagestan region, the epicenter of an Islamic insurgency against the Russian state.
The trio shared a home in Istanbul for the past month, according to Turkish officials. Neighbors said the men lived in an apartment with a reinforced steel door for several weeks.
Neighbors described suspicious activity at the apartment, including shades that were always drawn shut.
One neighbor, who did not want to be identified, told ABC News there was a chemical smell coming from another apartment, and on Sunday the smell was so strong she thought there was a gas leak and called the landlord. But the massacre at the international airport happened before the landlord could investigate, she said.
Turkish officials said the attackers opened fire with guns at a security checkpoint before blowing themselves up at Ataturk Airport Tuesday night.
Authorities have arrested 24 people in Istanbul after a series of anti-terror raids. Of those arrested, three were foreign nationals. Their nationalities were not identified and it was unclear whether the raids were directly linked to the attack.
The initial overnight operation into Thursday morning consisted of 16 raids at different addresses in Istanbul, according to Turkey's ministry of the interior. State-run media reported the addresses were in the city's Pendik, Basaksehir and Sultanbeyli neighborhoods.
Although no one has claimed responsibility for the deadly attack at one of the world's busiest aviation hubs, Turkish Prime Minister Binali Yildirim has said all signs point to the Islamic State group. CIA Director John Brennan said the attack "bears the hallmarks" of ISIS' "depravity."
ABC News' Matthew McGarry, Engin Bas and Patrick Reevell contributed to this report.