1. Russia and U.S. to Meet Today to Discuss Ukraine
Interested in
?
Add as an interest to stay up to date on the latest news, video, and analysis from ABC News.
Mounting tension between Russia and the United States over Ukraine will be confronted today by United States Secretary of State John Kerry and Russian Foreign Minister Sergey Lavrov in a face-to-face meeting in Paris.
The two diplomatic powerhouses have gotten into a war of words in recent days over Russia's involvement in Ukraine.
Last month, pro-European protesters in Ukraine succeeded in installing a new, pro-European interim president as they wait for nationwide elections in May. Impeached Ukrainian President Viktor Yanukovich, who was pro-Russia, fled the country and sought shelter in Moscow.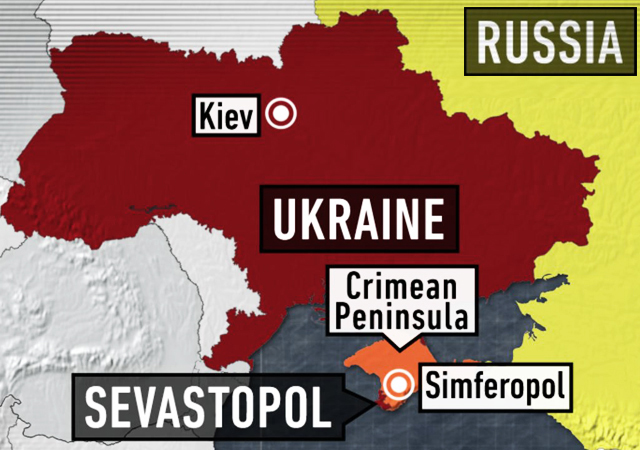 In response to the change in power, Russia sent military troops into a region of Ukraine called Crimea over the weekend, claiming that they were protecting ethnic Russians in that region from anti-Russian sentiments in the country.
In recent days, the United States has called Russia's actions an "invasion" that broke international law, and has threatened sanctions. Russia has threatened to retaliate against any sanctions, escalating tension between the two nations. Kerry and Lavrov, who struck a deal over Syria's chemical weapons, will meet this morning and discuss the situation.
2. Europe Offers Ukraine $15 Billion
In addition to the $1 billion offered on Tuesday by the United States, the European Union said today it would offer Ukraine $15 billion in aid to help it pay its debts and energy bills and keep the government functioning in the near-term.
The West's support of the new, pro-European Ukrainian government is in direct opposition to Russia, which tabled its offer of financial aid when Yanukovich was impeached and replaced.
3. Russian Troops Still Control Ukraine Military Bases in Crimea
Russian troops and pro-Russia militias surrounded and took over military bases in Crimea this weekend, taking over naval bases, airports and a parliament building. Ukrainian forces and Russian soldiers have gotten into tense standoffs this week, with pro-Russian soldiers at one point firing off gunshots into the sky to warn Ukrainian soldiers to leave a Russian-occupied base.
Still, there have been no violent clashes so far in the region, and Russia has made no moves to go into any other part of Ukraine beyond Crimea. About 60 percent of Crimea's population are ethnic Russians.
Russia said it has sent about 6,000 troops into Crimea to protect Russian citizens, in addition to pro-Russian militias that were already in Crimea. The Ukraine government claims Russia has sent 16,000 troops into Crimea.
The Ukraine military still holds five bases plus its naval headquarters in Crimea.
4. The World is Waiting to See What Will Happen Next
All eyes will be on Paris today to see if Kerry and Lavrov can reach a deal over Ukraine that de-escalates the military situation in Crimea.
Ukraine has mobilized its troops to readiness levels but has not said it will take action against the Russian forces.
Russia has not made any move to go beyond Crimea into the rest of Ukraine, but said it hopes it will not have to use further force in the country, but leaves the option on the table.
World leaders will decide on how to respond to Russia's military moves this week, which could include economic sanctions or more serious action.
The AP contributed to this report.