American Family Stuck in Istanbul's International Airport Amid Violent Coup Attempt
Atatürk Airport was closed for much of Friday during the military coup attempt.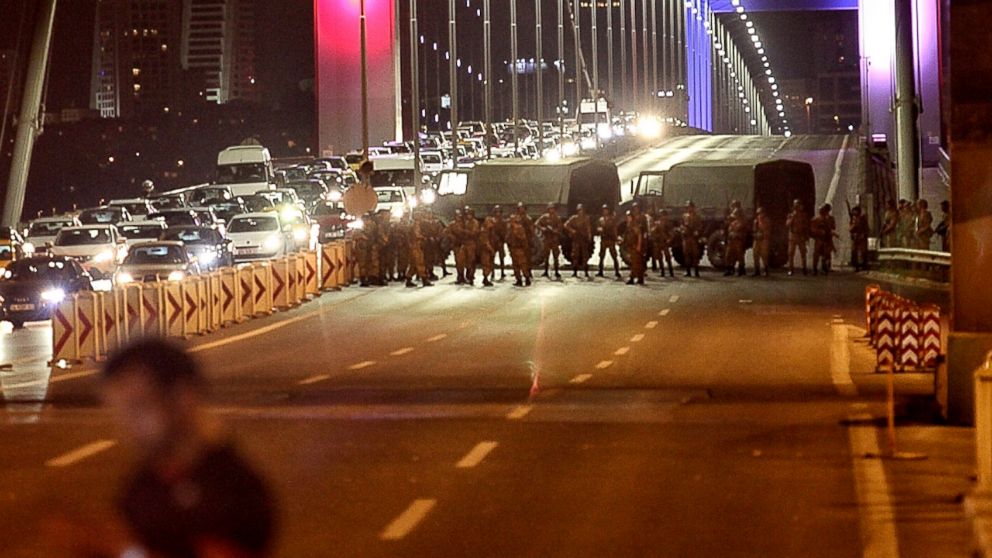 — -- An American family was stuck in Istanbul's international airport overnight as a violent coup attempt against Turkish President Recep Tayyip Erdogan put Turkey on lockdown.
Scott Wiggins, his wife and their three children were waiting for their next flight in Atatürk Airport when a faction of the Turkish military took over state TV, imposed martial law and a curfew and attacked the police headquarters in the capital of Ankara on Friday night.
The Wiggins family is traveling with three other couples to Iraq's Kurdish region to teach English with a nongovernmental organization. But the airport in Istanbul where they were transiting was closed for much of Friday as violence broke out across the country amid the attempted military coup.
"We managed to find a corner of a lounge to stay the night and wait for news," Wiggins told ABC News. "There's tension in the air because of what occurred here last month."
It's the second time in the past three weeks that the Atatürk Airport, one of the world's busiest aviation hubs, was forced to shutter its operations. Three suicide bombers struck the airport on June 28, leaving 44 people dead.
As the coup attempt was under way Friday night and into Saturday morning, explosions, gunfire and the buzz of military aircraft were heard around Istanbul and Ankara. Video showed protesters climbing onto military tanks near Atatürk Airport and feverishly chanting the name of the Turkish president.
"Last night there were several false alarm stampedes. The sonic boom of low flying jets rattled the whole place. We're stressed to say the least," Wiggins told ABC News.
The Turkish government declared the attempted military coup over Saturday morning and Istanbul's international airport reopened. Turkish Airlines first reported that flights had resumed on Twitter and later released an official statement.
"With the unflinching will of the people, Turkey has awakened to a new day with a much stronger sense of democracy and freedom," Turkish Airlines said. "Upon the call of our President H.E. Recep Tayyip Erdogan our operations at Istanbul Atatürk Airport are now back to normal and flights have begun."
But the United States is still advising its government employees in the country to only go out during daylight hours, avoid unnecessary travel and not go to the Atatürk Airport. U.S. citizens in Turkey were encouraged not to go to the U.S. Embassy or consulates, to avoid areas where there are demonstrations or large crowds, and generally to use extreme caution.
"We are still hearing reports of sporadic gunfire," the U.S. Embassy in Ankara said in a security message to U.S. citizens. "Security at Atatürk Airport is significantly diminished."
The message notes the Federal Aviation Administration's notice on Friday that U.S. airline carriers are prohibited from flying to or from Istanbul or Ankara airports.
"All airline carriers, regardless of country of registry, are prohibited from flying into the United States from Turkey either directly or via third country," the security message says.
Although Wiggins said he had seen some activity on the airport's flight board today, he didn't see any planes, flight crews or pilots to support the notion that operations are truly back up and running.
"We aren't sure what to do," he told ABC News. "We'd be happy to wait out a flight if it seemed things were getting organized, but we aren't convinced it is."
Since speaking with ABC News, Wiggins and his family have left Atatürk Airport and are in a hotel.
Turkish Prime Minister Binali Yildirim said 161 were killed in the overnight coup attempt and 1,440 people were injured. Speaking at a press conference Saturday afternoon local time, Yildirim referred to the dead as "martyrs."
Yildirim also described the attempted coup as a "dark stain for Turkish democracy" and blamed it on the "parallel terrorist organization" -- a term used by authorities to describe the movement of Pennsylvania-based Turkish cleric Fethullah Gülen, who lives in self-imposed exile. Early in the coup attempt Friday night, Turkey's president pointed his finger at Gulen, his former political ally, who responded by strongly condemning the attempted military coup and denying any involvement.
Erdogan returned to Istanbul late Friday night after going to an undisclosed location and vowed that those who carried out the coup will "pay."
The prime minister said the government has detained 2,839 military members. And according to Gen. Umit Dundar, who was appointed Turkey's acting Chief of General Staff, 104 people involved in the attempted coup have been killed.
According to the country's Ministry of Interior, 29 colonels and five generals were relieved of their duties.
About 200 unarmed soldiers left Turkey's military headquarters and surrendered to police, the country's state-run Anadolu Agency reported.
ABC News' Kirit Radia, Maia Davis, Martha Raddatz, Engin Bas, Rex Sakamoto, Devin Villacis and Dominick Proto contributed to this report.