The U.S. and its allies are "still assessing the intelligence" needed to prove the Assad regime conducted a recent alleged chemical attack in Syria, U.S. Defense Secretary James Mattis said Wednesday.
When asked if he had seen enough evidence to blame Syrian President Bashar al-Assad for last weekend's alleged chemical weapons attack in the city of Douma, Mattis said, "We are still assessing the intelligence, ourselves and our allies. We're still working on this," referring to France and the United Kingdom.
His comments came before he went to the White House Wednesday afternoon for a meeting on Syria.
Mattis spoke to reporters prior to a meeting at the Pentagon with the Netherlands' minister of defense.
His comments came hours after President Donald Trump tweeted that Russia should be "ready" because "nice and new and 'smart'" missiles "will be coming."
Trump's tweet seemed to be a response to Russia's ambassador to Lebanon who told Hezbollah TV this morning that Russia will shoot down U.S. missiles and target launch sites. Russia has previously threatened to shoot down U.S. missiles and aircraft that threaten the lives of Russian personnel in Syria.
When asked if the U.S. military was ready to conduct a counter retaliatory strike if ordered, Mattis said, "We stand ready to provide military options if they are appropriate as the President determines."
He would not say whether he was concerned about the president telegraphing U.S. military action in Syria.
On Monday, Trump said "major decisions" would be made on Syria in the next 24 to 48 hours.
Options for U.S. retaliation against the Syrian government over the alleged chemical attack run the gamut from light to heavy impact, according to a U.S. official.
Trump has had several phone conversations with French President Emmanuel Macron and U.K. Prime Minister Theresa May on how the West should act in order to reinforce an international prohibition against chemical warfare.
Macron on Tuesday evening said he wants "a strong and joint response" to the attack, saying that France would decide in the coming days alongside the U.S. and Britain.
There are French aircraft in Jordan and the United Arab Emirates, and British aircraft in Cyprus. Both carry Storm Shadow or SCALP cruise missiles.
According to the official, one option being considered by the U.S. military is striking at the Assad regime's command and control headquarters for the Syrian military. Another option is striking at areas where the Assad regime houses its chemical weapons.
The U.S. could also conduct limited military strikes, such as the Tomahawk missiles launched from a U.S. Navy destroyer in the Mediterranean targeting a Syrian airstrip almost exactly a year ago after an alleged chemical attack on Khan Sheikhoun in Idlib that killed more than 100 people.
These attacks could require routing cruise missiles around several Russian S-400 air defense batteries located inside Syria.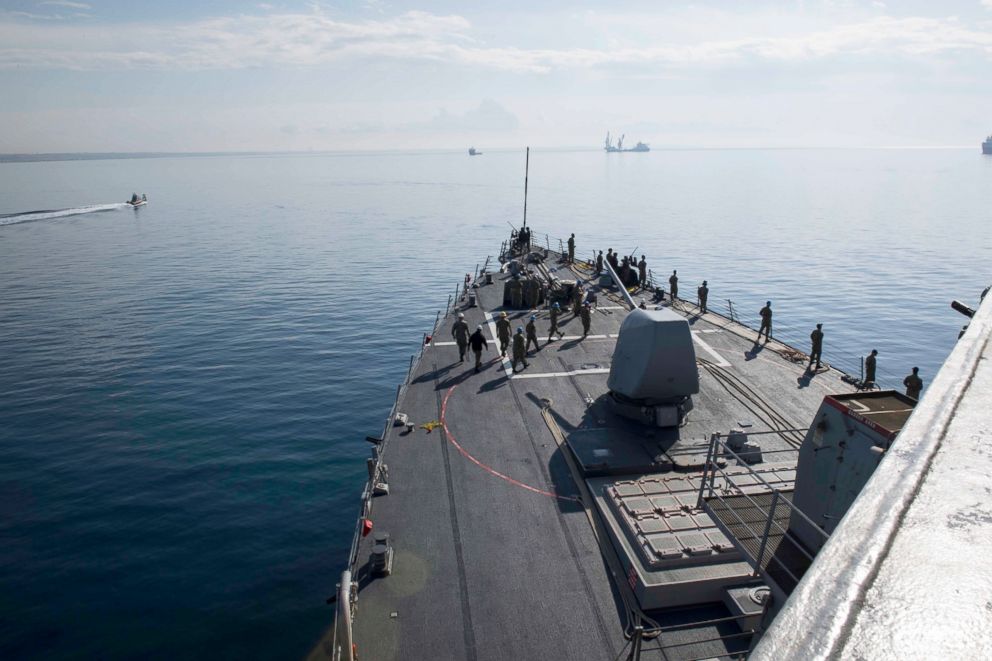 If the administration decides to launch Tomahawk missiles again, there's only one U.S. Navy ship in the eastern Mediterranean that could do it: the USS Donald Cook.
On Monday, the Navy announced the ship was leaving Larnaca, Cyprus after a port call. A U.S. defense official told ABC News that the Cook's departure on Monday was previously scheduled and not related to possible military action in Syria.
The Cook is equipped with Aegis, a quick reaction air and ballistic missile defense system.
Heeding the possibility of U.S. military action, Russian news agency Interfax reported on Wednesday that Russia's Navy will conduct military exercises off the coast of Syria on Wednesday.
It's believed that any U.S. military response is unlikely to include significant numbers of ground forces. Trump signaled last month that he wanted a complete withdrawal of U.S. forces in Syria, taking observers by surprise.
Meanwhile, leading officials from the Organisation for the Prohibition of Chemical Weapons (OPCW) have requested access to the site of the alleged chemical weapons attack that took place on a Syrian rebel-held neighborhood on Saturday.
On Monday, the World Health Organization said that, during the shelling of Douma, "an estimated 500 patients presented to health facilities exhibiting signs and symptoms consistent with exposure to toxic chemicals."
"More than 70 people sheltering in basements have reportedly died, with 43 of those deaths related to symptoms consistent with exposure to highly toxic chemicals," the organization said. "Two health facilities were also reportedly affected by these attacks."
There have been 10 chemical attacks recorded by activists and doctors in Syria this year, including the alleged incident in Douma, according to the Syrian American Medical Society.