— -- An initial assessment shows that North Korea fired an intercontinental ballistic missile (ICBM) today that flew for more than 40 minutes, traveling 620 miles horizontally into the Sea of Japan, a U.S. official said.
"The North American Aerospace Defense Command (NORAD) determined the missile launch from North Korea did not pose a threat to North America," Pentagon spokesman Capt. Jeff Davis said in a statement.
The launch was detected at about 10:41 a.m. ET (11:41 p.m. local time).
On Saturday morning local time, the U.S. and South Korea fired short-range missiles into the Sea of Japan "as a show of force" in response to North Korea's launch, the U.S. military said in a statement.
The missile was launched near an arms plant from Mupyong-ni, in the far north of North Korea, and traveled about 1,000 kilometers (620 miles) before splashing down in the Sea of Japan. The landing was inside of Japan's Economic Exclusion Zone, about 88 nautical miles west of Hokkaido. Davis said the missile was in the air for at least 40 minutes.
"Our commitment to the defense of our allies, including the Republic of Korea and Japan, in the face of these threats, remains ironclad. We remain prepared to defend ourselves and our allies from any attack or provocation," Davis said.
In a statement, President Donald Trump condemned the launch, saying that North Korea's "second such test in less than a month" is the "latest reckless and dangerous action" by Kim Jong Un's regime.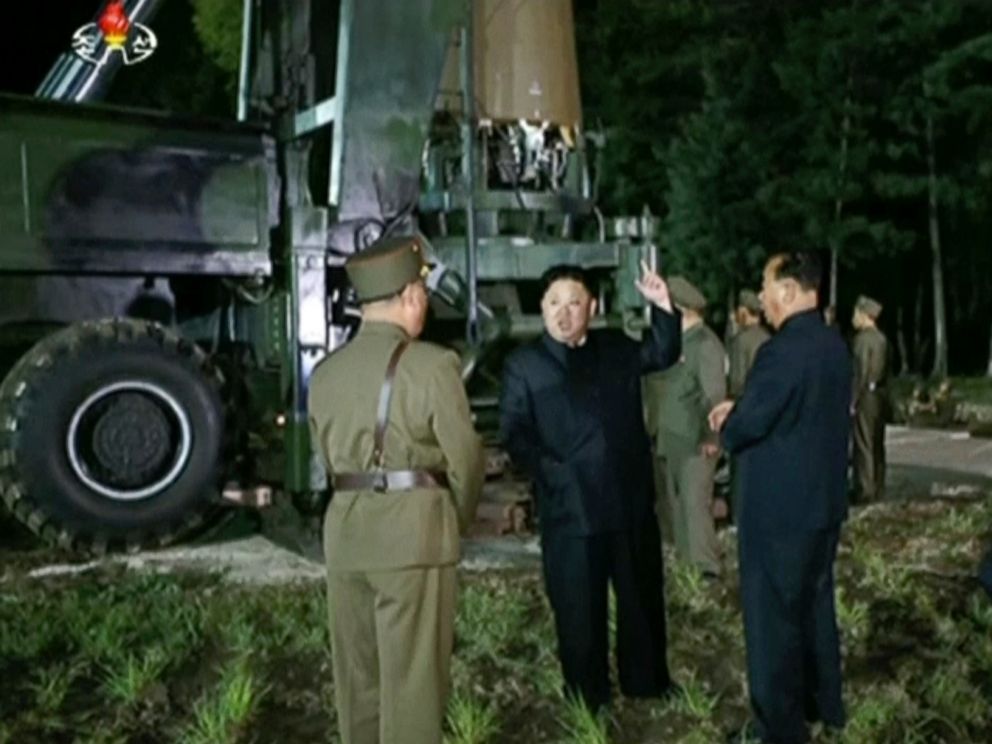 "The United States condemns this test and rejects the regime's claim that these tests — and these weapons — ensure North Korea's security," Trump said. "In reality, they have the opposite effect. By threatening the world, these weapons and tests further isolate North Korea, weaken its economy, and deprive its people."
Trump also said the U.S. will take "all necessary steps to ensure the security of the American homeland and protect our allies in the region."
Following today's missile launch, Gen. Joseph Dunford, the chairman of the Joint Chiefs of Staff, and Adm. Harry Harris of the U.S. Pacific Command called South Korea's top military officer to express their iron-clad commitments to the U.S.-South Korean security alliance and to discuss military response options, David said.
Today's ballistic missile launch is North Korea's 11th ballistic missile test this year and the first since North Korea launched an historic ICBM on July 4, an action U.S. Secretary of State Rex Tillerson said represented "a new escalation of the threat to the United States, our allies and partners, the region and the world."
That ICBM flew at a trajectory of 1,730 miles above Earth for 37 minutes before crashing into the Sea of Japan.
A U.S. official told ABC News earlier this week that North Korea could test another ICBM as early as Wednesday night.
U.S. officials had suspected a test could occur on July 27 to mark the North Korean holiday known as "Day of Victory," which celebrates the end of hostilities in the Korean War in 1953.
But rainy weather at the launch location and technical difficulties appeared to have prevented a launch until late Friday night.