The White House is doubling down on its warning to the Syrian regime not to use chemical weapons ahead of an expected assault on Idlib province in northwest Syria, saying the U.S. will respond "swiftly and appropriately."
It's the strongest warning yet as the U.S. tries to assert a greater role in Syria and prevent what it says would be a humanitarian disaster, even as Syria and its allies, including Russia, prepare for an offensive into the heavily populated province. But the threat of retaliation extends only to the potential use of chemical weapons, with critics charging that the U.S. has done nothing to stop Assad's march on rebel enclaves elsewhere in the country.
In a statement on Tuesday, White House press secretary Sarah Sanders said the U.S. was "closely monitoring the situation in Idlib province, Syria, where millions of innocent civilians are under threat of an imminent Assad regime attack, backed by Russia and Iran."
In particular, Sanders warned that "If [Syrian] President Bashar al-Assad chooses to again use chemical weapons, the United States and its Allies will respond swiftly and appropriately," after the Trump administration has twice ordered airstrikes on Assad regime targets following its use of chemical weapons.
But more broadly, the threat of an Assad offensive into Idlib would be "an unacceptable, reckless escalation of the conflict," State Department spokesperson Heather Nauert said in a statement Tuesday, adding Secretary of State Mike Pompeo spoke to Turkish Foreign Minister Mevlut Cavusoglu, and they agreed on this point.
Still, there were reports Tuesday of Russian fighter jets already bombing parts of the suburbs around Idlib city as it backs Assad in what could be an all-out offensive to retake the province seen as the last stronghold of Syrian rebel groups.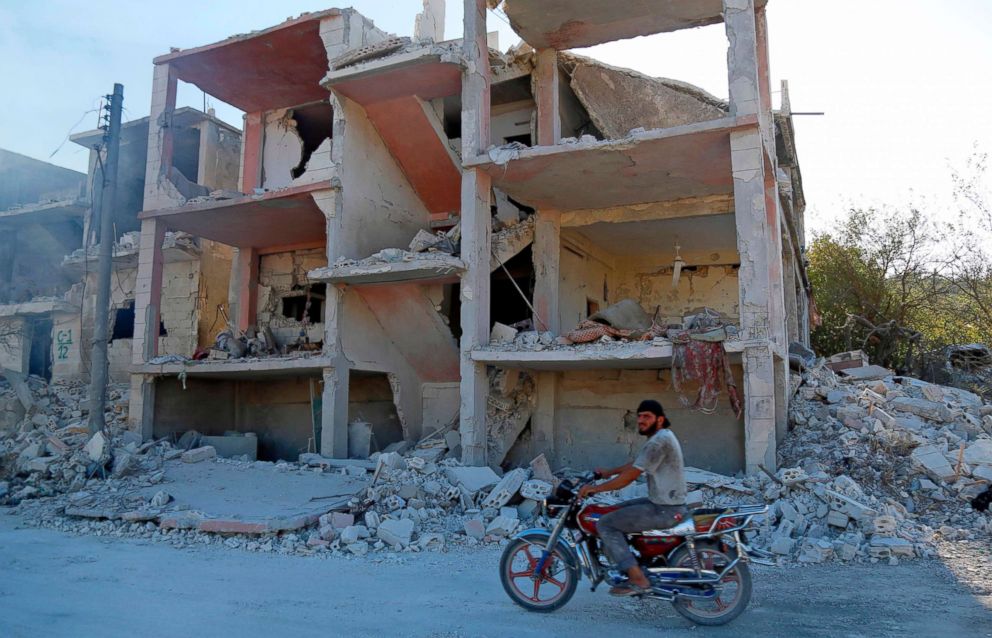 The Russian government maintains that Idlib is a "hotbed of terrorism," with Kremlin spokesperson Dmitry Peskov telling reporters that President Trump's opposition to Russian military action there shows his "limited approach" to the situation.
There are some groups the U.S. and its allies consider terrorists based in Idlib, including al Qaeda's affiliate Hay'at Tahrir al Sham. But there are also nearly three million civilians living there, more than one million of them displaced from elsewhere in Syria, according to human rights groups. Any offensive would, therefore, be incredibly deadly or unleash an even larger wave of refugees into neighboring Turkey and beyond.
The U.S. military campaign in Syria is instead focused on fighting another terror group in the north and east of the country -- ISIS.
The president and his top advisers, including Secretary of State Mike Pompeo, have said since Trump's summit with Russian President Vladimir Putin that they want to work with Russia on counterterrorism. But the divide over Idlib shows how difficult that will be, with the two sides in disagreement on who even is a terrorist.
In a tweet on Monday, Trump called for Assad to "not recklessly attack Idlib Province," adding that "the Russians and Iranian would be making a grave humanitarian mistake to take part in this potential human tragedy." His Twitter message was seen as an escalation of the U.S. war of words, as Trump has rarely weighed in on Syria, where he has said he wants to withdraw U.S. troops and aid.
For two weeks now, Defense Secretary James Mattis, National Security Adviser John Bolton, and Pompeo have been urging Assad and his allies not to wage an offensive into Idlib province. That message was also communicated in person to the Russian ambassador in Washington by Amb. David Satterfield, top U.S. diplomat for the Middle East, and Amb. Jim Jeffrey, the new Special Representative for Syria Engagement.
But the U.S.'s strongest words have been saved for a warning that the U.S. would respond to another chemical weapons attack, as it did after the attacks in Khan Sheikhoun in April 2017 and Douma in April 2018. Each attack killed nearly a hundred civilians, including women and children.
In response to the Douma attack earlier this year, the U.S., France, and the United Kingdom launched targeted airstrikes at three locations related to chemical weapons development. The Assad regime has denied the use of chemical weapons and delayed independent chemical weapons inspectors' access to the site of the attack.
For weeks, Moscow has attempted to portray the U.S. and its partners as the ones actually planning to stage a chemical weapons attack in Idlib as a pretext for again striking Assad.
"This is absurd," Pentagon spokesperson Navy Cmdr. Sean Robertson told ABC News in a statement on Friday. "That Russia is seeking to plant false lies about chemical weapons use suggests that Moscow is seeking to deflect from its own culpability when these heinous weapons are used. Russia's efforts to obscure the truth only underscore its years-long role in abetting the murder and mayhem conducted by the Assad regime."
After the Douma attack, the Russian government said it had evidence that the chemical weapons attack was "staged," despite U.S. intelligence assessments that it was conducted by the Syrian regime with knowledge by the Russians.
ABC News' Luis Martinez contributed to this report from the Pentagon.