American Coalition forces on patrol in Syria exchanged small arms fire with pro-Syrian regime gunmen at a checkpoint while on patrol in north eastern Syria, with the situation now de-escalated, according to a U.S. military spokesperson and a U.S. military source.
The incident, which killed at least one Syrian and left an American with minor injuries, marks one of the most direct confrontations in the war-torn country between U.S. troops and President Bashar al-Assad's forces. But it comes after Russian forces, backing Assad in his push to retake the country by force after nine years of war, have become increasingly aggressive with U.S. troops, according to a top U.S. diplomat.
Syria's northwest has seen a dangerous uptick in violence in recent months as Assad and Russian warplanes launched another assault into the last rebel stronghold, Idlib province, where jihadist groups and Syrian rebels are both backed by Turkey, which has deployed its own forces and clashed with the Syrian regime.
The U.S. troops were on patrol near Qamishli, by the Turkish-Syrian border, when they encountered the pro-regime checkpoint on Wednesday.
"After Coalition troops issued a series of warnings and de-escalation attempts, the patrol came under small arms fire from unknown individuals," Operation Inherent Resolve spokesperson Col. Myles B. Caggins III said in a statement. "In self-defense, Coalition troops returned fire. The situation was de-escalated and is under investigation."
A military source told ABC News the patrol received fire from what they believed was a Syrian regime checkpoint, and that coalition forces returned fire as they attempted to leave.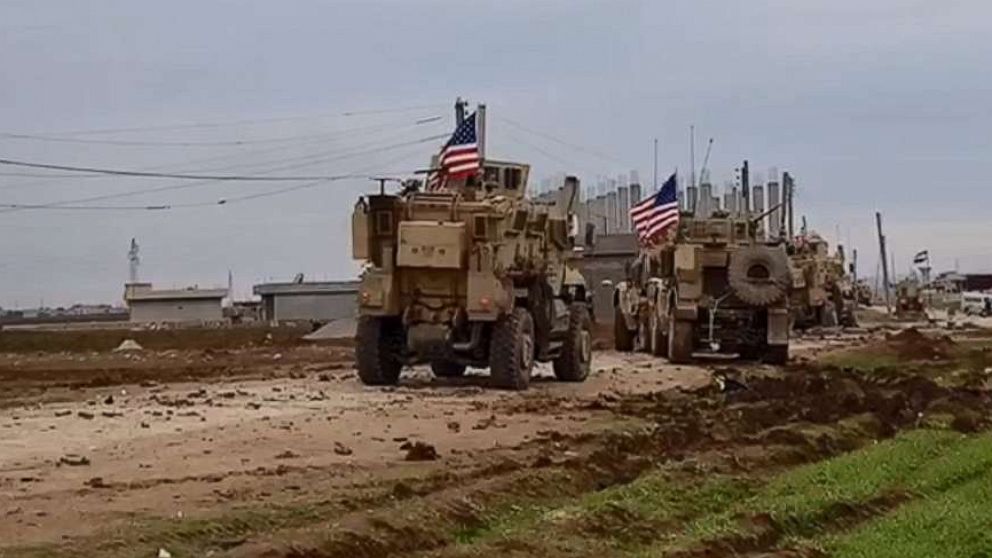 The group then surrounded the convoy and took pictures of their vehicles, before another exchange of fire, the source said. The U.S. also deployed low-flying F-15 fighter jets -- which did not engage in combat, but conducted a show of force -- as well as on-the-ground flares and flashbang grenades, the source added.
The coalition patrol has since returned to their base.
The group who opened fire on the U.S. were regime-supporting locals. Syrian state media reported that a Syrian civilian was killed by U.S. troops in the exchange, according to the Associated Press.
The exchange of fire highlights the tense and complex situation for the remaining U.S. forces in northeastern Syria where Russian and Syrian government forces occupy various checkpoints. Ambassador James Jeffrey, the U.S. special envoy for Syria engagement, said Russian forces had become increasingly "aggressive" toward U.S. troops out on patrol, calling "upon the Russians to adhere fully to the de-confliction agreements we've made with them."
President Donald Trump moved to pull U.S. troops out of the country in the fall, prompting a wave of bipartisan backlash in Washington that had led to him reversing course. Instead, some troops left the region, but about 500 service members were left behind to protect key oil fields, according to Trump. Coalition troops also continue to conduct missions against Islamic State in Syria, where the terror group has pockets of fighters looking to reconstitute.
Fighting in the war-torn country has intensified in recent weeks as regime forces, backed by Iranian proxies and Russian air power, have closed in on reclaiming Idlib. More than half a million Syrians are believed to have been displaced by the conflict in the last two months, and U.S. officials are concerned about a refugee crisis.
To complicate the situation further, the assault on Idlib has seen Russian-backed Syrian forces clash with Turkish forces and Turkish-backed militias, who have crossed into various points in northern Syria as part of military incursion against the Kurds and set up 12 observation posts as part of a ceasefire deal with Moscow that has steadily fallen apart. At least 12 Turkish soldiers have been killed by Syrian regime elements, while Turkey's Defense Ministry said Wednesday that its forces killed 55 pro-Syrian government forces in Idlib.
Jeffrey, who last week said the U.S. offered assistance to Turkey, met with Turkish officials Wednesday in Ankara, including President Recep Tayyip Erdogan's top adviser Ibrahim Kalin.
Erdogan vowed on Tuesday that the Assad regime would pay a "very heavy price" for the offensive into Idlib and the death of Turkish soldiers -- adding in a speech to his political party Wednesday that Turkey will push Syrian forces back out of Idlib and "do what is necessary via land and air without hesitation," according to Turkish state media.
But while the U.S. has vocalized support for Turkey and stepped up its condemnation of the Syrian and Russian assault on Idlib, national security adviser Robert O'Brien said Tuesday that U.S. won't act as the "world's policeman."
"What are we supposed to do to stop that?" he said at the Atlantic Council Tuesday. "We're supposed to parachute in as a global policeman and hold up a stop sign and say, 'Stop this Turkey, stop this Russia, stop this Iran, stop this Syria'?"
That seemed to undermine Jeffrey's message last Wednesday when he told reporters in Washington the administration was "looking at the various things we can do" to halt the offensive, including more sanctions on the regime and its supporters.
ABC News's James Longman contributed to this report from Syria.