U.S. officials confirm that the Biden administration is leaning toward sending M1A1 Abrams tanks to Ukraine and that a decision could be announced as early as this week.
One official said that the U.S. will commit to sending between 30 to 50 tanks to Ukraine under the Ukraine Security Assistance Initiative, which means the U.S. will arrange for the contracting of the tanks with their manufacturer. That could mean the new tanks will not be able to be fielded for quite some time -- possibly more than a year.
President Joe Biden has not made a final decision, but the transfer of Abrams would presumably enable Germany to authorize the transfer of German-made Leopard 2s to Ukraine -- which would allow the 12 NATO countries that have Leopard 2s to transfer them to Ukraine, with the most vocal of those countries being Poland.
Last week, those 12 countries agreed to supply Ukraine with around 100 Leopard 2 tanks once the German government gives its consent, a senior Ukrainian official told ABC News.
Ukrainian President Volodymyr Zelenskyy has urged Germany to approve the transfer.
For weeks, Pentagon officials said publicly that the Abrams tanks weren't suited for the fight in Ukraine, including because of the fuel they need to operate. But officials also did not rule out the vehicles as a potential long-term possibility.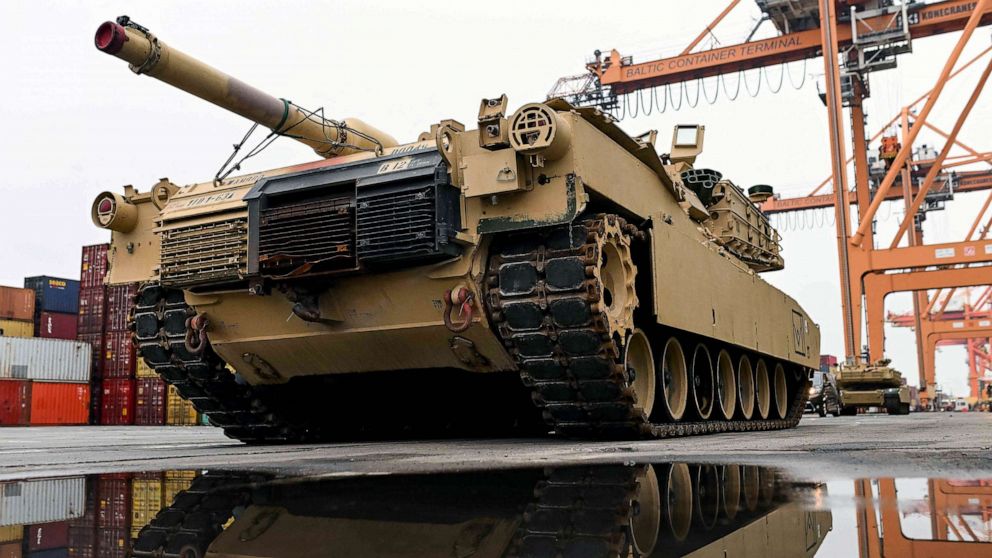 "I am aware of the press reporting stating that the U.S. is considering providing Abrams tanks to Ukraine. I have no announcements to make at this time and when we do, we'll be sure to let you know," Brig. Gen. Pat Ryder told reporters at a briefing on Tuesday.
"As always, we continue to remain in close contact with Ukrainians and our international allies and partners on Ukraine's most pressing security assistance requirements to include their near-, medium- and long-term needs," Ryder said.
Rep. Michael McCaul, the chair of the House Foreign Affairs Committee, said on Sunday that the U.S. should send at least one of its M1 Abrams tanks to Ukraine to push Germany to allow for its own tanks to help Kyiv fight Russia's invasion.
"There's gonna be a winter offensive by the Russians. They need these tanks on the eastern flank in the Donbas," McCaul said on ABC's "This Week."
Sen. Lindsey Graham, who just returned from another trip to Ukraine, held a news conference Tuesday to push for tanks from Germany and the U.S. to be sent to the war-torn ally.
Graham, R-S.C., acknowledged Abrams tanks were "not the best fit" but said it would ultimately "open the floodgates to more tanks coming from allies."
"Seldom in the history of modern warfare has so much depended on so few tanks. Three hundred tanks given to the Ukrainians, who have an ability to take any weapons system and maximize its benefits, I think will determine and will change the outcome of this war," Graham said.
ABC News' Tal Axelrod, Tom Soufi Burridge and Trish Turner contributed to this report.