Rep. Michael McCaul, the chair of the House Foreign Affairs Committee, said on Sunday that the U.S. should send at least one of its M1 Abrams tanks to Ukraine to push Germany to allow for its own tanks to help Kyiv fight Russia's invasion.
"If we announced we were going to give Abrams tanks, just one ... what I hear is that Germany is waiting for us to take the lead. Then they would put Leopard tanks in. And remember, there are about 10 countries that have Leopard tanks, but they need Germany to sign off," McCaul, R-Texas, told ABC "This Week" co-anchor Martha Raddatz, referencing Germany's Leopard 2 tanks.
Germany's Leopard tanks are used in several countries across Europe, though they need Berlin's permission to be reexported to Ukraine. The U.S. has said its Abrams tanks are unsuited for fighting in Ukraine given the extensive maintenance and fuel they need to operate.
Instead, the U.S. has committed significant armored vehicles to Ukraine, including approximately 150 more of them in the most recently announced aid package from the Biden administration.
When pressed by Raddatz if just one Abrams tank would be enough to get Germany's tanks in Ukraine, McCaul said, "Saying we're gonna put Abrams tanks in, I think, would be enough for Germany to unleash" its own Leopards.
"There's gonna be a winter offensive by the Russians. They need these tanks on the eastern flank in the Donbas. They also need the ATACMS, the longer-range artillery, to hit Crimea where the Iranian drones are," he said of the Crimean Peninsula, which Russia illegally annexed in 2014 and which, according to the U.S., is being used as a launching base for exploding drones supplied by Iran.
Delaware Sen. Chris Coons reportedly spoke with German Chancellor Olaf Scholz about tank supplies while at the World Economic Forum last week. In his own "This Week" appearance, Coons echoed McCaul's view, saying, "I think it's urgent that we provide Ukraine with advanced main battle tanks."
"I am concerned that Russia is re-arming and preparing for a spring offensive. If it requires our sending some Abrams tanks in order to unlock getting the Leopard tanks from Germany, from Poland, from other allies, I would support that," Coons said. "I respect that our military leaders think the Abrams is too sophisticated, too expensive a platform to be as useful as the Leopards, but we need to continue to work with our close allies and to move forward in lockstep."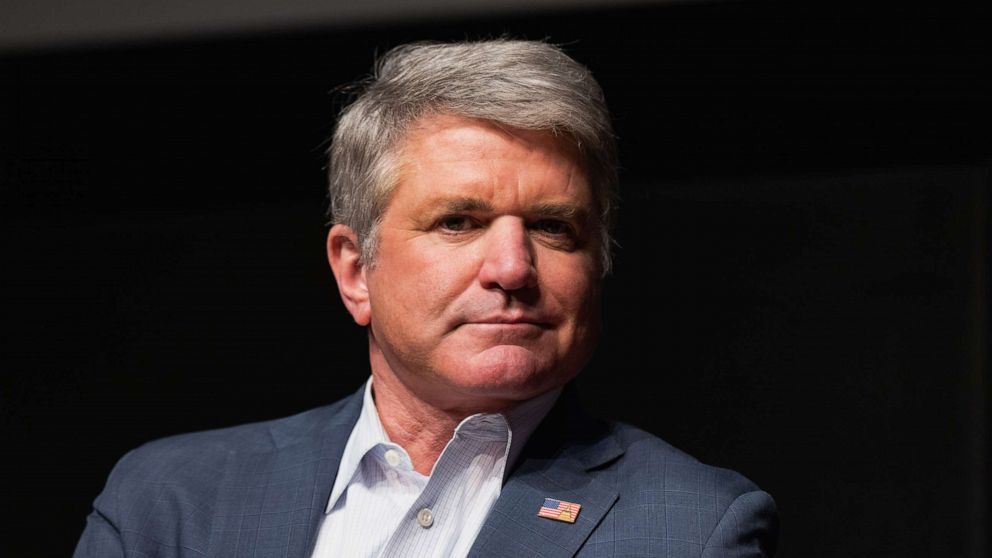 Comparing classified documents to Watergate
McCaul also denounced President Joe Biden's handling of classified information while he was out of office after several documents from his time as a senator and vice president were found in his Wilmington, Delaware, home and an office he used in Washington, D.C., after the end of the Obama administration.
"Why are they taking these documents home? I don't understand that," McCaul said.
Biden and former President Donald Trump had committed the "same sin," McCaul said -- though as Raddatz noted, Biden's team has stressed how he swiftly returned the classified documents to the government upon discovery while Trump did not.
McCaul did not say if he thought the controversy would pose a political risk to Biden, but he pointedly compared it to the Watergate scandal -- the last time a sitting president resigned. He said there were still many "unanswered questions."
"Watergate started as a very small burglary, and it led to the president of the United States resigning. So, I don't know what's there until we see the documents," he said.
Marjorie Taylor Greene on House Homeland Security Committee
McCaul was also pressed on Rep. Marjorie Taylor Greene, R-Ga., getting a seat on the House Homeland Security Committee despite comments elevating conspiracy theories over the Sept. 11 terrorist attacks before she was in office. She has since said, "9/11 absolutely happened."
Greene, who is among the House's most outspoken firebrands and was kicked off her committees by Democrats and some Republicans in the last Congress over her incendiary rhetoric, has "matured," McCaul said.
"I think she realizes she doesn't know everything. And she wants to learn and become, I think, more of a team player. I think it's incumbent upon more senior members to try to -- look, she's a member of Congress -- to try and bring her in and try to educate her that these theories that she has are not accurate," McCaul said.
McCaul is a former chair of the homeland security panel. When asked if he would've liked to see another lawmaker get Greene's seat, he said, "I'm not the chair of that committee, and I'm not the speaker either."