$2.5 billion more U.S. military aid headed to Ukraine, but no tanks
The Pentagon says their tanks aren't suited, pointing instead to Germany.
The Biden administration has announced another huge military aid package for Ukraine, totaling $2.5 billion and including close to 150 more armored vehicles -- but not the tanks that Ukraine has been requesting.
The U.S. believes its Abrams tanks are not suited for Ukraine's fight against the Russian invasion, but America's efforts to have Germany instead allow its Leopard 2 tanks to be transferred to Ukraine have not been successful so far.
In recent weeks, the U.S. and other countries have committed hundreds of armored vehicles to the next phase in the war that, come springtime, could see attempts to launch counteroffensives to break the stand-off in eastern Ukraine.
The $2.5 billion package announced Thursday night includes 90 Stryker armored vehicles, 59 more Bradley infantry fighting vehicles, 53 mine resistant vehicles and 350 Humvees. The aid also includes eight more Avenger air defense systems and missiles for the NASAM system to counter Russia's continued missile attacks against Ukraine's civilian infrastructure.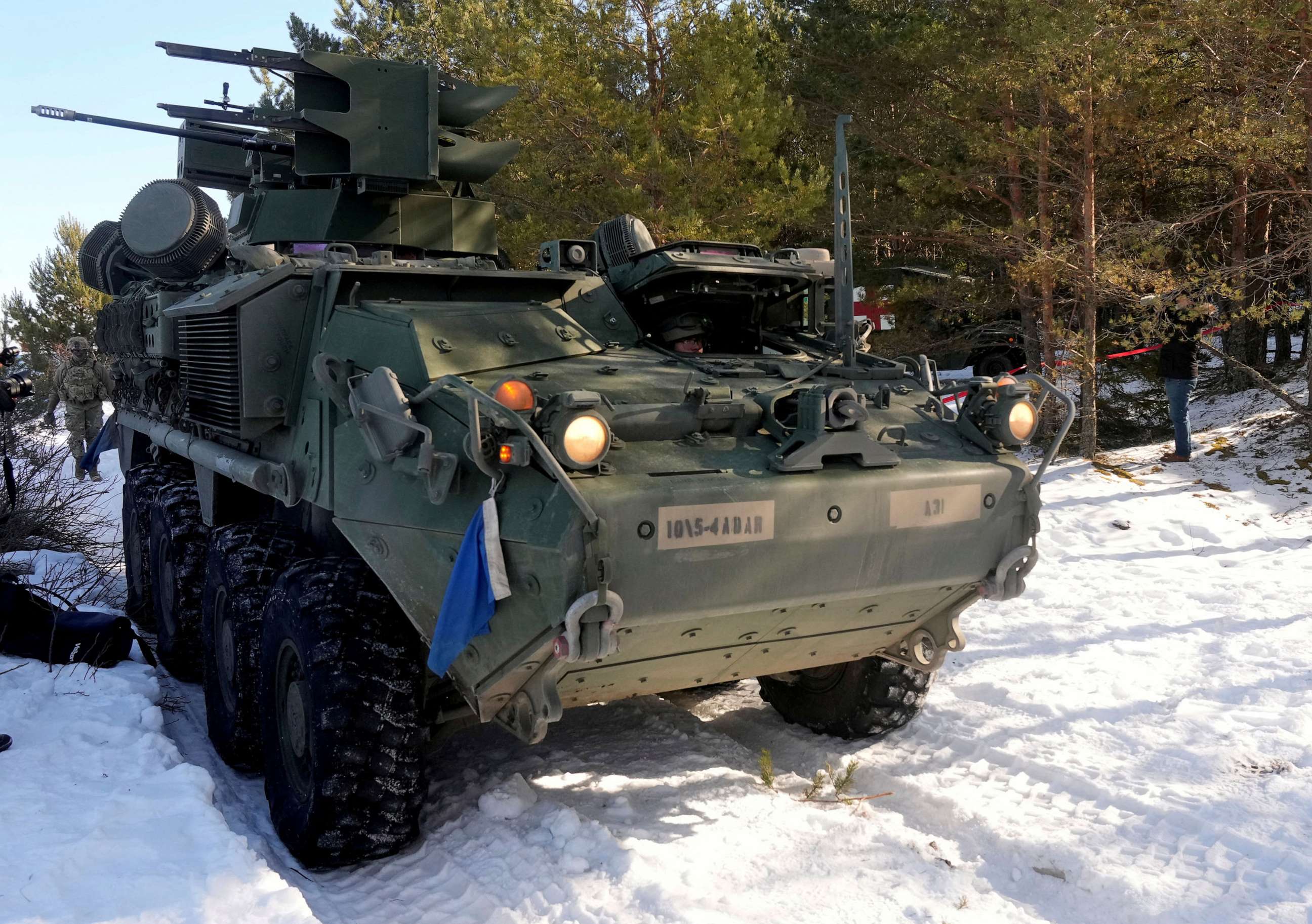 Strykers are eight-wheeled armored vehicles that can carry as many as 11 soldiers inside and are equipped with a machine gun or grenade launcher that is remotely fired from inside the vehicle.
"They are lighter, faster, and have a longer range than the Bradley Fighting Vehicle, said Mick Mulroy, an ABC News contributor and former deputy assistant defense secretary who began his military career as a tank crew member. "The Stryker is also wheeled, which can be positive in dealing with the muddy conditions that will likely exist in the spring."
Just two weeks ago, the U.S. announced it was sending 50 Bradley fighting vehicles, 100 older M-113 armored personnel carriers, and 55 mine resistant vehicles. The transfer of those vehicles coincided with announcements by France and Germany that they, too, would be sending armored vehicles to Ukraine.
But Ukraine has also been asking for western tanks to make up for losses of its Russian-made tanks and while the United Kingdom announced earlier this week that it would send up to 14 Challenger 2 tanks to Ukraine.
However, the Pentagon has resisted calls to provide the M1 Abrams tank, with officials noting it will not meet Ukraine's need for main battle tanks because it is too cumbersome and will require a major maintenance effort.
Instead, the U.S. has lobbied Germany to send its own Leopard 2 tanks to Ukraine or allow other countries that field the tank to send them to Ukraine. There are close to 2,000 Leopard 2s in the inventories of a dozen NATO militaries making them readily available for the fight in Ukraine.
But while Poland and Finland have said they would provide Ukraine with their German-made tanks, sales agreements with Germany prohibit their transfer to Ukraine without Germany's consent.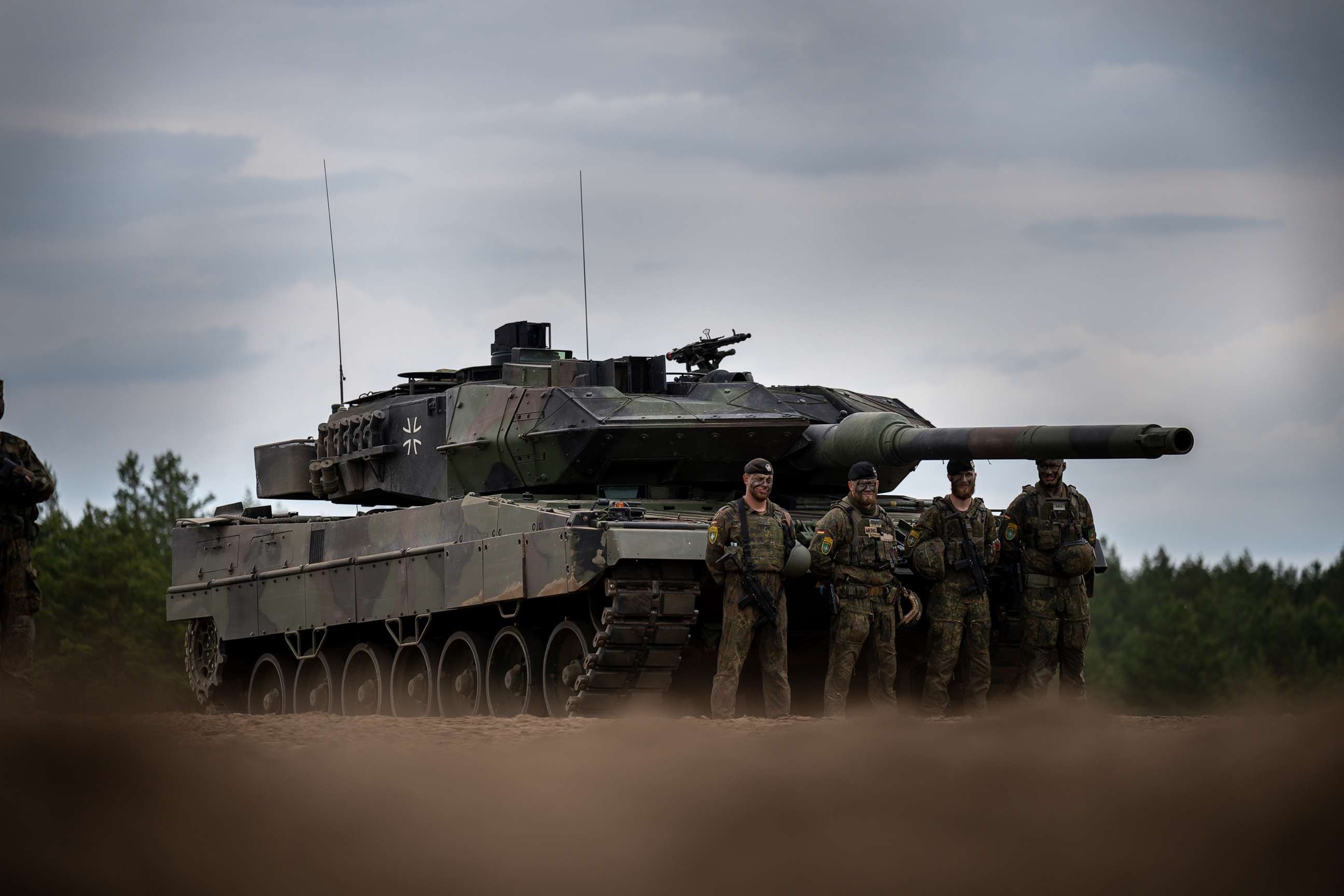 As part of the effort to allow that to happen, Defense Secretary Lloyd Austin was in Berlin on Thursday meeting with German defense officials ahead of Friday's meeting of the Ukraine Contact Group at Ramstein AFB in Germany.
Friday's meetings among the 48 or so countries providing military assistance to Ukraine will focus on meeting Ukraine's requests for more armor and air defense systems.
There was no indication as to whether Austin was successful in convincing German officials who have reportedly said they will only commit to sending Leopard 2s unless the U.S. commits to sending its own Abrams tanks.
On Wednesday, Colin Kahl, the Pentagon's top policy official, told reporters that recent U.S. military aid packages for Ukraine have been intended to give Ukraine the additional armor it needs for next phase of the war as it attempts to overcome Russia's newly built defensive lines in eastern Ukraine.
"I think what we're trying to look at is the mix of armored and mechanized forces that make sense and by make sense, it's a complicated equation" of training and maintaining the equipment which he explained is one reason why the Abrams tank is not suited for the upcoming fight.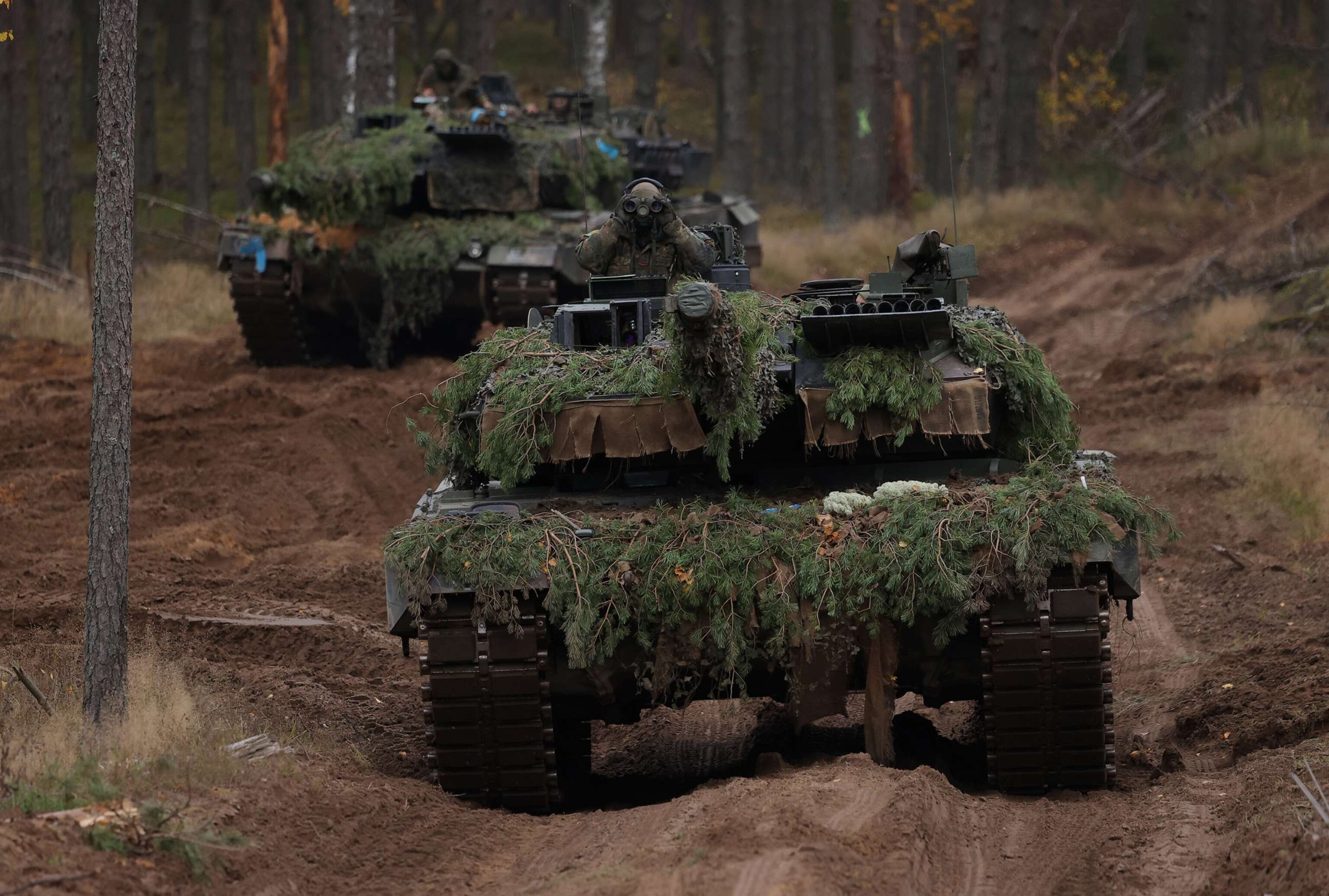 "I just don't think we're there yet," Kahl said of providing the tank to Ukraine. "One of the things that Secretary Austin has been very focused on is that you should not be providing the Ukrainians systems they can't repair, they can't sustain and that over the long term can't afford, because it's not helpful."
Kahl added that "the Abrams tank is a very complicated piece of equipment. It's expensive. It's hard to train on. It has a jet engine" and gets only three miles to the gallon, which apparently makes the Leopard 2 a better fit to replace Ukraine's Russian-made tanks.
But Kahl downplayed the notion that all is riding on whatever decision Germany makes.
"I think we should give Germany an enormous amount of credit for their generosity toward Ukraine," said Kahl. " If there was a concern about being alone in providing this capability, that shouldn't be a concern. But at the end of the day, you know, the German government is going to make a sovereign decision."
Which western country ends up providing tanks to Ukraine doesn't matter to Mulroy who stressed that they will be a game-changer in the next phase of the war which is soon nearing one year since Russia's invasion.
"NATO and the U.S. were correct to be measured in deciding what advanced weapons system to provide Ukraine over concern of escalating this into a war between Russia and NATO, but it is time for these potentially game-changing tanks to be provided to the Ukrainian Army, in enough numbers (likely at least 500) to make a significant difference," said Mulroy.