SEOUL -- In a surprise move, the U.S. military overnight transferred key parts of a controversial antimissile defense system into operational position, drawing angry reaction from residents near the site in Seongju, South Korea.
The Terminal High Altitude Area Defense System, or THAAD, was originally scheduled to be installed after South Korea elects a new president May 9, giving the next administration a chance to review the controversial missile defense system.
The sudden move, with no warning, comes amid rising rhetoric on North Korea and before U.S. senators meet at the White House today about the volatility in the region.
"The American military is completely ignoring us," said Kim Choong Hwan, head of a group of villagers protesting the THAAD deployment. "We will continue to fight with all means."
Over 8,000 police officers and South Korean soldiers reportedly escorted loads of U.S. military trucks onto the golf course while dozens of angry villagers threw plastic water bottles at the troops. The relocation started after midnight local time, swiftly finishing at 4 a.m.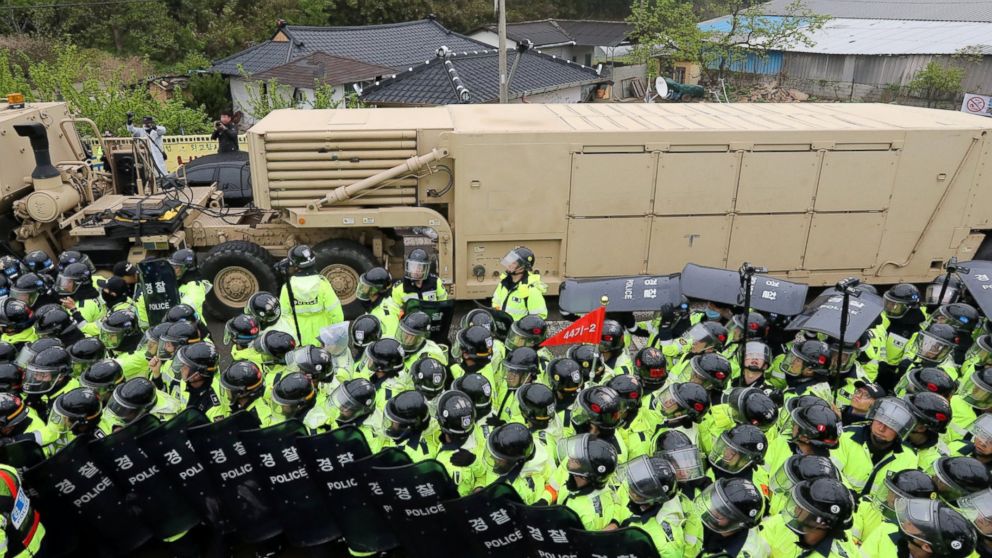 The golf course, previously owned by multinational conglomerate Lotte Co., one of the largest South Korean business groups, was deemed the most appropriate site because of the flat terrain and relatively small number of residents around the area.
A considerable majority of South Koreans, 56.6 percent in a recent poll, believe the THAAD deployment should be delayed.
"The fact that it happened so abruptly when everyone thought it would wait until after the [presidential] elections bothers me, that our defense ministry does not consider the opinion of Korean people important," student Kang Ha-rim said.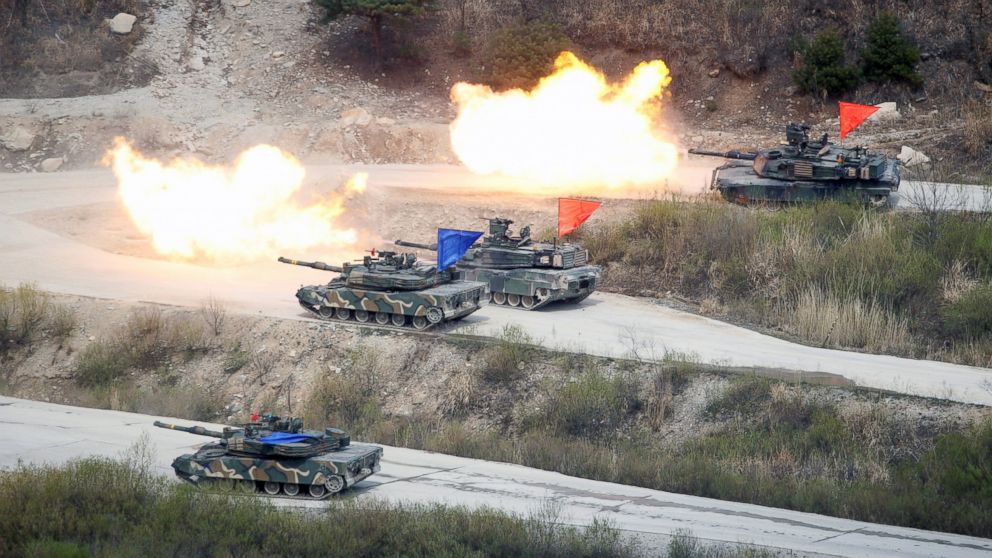 But officials in both Seoul and Washington have been pushing to get the antimissile defense system up quickly in order to cope with North Korea's advancing nuclear and missile threats.
The surprise move comes a day after a U.S. guided-missile submarine docked in South Korea while Pyongyang conducted one of the largest live-fire artillery drills in recent years to mark the 85th anniversary of the founding of its Korean People's Army.
China reacts to THAAD
Meanwhile, China is maintaining its hostile stance against THAAD, warning that Beijing will take firm measures to defend its interests, Foreign Affairs Ministry spokesman Geng Shuang said.
He urged the U.S. and South Korean governments to stop the deployment, saying it will disrupt the regional strategic equilibrium and further aggravate the already tense situation on the Korean Peninsula.
Chinese retaliation against South Korea in the past couple of months has already taken a toll on economic relations. Led by Beijing, Chinese citizens have been actively boycotting Lotte products as well as South Korean businesses operating in China. Chinese tourist travel to South Korea has also been banned.
ABC News' Joseph Simonetti contributed from London and Yoo Hong contributed from Seoul.