How to help victims of the deadly Israel-Hamas conflict
"Nothing justifies the killing, maiming or abducting of children," UNICEF said.
As the horrendous carnage emerges from the Israel-Hamas conflict, people in the United States and around the globe are clamoring for ways to help those caught in the crossfire of the surprise attack on Israel by Hamas terrorists and the retaliatory airstrikes from Israel into Gaza.
More than 3,500 people -- most of them civilians, including hundreds of children -- have been killed in Israel and Gaza and nearly 12,000 have been injured since Hamas militants launched their attack on Saturday, invading Israel from the air, sea and sky.
Hamas' attack began with more than 2,000 rockets fired into Israel at dawn, while simultaneously Hamas fighters breached the border in numerous areas and poured into Israeli towns and kibbutzim, gunning down civilians and soldiers and going door-to-door in their deadly campaign, Israeli officials said. In some cases, the terrorists killed entire families, including babies, officials said.
In response, the Israeli Defense Forces have bombed communities in Gaza, leaving many residential neighborhoods in ruins. According to the United Nations, more than 330,000 people in the 140 square miles that comprise the Gaza Strip have been displaced.
At least 2,228 people have died and more than 8,740 others have been injured in Gaza since the retaliatory airstrikes by Israel began, the Palestinian Health Ministry said Saturday. At least 724 of the dead in Gaza are children and 458 are women, the health ministry said.
As of Saturday, the death toll in Israel stood at more than 1,300, officials said. At least 27 Americans are among the dead in Israel. Another 3,227 people were injured in the country.
As the conflict rages on, the need for humanitarian support has become more urgent on both sides of the border. For people wanting to help or donate to further that cause, the Walt Disney Company, ABC News' Parent Company, has singled out a number of leading international humanitarian organizations doing "important work across the border and are actively responding to the attacks," the company said in a statement to employees.
Among the groups people can donate to, are:
IsraAid
-- Founded in 2001, IsraAid is the largest humanitarian aid organization based in Israel. It has responded to major humanitarian crises worldwide and has worked in more than 50 countries with a staff of about 300 worldwide, according to the group's website.
"Thankfully, our headquarters and our emergency response team is already in full speed," Yotam Politzer, CEO of IsraAID, said this week as he accepted a grant from the American Jewish Comittee'sI srael Emergency Campaign supporting support Israeli relief organizations. "As Israel's leading international humanitarian organization, we have never had a full-scale humanitarian response in Israel. This is the first time we're actually doing it. And we're doing it because the situation is indeed dire and extreme."
United Hatzalah of Israel
-- The largest independent, non-profit, fully volunteer emergency medical service organization based in Israel, that provides the fastest emergency medical service throughout Israel. Since the attacks, the group's volunteer medics have been on the front lines in Israel "responding to lifesaving calls," the group said on its website. The time is now. Your support is critical to ensure the safety of our volunteers and the people of Israel.
"In this state of emergency -- unlike anything Israel has experienced since the Yom Kippur War-- Israel needs your urgent support," the group said, launching an emergency appeal to raise funds for what it described as desperately needed supplies, including protective vests, helmets, oxygen tanks, defibrillators, trauma bandages and tourniquets.
"These supplies can be ordered and delivered over the course of the next week to ensure that UH volunteers have everything they need to respond to the ongoing attacks," the group said.
Doctors Without Border
-- Also known as Médecins Sans Frontières, the group is made up of people from more than 169 nationalities working in more than 70 countries, including Gaza and the West Bank.
"Many of our staff here at MSF-USA have friends, family, and loved ones in Israel, Gaza, or both, for whom we are deeply worried. All of us have colleagues working right now in Gaza delivering lifesaving medical care to people caught in the crossfire," Avril Benoît, executive director of the organization, said in a statement.
Benoît added, "As Executive Director of MSF-USA, my team and I have been receiving a number of questions about MSF's response in the region and how we are helping to save lives."
The organization doesn't have any medical programs in Israel, but has offered its support to Israeli hospitals treating a high number of casualties, the group said on its website.
"MSF is focused on meeting the immediate emergency medical needs of people in Gaza, and our staff have been working 24/7 since October 7," the organization said. "We are supporting hospitals and health facilities with donations of medical supplies as stocks are running dangerously low. On Monday, we treated 50 people at MSF-supported Al-Awda hospital after a strike on a nearby refugee camp."
UNICEF
-- a humanitarian group that works in some of the world's toughest places, "to reach the world's most disadvantaged children," a statement on its website reads. The organization works across more than 190 countries and territories.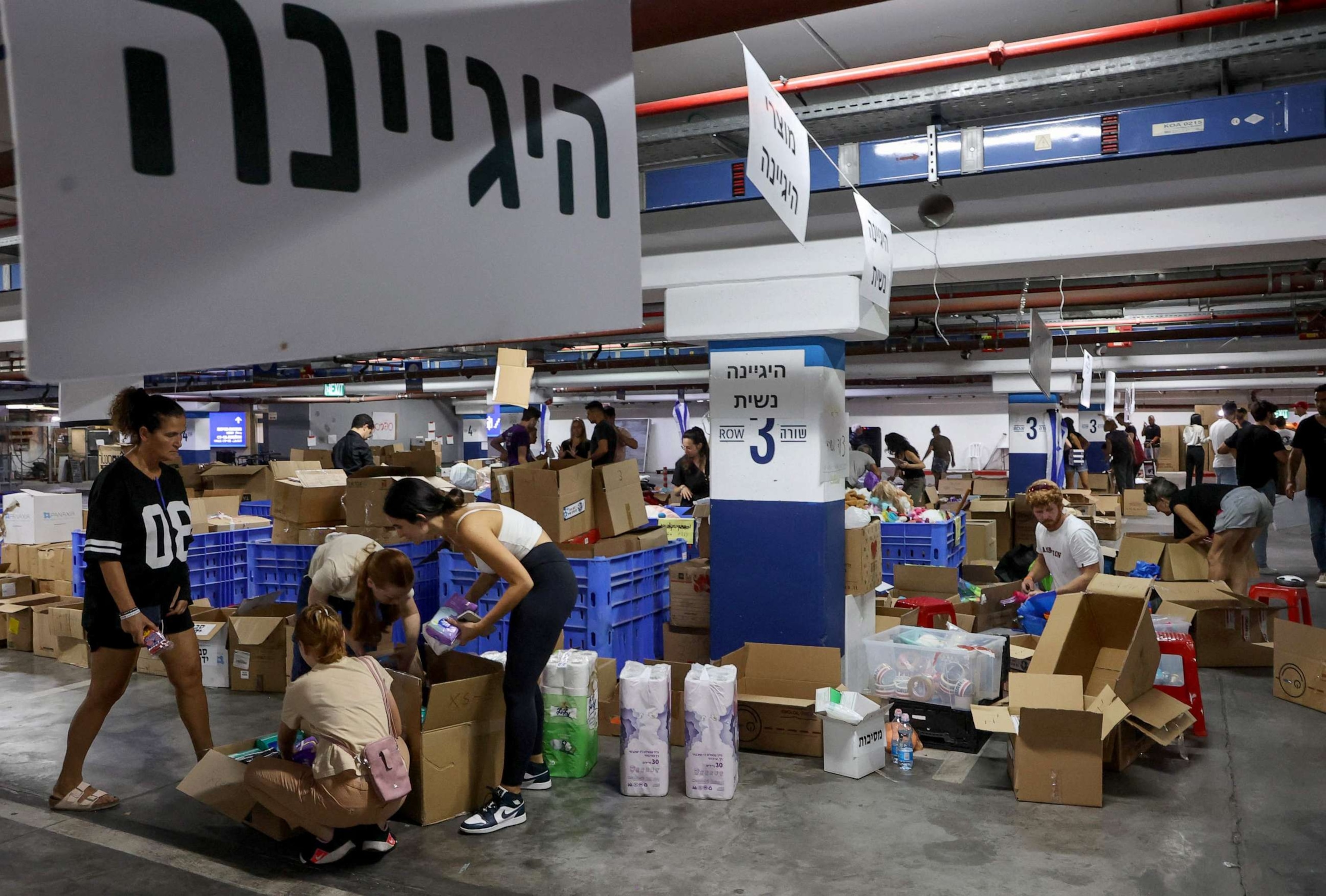 "Nothing justifies the killing, maiming or abducting of children -- grave rights violations which UNICEF wholeheartedly condemns," Catherine Russell, UNICEF's executive director said in a statement about the Israel-Hamas conflict. "Yet less than 72 hours after the outbreak of horrific violence in Israel, reports indicate that grave rights violations against children are rampant. Many children have been killed or injured, while countless others have been exposed to the violence."
Russell said she is "deeply concerned" about the lack of electricity and running water in Gaza since the territory's only power plant ran out of fuel on Wednesday.
"It is imperative that all parties refrain from further violence and attacks on civilian infrastructure," Russell said.
International Rescue Committee
-- The group that works in more than 40 countries and 28 U.S. cities "to help people affected by the humanitarian crisis to survive, recover and rebuild their lives," the organization's mission statement reads.
"The International Rescue Committee is horrified by the mounting civilian toll and the destruction of residences and public infrastructure as violence continues across Israel and the occupied Palestinian territory," the agency said in a statement.
The agency said it works across the Middle East and North Africa regions "to support those in need across every aspect of their lives in order to restore safety, health, education, economic wellbeing, and meaningful measures of self-resilience."
World Food Programme
-- The world's largest humanitarian organization, which is part of the United Nations, provides food assistance worldwide.
"As the conflict intensifies, civilians, including vulnerable children and families, face mounting challenges in accessing essential food supplies, with food distribution networks disrupted and food production severely hampered by hostilities," the group said in a statement. "WFP urges safe and unimpeded humanitarian access to affected areas, calling on all parties to uphold the principles of humanitarian law, taking every necessary measure to safeguard the lives and well-being of civilians, including ensuring access to food."
WFP said it is prepared to respond swiftly with pre-positioned food stocks for people who have been displaced or are in shelters, when the situation allows, as well as resuming its regular food and cash-based transfer assistance to vulnerable people in the region.
"WFP has been steadfast in providing crucial food assistance, serving approximately 350,000 Palestinians monthly, and extending aid to nearly one million Palestinians in collaboration with other humanitarian partners through its cash-based transfers platform," the group said.
Direct Relief
-- The charity's mission "is to improve the lives of people in poverty or emergency situations by providing the appropriate medical resources," the group said on its website.
"In response to the atrocious and reprehensible terror attacks on Israel by Hamas, Direct Relief offers its deepest sympathies to the victims and pledges its full support to help care for survivors," the organization said in a statement. "As an apolitical, non-sectarian organization dedicated to humanitarian principles, Direct Relief is engaging its ongoing partners in Israel and has extended offers of humanitarian assistance to aid their response to this abhorrent attack."
Direct Relief committed an initial $75,000 to relief efforts in Israel following deadly terrorist attacks and said the funds would go to the Ashkelon Foundation, a nonprofit focused on health and well-being in Ashkelon in southern Israel near the Gaza. Direct Relief said the Ashkelon Foundation is supporting the Barzilai Medical Center a 600-bed hospital in Ashkelon that was struck by Hamas rockets on Wednesday.
"Medical staff are continuing to care for the influx of patients, even as rocket attacks have shaken the hospital, shattering windows in the children's ward," Direct Relief said in a statement. "The hospital has expressed an urgent need for funds to purchase emergency supplies and equipment to support patient care."
American Red Cross
-- Founded in 1881, the nonprofit U.S. humanitarian group provides disaster relief and life-saving blood in emergency situation around the world. The group is affiliated with the Palestinian Red Crescent Society, which is providing medical aid in Gaza.
The organization emphasized that it "serves as a neutral and impartial party" and its mission is to "reach and help people when and where it is needed most."
"Over the past several days, Red Cross Red Crescent societies, Magen David Adom and the Palestinian Red Crescent Society have been responding as the conflict has escalated, providing emergency assistance including health services, ambulance services and other critical needs," the Red Cross said in its statement. "To ensure this lifesaving work, Red Cross and Red Crescent officials continue to call for medical transportation, health workers and facilities to be protected."
The Jewish Federation
-- Formerly known as the United Jewish Communities, The Jewish Foundation is an umbrella organization representing over 350 independent Jewish communities across North America that raises and distribute over $2 billion annually.
"Once again the Jewish communities of North America stand in total and complete solidarity with our Israeli brethren," the group said in a statement on its website.
"We pray for their safety and will do everything we can to ensure the complete and total success of their efforts," the group said. "And once again the Jewish Federations across North America will act immediately and comprehensively to support our brothers and sisters as they defend Israel."