— -- The American held hostage by al Qaeda who was was killed during a U.S. counterterrorism operation was a former Peace Corps official working in Pakistan for community projects.
Dr. Warren Weinstein, 73, was taken hostage in August 2011 when he was a USAID contract economic development advisor in Lahore, Pakistan, who was helping Pakistani families escape poverty, according to President Obama. Gunmen stormed his apartment and took him captive before he was traded to al Qaeda.
The White House said today that Weinstein and another hostage, Giovanni Lo Porto, an Italian national, were killed during an American government's counterterrorism operation this past January. President Obama called Weinstein a humanitarian who "devoted his life" to help people.
His family said Weinstein "loved and respected the Pakistani people and their culture. He learned to speak Urdu and did everything he could to show his utmost and profound respect for the region."
Weinstein's wife, Elaine, released a statement that read: "On behalf of myself, our two daughters, our son-in-law, and two grandchildren, we are devastated by this news and the knowledge that my husband will never safely return home."
"I want to thank Congressman John Delaney, Senator Barbara Mikulski and Senator Ben Cardin -- as well as specific officials from the Federal Bureau of Investigation -- for their relentless efforts to free my husband," she said.
Elaine Weinstein added, "Unfortunately, the assistance we received from other elements of the U.S. Government was inconsistent and disappointing over the course of three and a half years. We hope that my husband's death and the others who have faced similar tragedies in recent months will finally prompt the U.S. Government to take its responsibilities seriously and establish a coordinated and consistent approach to supporting hostages and their families."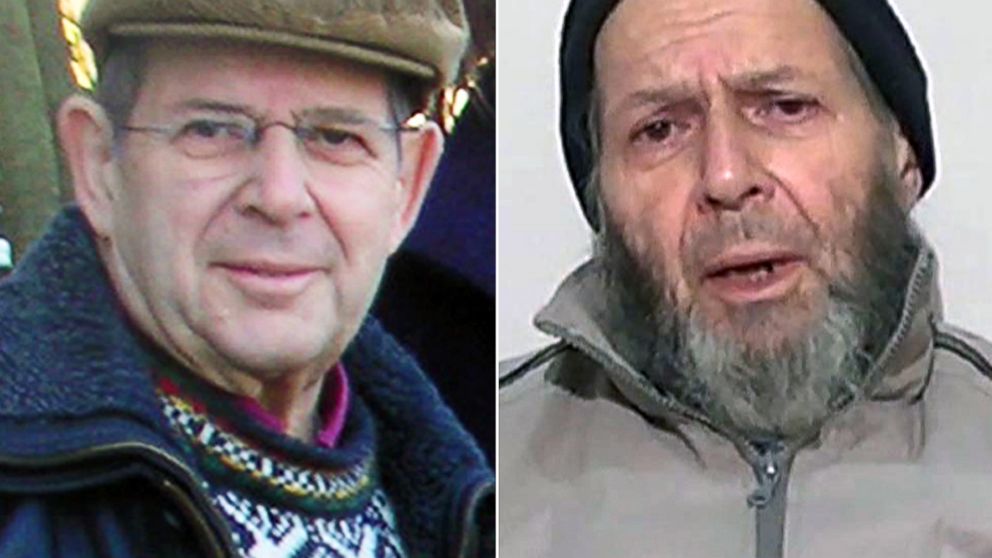 Weinstein's wife spoke to "Good Morning America" in December 2013 after seeing a video of her husband.
"I wanted to die right there on the spot," Weinstein's wife said at the time about her reaction to the video, "because he has no idea how hard we've tried to get him back… and it's just heartbreaking because he's asking for help and I can't give him any."
In 2012, Weinstein pleaded with President Obama to comply with the terrorists' demands, saying, "My life is in your hands, Mr. President," he said. "If you accept the demands, I live. If you don't accept the demands, then I die."
"I've done a lot of service for my country, and I would hope that my country will now look after me and take care of me and meet the demands of the mujahedeen," he added.
"I tell the captive soldiers of al Qaeda and the Taliban and our female prisoners held in the prisons of the crusaders and their collaborators, 'We have not forgotten you and in order to free you we have taken hostage the Jewish American Warren Weinstein,'" al Qaeda leader Ayman al-Zawahiri said in a 30-minute statement months after Osama bin Laden was killed in 2011.
ABC News' Mary Bruce and Lee Ferran contributed to this report.