Witnesses described the terrifying scene at Istanbul's Ataturk Airport, where officials said three attackers killed at least 36 people and injured 147 others Tuesday night.
Judy Favish, of South Africa, had just checked in her luggage when she heard an explosion, followed by gunfire and a loud bang, the AP said. Favish was on a two-day stopover in Istanbul on her way home from Dublin when the attack took place and hid under a counter for some time, according to the AP.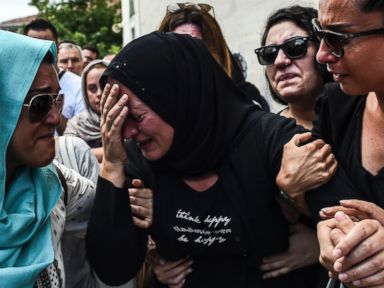 Passengers were then ushered to a cafeteria at the basement level of the airport and were kept there for more than an hour before they were allowed outside, she told The AP.
Two more tourists from South Africa, Paul and Susie Roos, were about to fly home to Capetown when the explosions went off, the AP said.
"We came up from the arrivals to the departures, up the escalator when we heard these shots going off," Paul Roos told The AP. "There was this guy going roaming around, he was dressed in black and he had a hand gun."
A 12-year-old girl who had just arrived from Dusseldorf with her family, told The AP she saw blood on the ground.
Boston resident Adam Keally witnessed the pandemonium at the airport, telling The AP, "people were shooting from one side and we all ran the other way and then bombs went off and people started running the other way and there was more shooting and we came out and, after that, I think there was another bomb. But not really sure."
Keally added, "[victims] had cuts and people were very badly injured. One guy had holes in his back from shrapnel or from glass. That's what I was holding."
Three attackers arrived to the airport by taxi Tuesday night around 10 p.m. local time carrying weapons. All signs point to ISIS being responsible for the attack, Turkish Prime Minister Binali Yildirim said. The airport has since reopened.
According to Yildirim, foreign nationals and police officers were among the wounded.