— -- New Zealand emergency management officials are planning rescue operations and helping residents recover from a powerful 7.8-magnitude earthquake that struck a remote part of the island earlier in the day, leaving two people dead and more than 1,000 without basic services.
The quake caused a small tsunami and spurred landslides, but it did relatively less damage than an earthquake that struck the country five years ago. Officials, however, were cautioning that weather conditions could hamper rescue operations.
See below a selection of photos.
As strong aftershocks rattled residents, rescue workers were mobilizing helicopters and naval ships to take part in a rescue operation on Tuesday for the tourists and hundreds of local residents who were left stranded in the town of Kaikoura.
"It's just utter devastation," New Zealand Prime Minister John Key said after surveying the destruction.
The quake, which struck just after midnight Monday, cut off train and vehicle access to the coastal town and disrupted drinking water and sewage services.
"Kaikoura has essentially been isolated," Darryn Webb, acting commander of New Zealand's Joint Forces, told The Associated Press. "There's a real imperative to support the town because it can't support itself."
"We're going to get as many people and belongings out as quickly as we can," he added, detailing a plan to send four helicopters capable of transporting 18 people at a time into the region on Tuesday.
A forecast for bad weather conditions could see the rescue mission halted and military aircraft being used to drop fuel, food, water and other necessities into the affected area.
Meanwhile, aerial footage showed three cows stranded on a plateau of grass that was left after their pasture was decimated by the quake.
In other regions of the country, the quake spewed rocks, mud and other debris across highways in other regions. In some areas, roads were left cracked and unusable.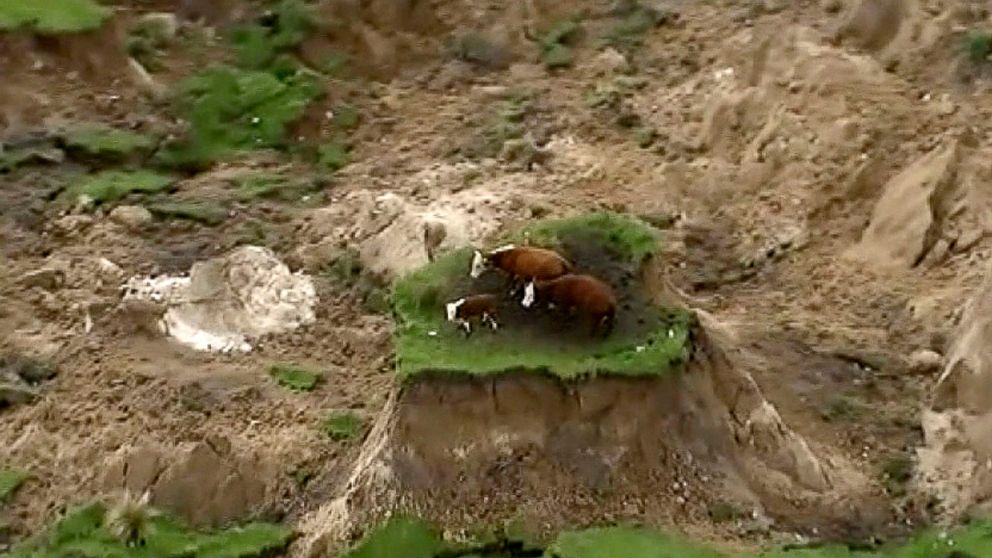 In the capital, the country's parliamentary buildings were opened to tourists and residents who were in need of shelter after hotels were evacuated.
Meanwhile, police were on a heightened state of alert after receiving reports that homes and businesses were being broken into after residents fled.
Prime Minister Key said that cleanup efforts could take months and cost billions of dollars.
Despite the destruction and complicated rescue missions, the quake is being seen as relatively minor when compared to one that struck the country in 2011.
That quake left 185 people dead and did an estimated $25 billion worth of damage.
A Selection of Photos as Rescue and Recovery Efforts Get Underway: