— -- Amazon has entered the meal kit space -- but how does it compare to the other meal kits on the marketplace?
Meal kits are sets with all the ingredients you need to cook dinner: planned, portioned and delivered to your door. All you need to do is cook and eat. Companies like Hello Fresh, Plated, Purple Carrot and Blue Apron have made this service popular for those too busy to shop, looking for foolproof recipes or wanting to expand their dinner repertoire.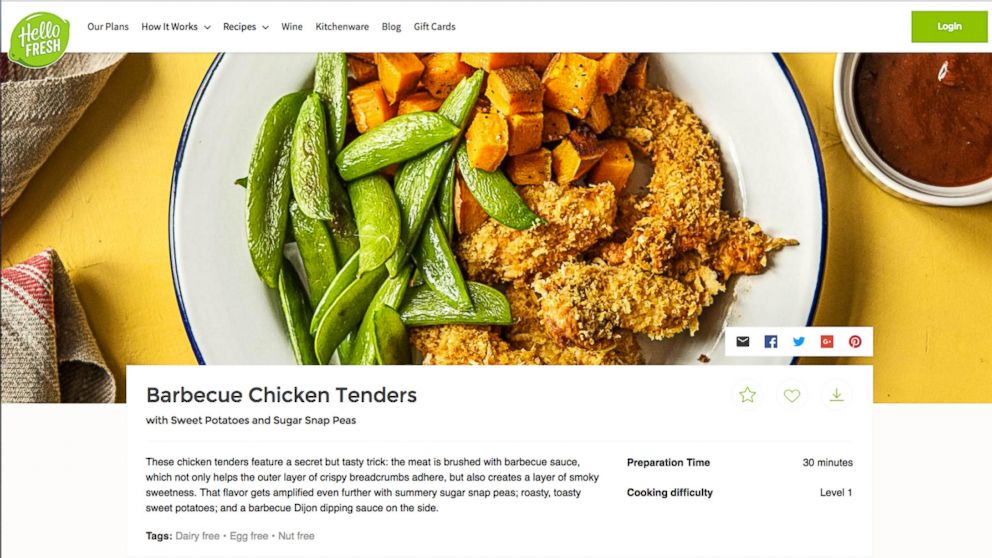 Now Amazon is announcing their foray into meal kit deliveries. Currently, the Amazon meal kits are only available in the Seattle area, but with their acquisition of Whole Foods and the investment in their grocery delivery service Amazon Fresh, the company is also clearly aiming at the estimated $1.5 billion a year meal kit industry.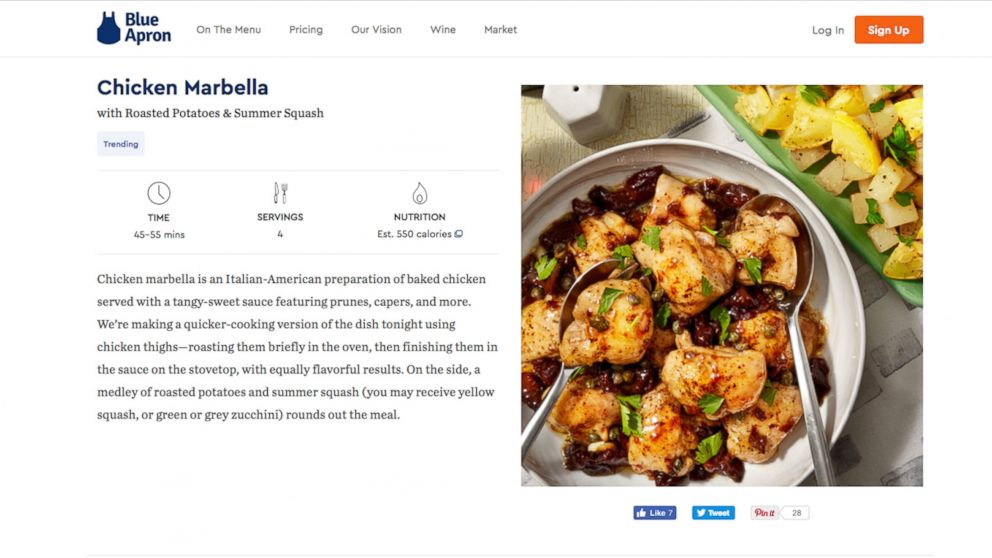 We met up with a Seattle-area family, Mike and Becky Kelly and their two kids, Maggie and Leo, to compare Blue Apron, Hello Fresh and Amazon's meal kits. We invited Matt Weinberger, a senior reporter for Business Insider, to help us judge the services on four criteria: ordering convenience, price, ease of cooking and taste. We cooked chicken tikka masala with Rice from Amazon, barbecue chicken tenders with snap peas and sweet potatoes from Hello Fresh, and chicken marbella with summer squash and potatoes from Blue Apron.
Ordering convenience: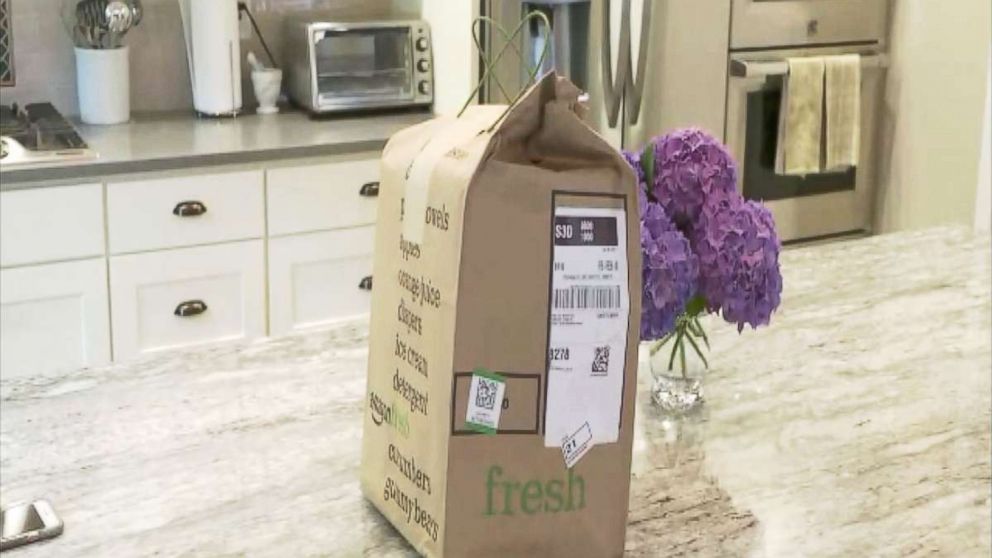 Most meal kit companies require you to subscribe to their service. You sign up for two to four meals a week delivered every week on the same day. This is how both Blue Apron and Hello Fresh work. You can pause the service if you go on vacation or cancel outright, but you cannot order only one meal when you need it. Amazon is completely different. You can order a-la-carte, one–time-only meals that are delivered two days after ordering.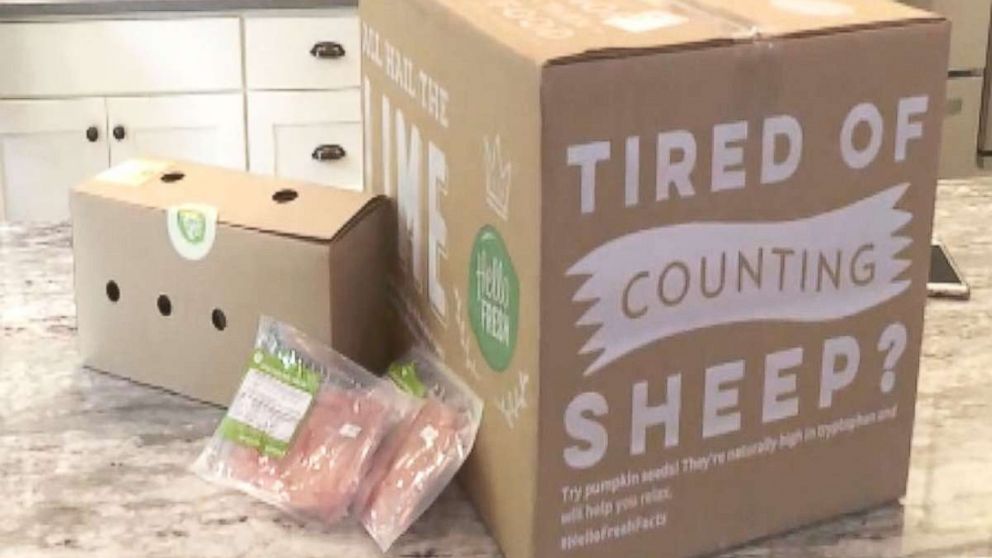 All three services delivered the meals in the windows of time they promised. All were well-packed with ice packs and insulation. Amazon offered a two-hour window of delivery while Hello Fresh and Blue Apron had delivery days where the box could be dropped within 8- to 12-hour windows. All the deliveries seemed like they could withstand a few hours on your doorstep given that they had ice packs inside.
Weinberger's top pick for ordering convenience was Amazon, telling us, "The fact that you don't have to do a subscription, that alone is a real game-changer. You order them as you need, as many as you need, when you need them, which is very different from a Blue Apron or Hello Fresh. You have to commit to a certain number of meals every week. That's not great for people. It's like a gym membership. You sign up and you never go."
Costs:
Note: Different meals and plans have different costs.
Prices excluding delivery and subscription fees:
Amazon $8.99 per serving
Blue Apron $8.99 per serving
HelloFresh $8.74 per serving
The price is the most complicated aspect of comparing the meal kits. You either sign up for a subscription or you buy into Amazon's grocery eco-system.
Blue Apron and Hello Fresh do not charge a delivery fee. But you must subscribe for extended service.
To order Amazon meal kits, you have to be a member of Amazon Prime ($99/year) and Amazon Fresh ($14.99 a month). Delivery is free unless you order less than $40 of food; then you'll be charged $9.99.
Weinberger said his top pick for price was complicated. It only makes sense from a price perspective to purchase Amazon meal kits if you have subscribed to their Prime and Fresh memberships for other reasons. And while Blue Apron and Hello Fresh don't have the membership dues and delivery minimums or fees that Amazon has, Matt says factor in the potential long-term cost of a meal kit subscription if you keep it.
Ease of preparation:
Amazon