— -- This might just be the cutest garage bandit you've ever seen.
Little Josh Breaux of Pierre Part, Louisiana, was caught on his neighbor's surveillance video quickly sneaking into their garage to give their pet dog a loving hug.
The homeowner, Hollie Mallet, noticed the adorable encounter when scrolling through the security footage in early May and posted the video to her Facebook page in hopes of identifying her pup's newfound pal. The video now has nearly 2 million views.
"We had an underground fence set up so my dog can roam freely, so she just stays out but doesn't go in the road," Mallet told ABC News. "We had noticed once or twice the little boy would stop at the end of the driveway and he would bring a ball and throw it to her.
"One day, we were going through the footage, and I told my husband, 'You've got to see this,' and he [Josh] came in and gave him a quick hug, and we wanted to find out who he was," she recalled. "We live in small town, so everyone pretty much knows everyone, but we don't know all the neighborhood kids because we don't have small children anymore."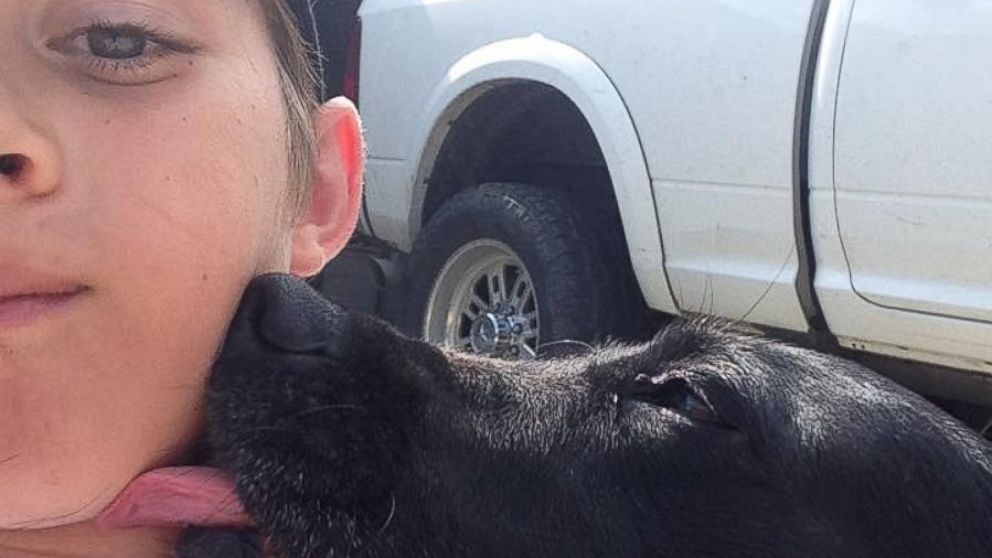 It didn't take long before Josh's mother, Ginger Breaux, was informed of the video and commented that it was her son.
"Josh talks about your dog all the time!" Breaux wrote on the post. "Every time we pass he looks to see if she was sitting where he could see her. Just didn't know he was doing things like this. Last night when I first saw it, I was torn as a momma being happy and upset because he knows he shouldn't be on someone's property, but I wake up this morning more happy that he just absolutely adores dogs so much."
The Breaux do not own a dog. Theirs recently died, and they have yet to replace her.
"We had our dog Bella since Josh was 2, but she passed away last year," his mother explained in another post. "Things have been busy and Josh is active with after school activities so we have not jumped back into taking on the responsibility of starting all over again with a new pup quite yet. It will happen though!"
Mallet is thrilled her beloved black Labrador, Dutchess, has been able to fill that void for Josh.
"My dog is superfriendly and loves to play," Mallet said. "With my husband and I at work all day, it's great for him to come and find her to play. Every day since, he's been coming back, and he's been playing with her, and it's so fun to check the video at the end of the day to watch them."
When Mallet was home early from work last week, she finally had the opportunity to meet the little boy who had brought so many smiles to her and her husband, and now the entire internet.
"He's the sweetest little boy," she said. "Its' a win-win. They both get a friend."
Mallet and Breaux have just one word to describe this entire touching situation: amazing.
"That's the same word that's been coming up," Mallet said. "When we saw the views and now that it's almost 2 million, it's surreal. It's a positive story, and I'm so glad I was able to capture it on camera. It is just pure innocence, and we're so glad to have made a friend."
A proud Breaux said of her son, "I'm so glad that it's brought smiles to so many, and it truly captures just the kind of kid that he is."