Bride Wears White on Her Wedding Day, Runs a 10-Mile Race In It
Linda Bachand-Jackson wore a veil and white outfit for a 10-mile race.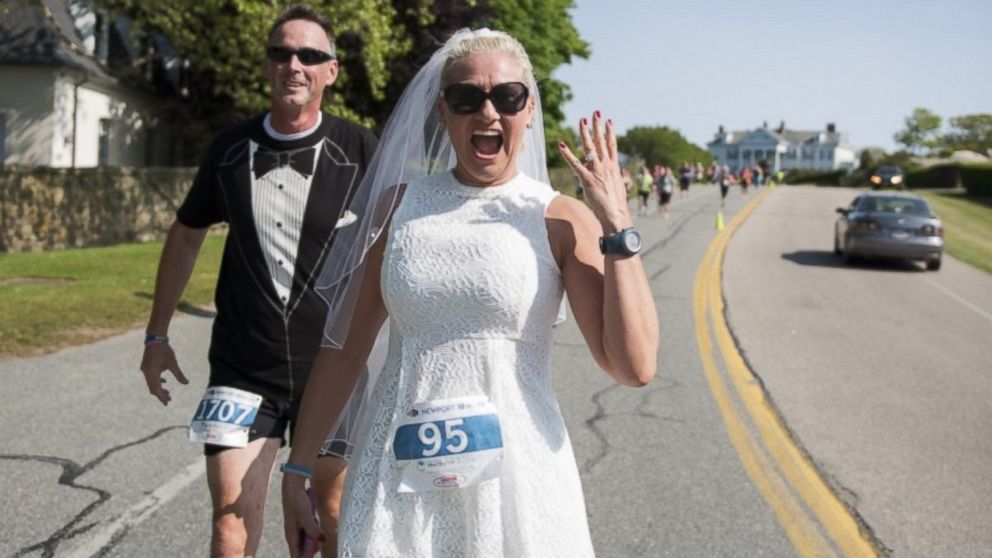 — -- Rhode Island police Det. Linda Bachand-Jackson has run 55 marathons and 90 half-marathons, most of them in costumes.
None, however, can top the white dress and wedding veil she wore for a 10-mile race Sunday in Newport, Rhode Island, just hours before her actual wedding.
"A lot of my friends are runners so knowing that they were coming into town for the wedding, we had to do a race," the Pawtucket detective, 47, told ABC News. "For them to come to my house and not do a race, that's like going to Hawaii and not going to the beach."
The Warwick resident and 20-year police force veteran finished the Newport 10 Miler race in 2:00:12, a slower than average time, she says, because she was stopped by so many photographers.
"Everyone was congratulating us the entire time," Bachand-Jackson said.
Running alongside Bachand-Jackson was not her now-husband, Seann Jackson, but her "running husband," Joseph Melvin.
Jackson is a wedding DJ and had worked at a wedding the night before Sunday's race. In his place was Melvin, who Bachand-Jackson says tags along with her friends' extreme running adventures.
"All my friends call him the 'running husband' because he is one of the few guys that travels with all us crazies," she said. "We've done some pretty crazy stuff like two marathons in the same weekend and two marathons in different states that require a flight in between on the same day."
Bachand-Jackson, who averages 40 to 50 miles of running per week, has dressed up as everything from a horse and jock to Ariel from "The Little Mermaid" to Princess Leia with her running friends.
At her and Jackson's wedding on Sunday afternoon, the photographer even set up a fake finish line for her to run through in her real wedding dress, a strapless beaded number.
Though the newlywed Jacksons did not run the 10-miler together, they do share a love of running. The couple helped co-found the Endurance Sports Connection, a national nonprofit.
"We started it in 2012 and our goal was to educate, inform and inspire other runners about long-distance running and endurance sports," Bachand-Jackson said. "A lot of people think, 'I'm not a runner I can't run,' but you don't have to run an eight-minute mile to finish a marathon.
"You can run a 12-minute or 13-minute mile and still cover the same distance, still have done it."