— -- Alarm, go to work, head home, go to sleep. Repeat. As the summer wears on, it hits you: You need a vacation. Of course, what better place to relax and recharge than the Caribbean? If you're just starting to plan now, you're likely looking at late summer, early fall for your beachy getaway. The reason the prices are so wonderful then? That's prime hurricane season, which falls between June 1 and November 30.
The NOAA seasonal outlook is forecasting a near-normal 2016 season in terms of activity. What that seasonal outlook can't tell you (unfortunately) is whether any particular land areas will be hit and what those impacts would be, stresses Dennis Feltgen, meteorologist with the National Hurricane Center. "Whether one occurs at a specific location this season is impossible to predict. That kind of long-range forecasting does not exist," he says.
But those months are the best as far as rates for hotels and flights, as well as fewer crowds, so it may be worth it to take the chance. No matter which island you decide to visit, "The best advice for those traveling to a hurricane-prone region is to make sure that the hotel facility has a hurricane plan in place for its guests. And to buy travel insurance," says Feltgen.
So while prediction is an imperfect science, and taking basic precautions is always smart, some islands in the Caribbean are historically less likely than others to see hurricanes, thereby reducing your worry and increasing your fun. Here they are.
NB: Frequencies noted are approximate, and based on Hurricane City research, which defines a hurricane hit as "hurricane force winds for a few hours."
1. Aruba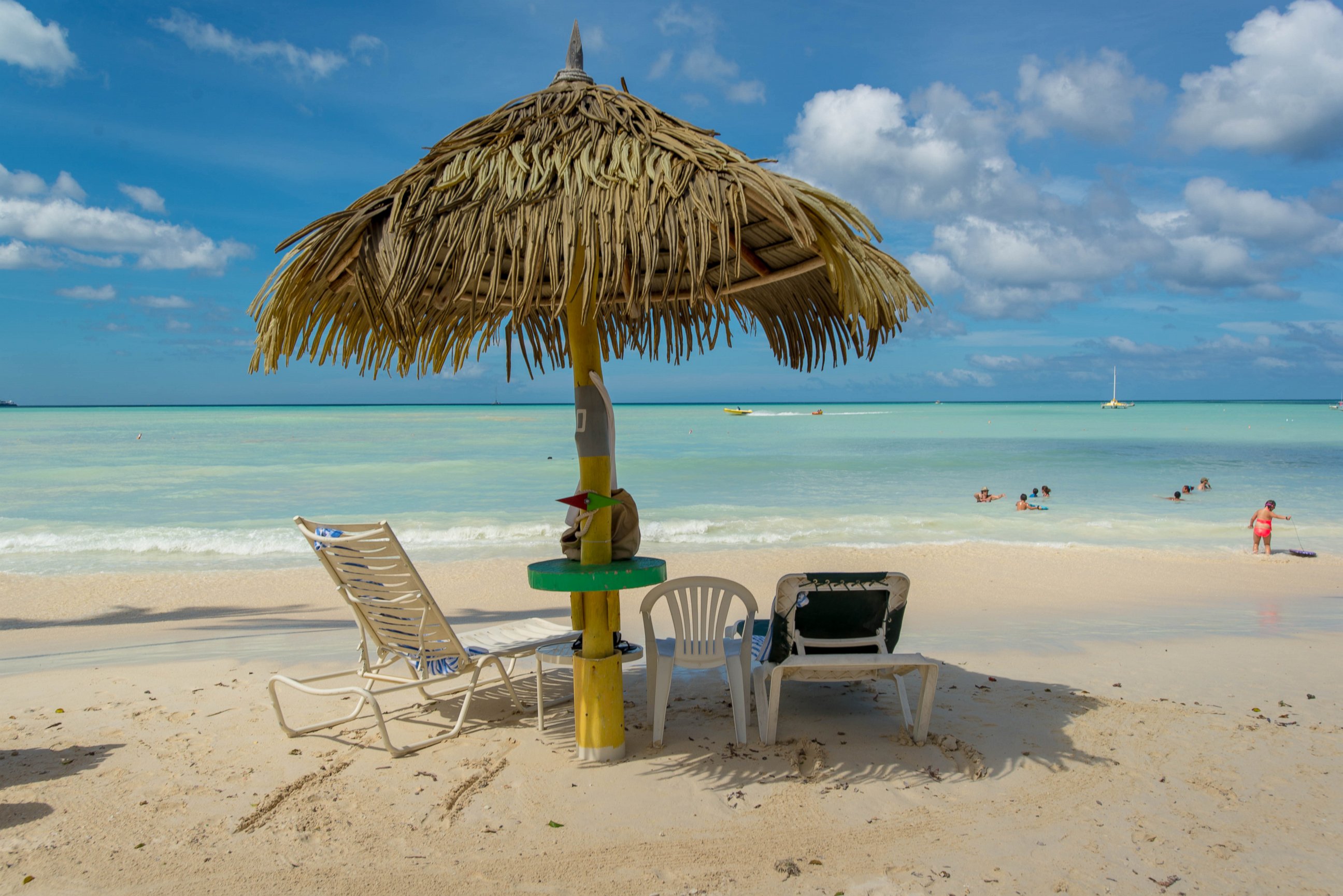 Hurricane Frequency: Every 28.8 years
What Makes It Special: A German freighter shipwreck
Aruba is south of the hurricane belt, making direct hits from hurricanes rare. The last hurricane to even touch the island was Hurricane Felix in 2007, which was a Level 2 hurricane causing minor damage.
Christina Bein and her husband, George, of Charlotte, North Carolina, went to Aruba in August, and still remember it as a perfect trip. "It was nice that some beaches were quiet if you wanted to just relax, while nearby, others had every imaginable water activity if you were in the mood for those," Bein recalls. "The weather was stellar. It was hot, but each day usually had a breeze to keep it comfortable."
Deep sea fishing, parasailing, and wind and kite surfing are all staples of the island and are worth the trip as well. However, the real star of the ocean is The Antilla, a 400-foot German freighter shipwreck that tourists can dive to off the coast of Aruba.
Hotel Pick: Holiday Inn Resort Aruba - Beach Resort and Casino
2. Bonaire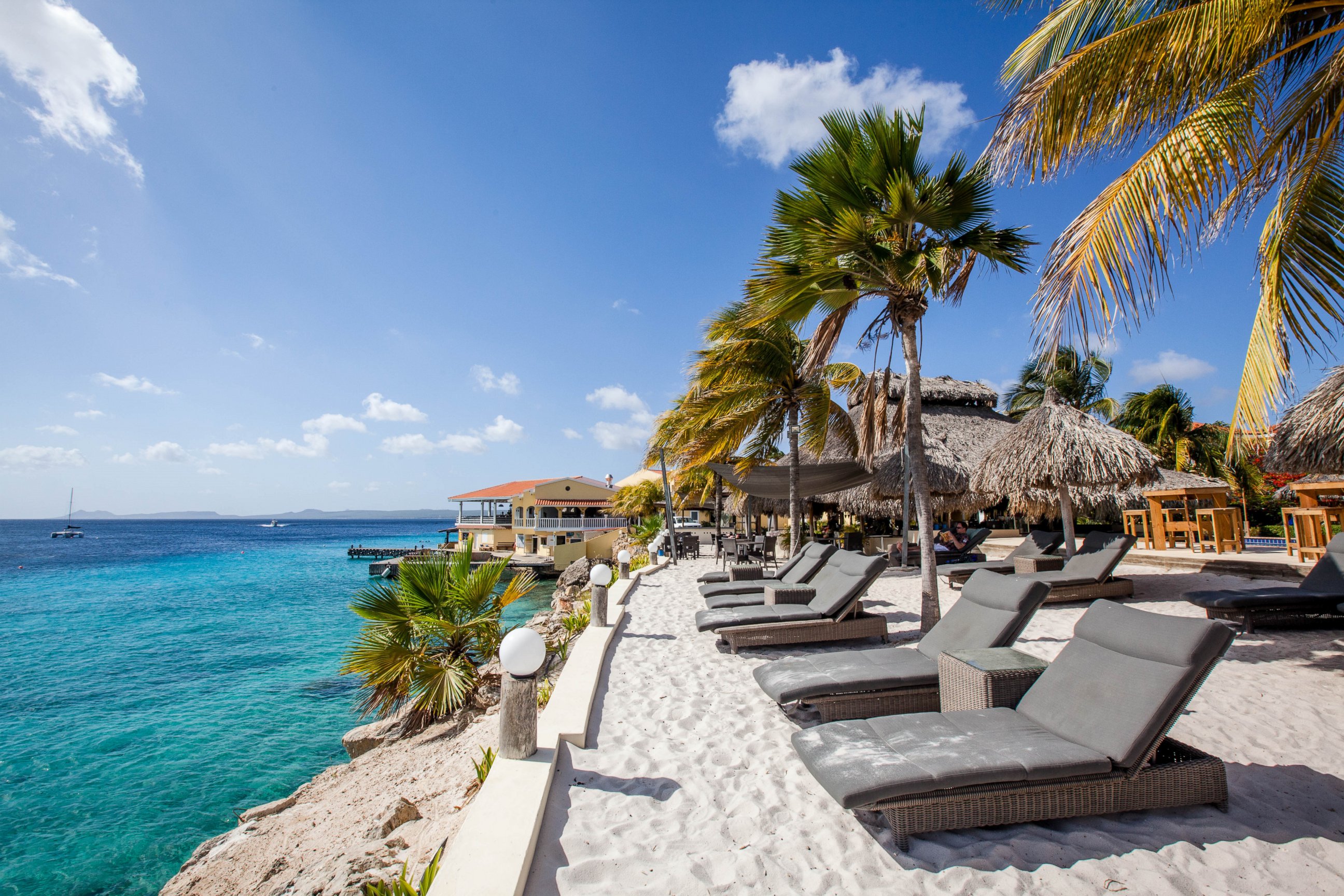 Hurricane Frequency: Every 28.8 years
What Makes It Special: Nature, Unspoiled
Renowned for its exceptional snorkeling and diving opportunities, thanks in part to the island's conservation efforts, Bonaire was designated as a marine park in 1979. It's also located outside of the hurricane belt. Part of the Leeward Antilles, it isn't impervious to the storms, but direct hits are extremely uncommon. The island is located less than 100 miles off the coast of Venezuela and is only 24 miles long. The northern tip is dominated by national parks, perfect for hiking and bird watching (over 200 species make Bonaire home, including flamingos). It's also one of the most environmentally friendly islands in the Caribbean. Darcy Lincoln and her husband, Jeff, are both outdoor types, and tend toward the exotic and untamed when they travel. The New Rochelle, New York, pair draws comparisons between Bonaire and the Galapagos. "It really was a special place to get away from it all and hide out for a while, with all this natural wonder around. We went in September, and it was totally uncrowded and really delightful to explore," says Lincoln.
Hotel Pick: Buddy Dive
3. Curacao
Hurricane Frequency: Every 28.8 years
What Makes It Special: Blue Curacao
Okay, that's not all that makes it special, but the sweet, striking spirit, made exclusively from the island's native citrus fruit related to Valencia oranges, is definitely a plus. Another is that Curacao, like Aruba, hasn't been touched by a hurricane since Felix. While that could mean the island is due, it's far enough away from the hurricane belt that the chances of a hard hit are low.
Don't let the time of year stop you from experiencing an island that showcases 60 dive locations (one to a shipwreck) and the 1,230-foot Mount Christoffel that adventurers can climb to feel on top of the world. Papiamentu is the lyrical official language, but English, Spanish, and Dutch are common too. Visitors are often struck by how the island seems to have a little bit of everything, including nightlife, museums, cultural events (such as the annual North Sea Jazz Fest, from Sept. 1 to 3 this year), and shopping. Melissa Koehler of Seaford, New York, is one of the converts. "Two friends and I wanted to take girls trip, and I was lobbying for the Bahamas, but we wound up on Curacao. The main town, Willemstad, was full of things to do, and we had a really good time shopping at the floating market. Plus, it was gorgeous. It did feel like a best-kept-secret."
Hotel Pick: Kura Hulanda Lodge & Beach Club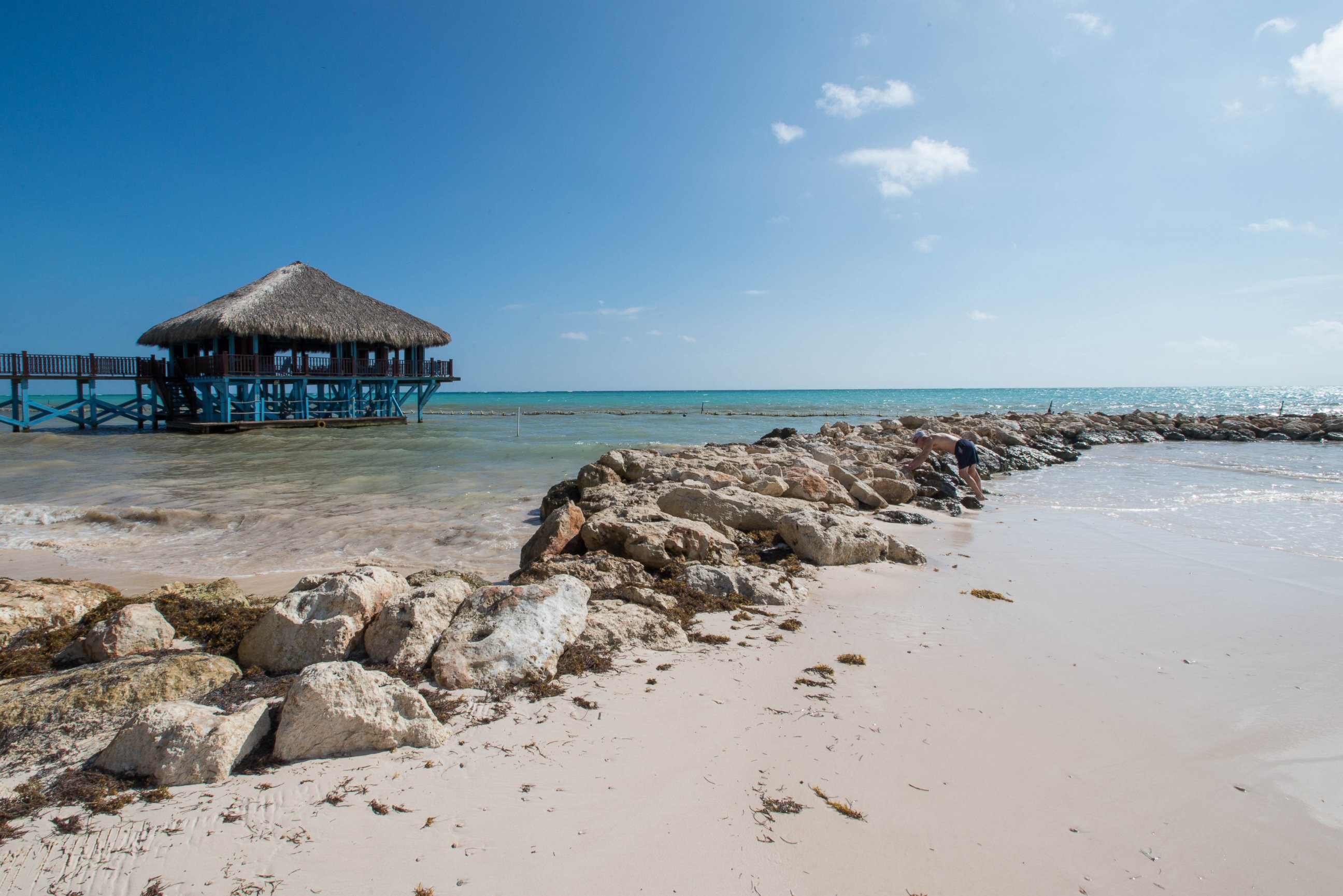 Hurricane Frequency: Every 11.08 years
What Makes It Special: Cabarete Beach
You can't mention the Caribbean without mentioning the Dominican Republic, a country that takes up a bit more than half of the large island of Hispaniola (Haiti has the other side). It's growing in popularity, thanks to increasing awareness of its Instagram-ready beaches and reasonable cost. It has a historical record, too, with Spanish colonial architecture easy to find here. Its record with hurricanes isn't half bad either. Only 11 reached DR in the past 80 years. It's naturally protected by Puerto Rico to the east, and the Mona Channel, where the island's varying temperatures create a pressure system that (usually) pushes storms toward the sea.
Rum, chocolate, coffee, and amber jewelry, among other goodies, are for sale everywhere as you stroll through the colonial city of Santo Domingo. Plus, Cabarete Beach at the northern end is famous for its kiteboarding and windsurfing. "D.R. was a great family late-summer vacation, and affordable for the four of us," says Debra Buser of Langhorne, Pennsylvania. "The people were friendly, and it was easy to fly to out of Philadelphia. We hated to leave, and ran down to the beach to dip our toes one last time after we checked out."
Hotel Pick: Sanctuary Cap Cana
5. Barbados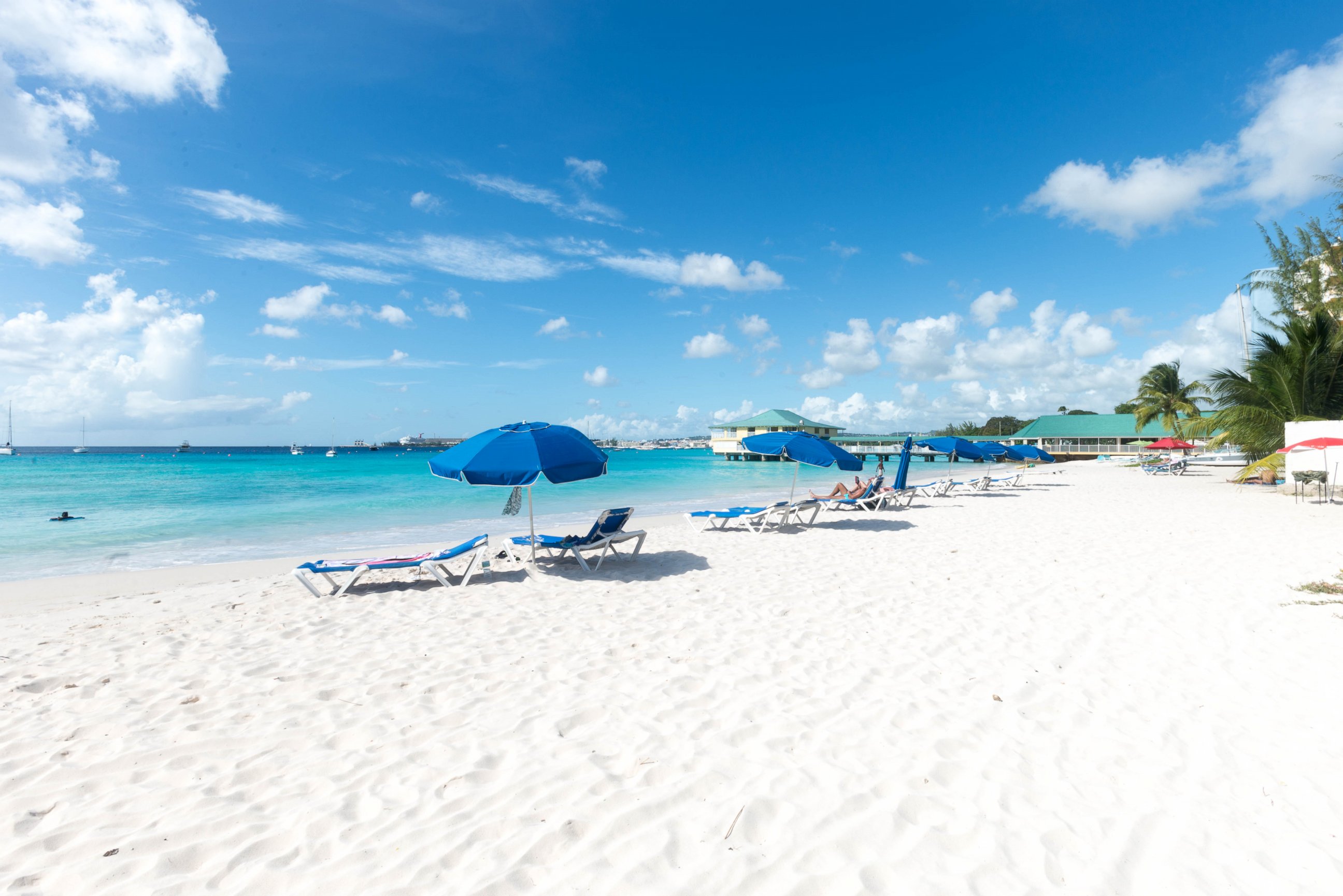 Hurricane Frequency: Every 20.57 years
What Makes It Special: Rum and Leatherback Turtles
Being on the southeast end of the Caribbean region puts this island just outside of the main hurricane alley, so it is often spared. The rocky coasts and reefs surrounding the island provide somewhat of a barrier. In fact, it's so well protected that mother nature's wrath comes calling quite infrequently, with the last time being in 1955. The island was touched by Hurricane Tomas in 2010, but that caused little damage.
Rihanna may be the most famous export, but rum is a close second. The island lives and breathes the elixir, having over 1,500 rum shops across its 66 square miles. Beaches come in two varieties: the ones with the gentle waves on the west coast (best for swimming, especially with kids) and the options on the east coast with rougher seas (ideal for surfer). On top of that, you can swim with Leatherback and Hawksbill turtles. Dawn Rossetti, a teacher in Marietta, Georgia, is a repeat Barbados customer. "I love it, without a doubt, better than any other island I've been to," she says. "The beaches are stunning, the island overall seems really clean and welcoming, and the weather is always great. With my job, I can only take vacation in July, and I've been there three Julys; I've never had any storm problems."
Hotel Pick: Island Inn Hotel