— -- It doesn't get more Texas than this couple's epic, rootin' tootin' state-fair-themed wedding reception.
Evan and Melissa Tate of Rockwall threw the massive 700-person party on their family's 700-acre ranch. The reception took place on March 25, the weekend after their quaint Sunday brunch wedding ceremony with just close family and friends.
"We did that because the reception was such a production and I wanted everything to be perfect that I couldn't wrap my head around doing the emotional part of a wedding and the party part all on the same day," Melissa Tate, 38, told ABC News.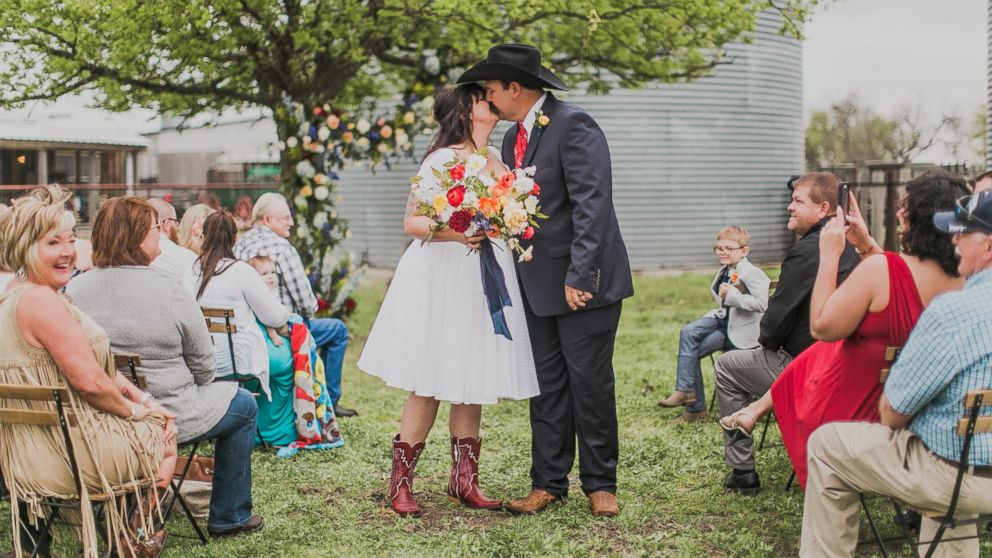 The couple got married under a flower-covered tree on their land and celebrated afterward with a bloody mary bar and a biscuit-loaded brunch in the barn.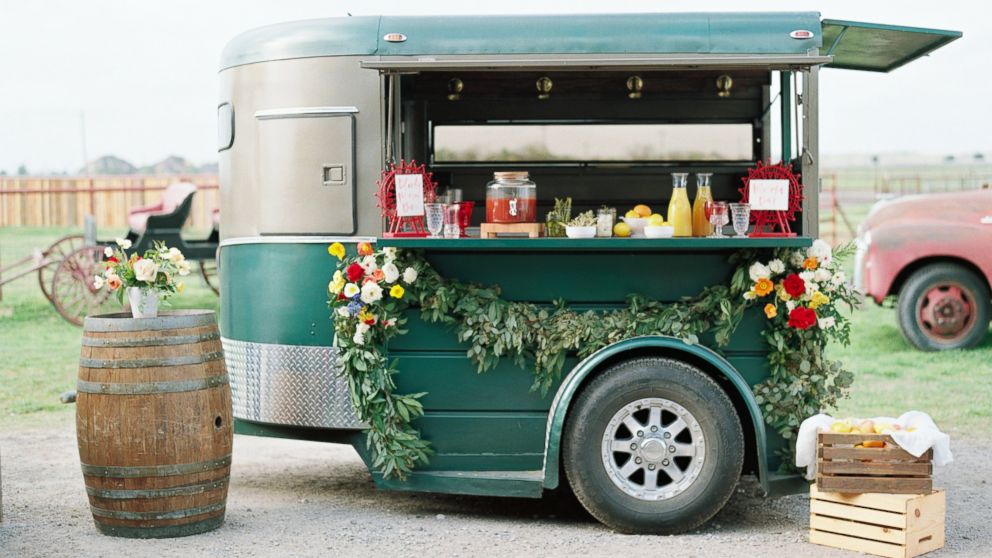 "Then we had that week to focus on the party," the bride said with a laugh.
And boy, did they need it. Evan Tate, appeasing his State Fair of Texas–loving wife, took the time, along with, he said, their "wonderful vendors," to transform their farm into a full-blown fairground with tents, twinkle lights, a working Ferris wheel, a faux Creative Arts Building, a livestock section and fair food galore.
"We also coordinated it with the 55th anniversary of the ranch," Evan Tate, 41, said. "It's been in my family for 55 years, and we celebrated that at the same time."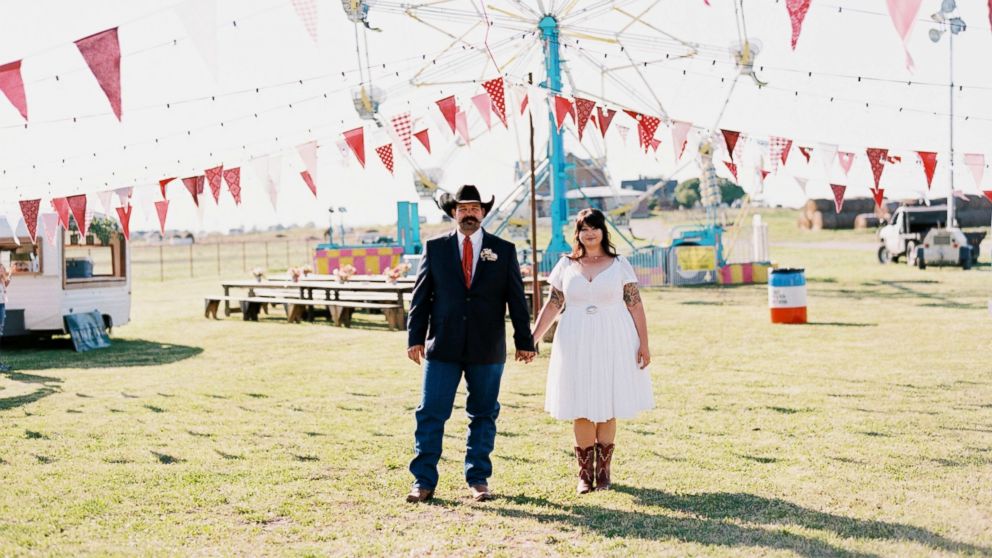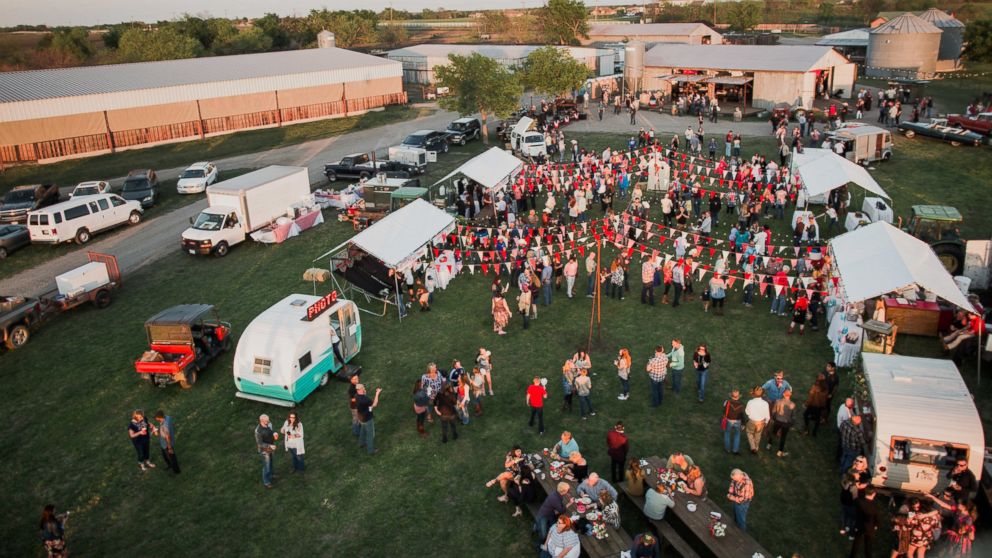 Every detail for the reception was planned to the nines.
The proposal
The entire theme was inspired by Evan Tate's proposal at none other than the state fair last year after he made her wait in the long line for Fletcher's Corny Dogs — a State Fair of Texas tradition — all by herself.
"It was so busy, and the whole crowd saw what was happening, and I dropped to my knee," Evan recalled. "She said yes, and then the crowd broke into cheers all around. It was wonderful. And because of that, we said, 'This is what we need to do. We need to bring that to our wedding because it was a big part of it for us.' It was really, really great."
The Ferris wheel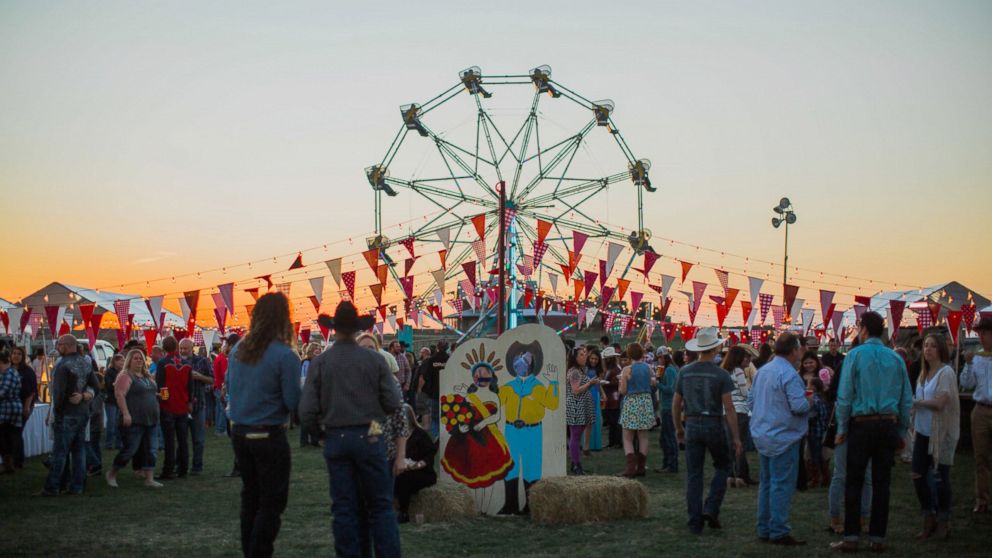 "Yes, we had the Ferris wheel, which was perfect and set with the sunset behind it. That was exactly how I envisioned it in my brain," said Melissa Tate, who called a local music festival to get the contact information for a Ferris wheel operator. "They came in the Friday night before to set up."
"They were so great," Evan Tate said.
The couple even invited its workers out to a catfish dinner afterward to thank them for their help.
Fletcher's Corny Dogs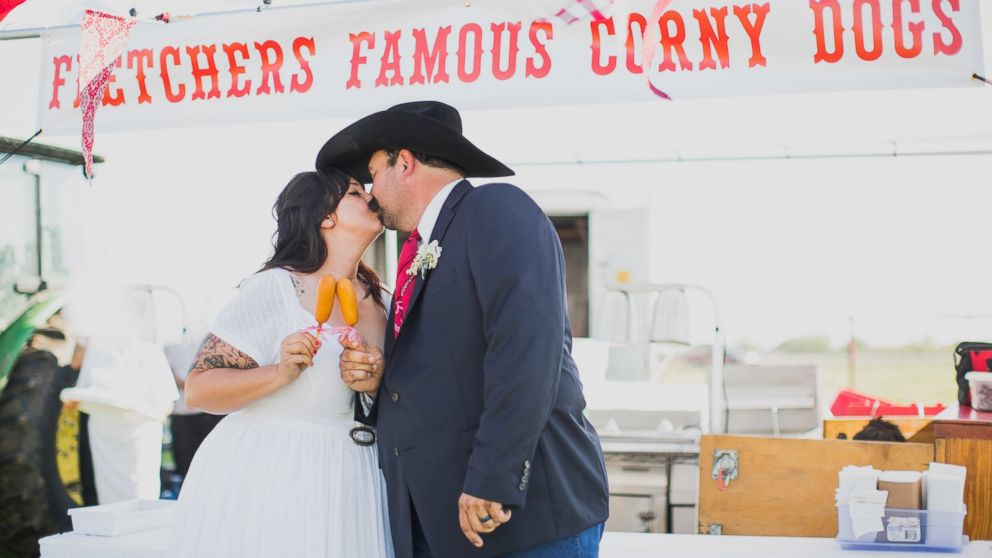 "Fletcher's Corny Dog is the staple of the State Fair of Texas," said Evan Tate. "That really made a big difference to our guests, because the only time you can get one is during the state fair. It made it even more magical for everybody to get to be at a fair-themed event and to get a Fletcher's corny dog."
The newlyweds ordered 500 corny dogs up front, which they figured would be plenty for their 700 guests in addition to the brisket nachos, sausage on a stick, turkey legs, popcorn, cotton candy, roasted corn and big dessert bar.
But no. The corny dogs were all gone, even with the 100 extra the company showed up with, in less than two hours.
The Creative Arts Building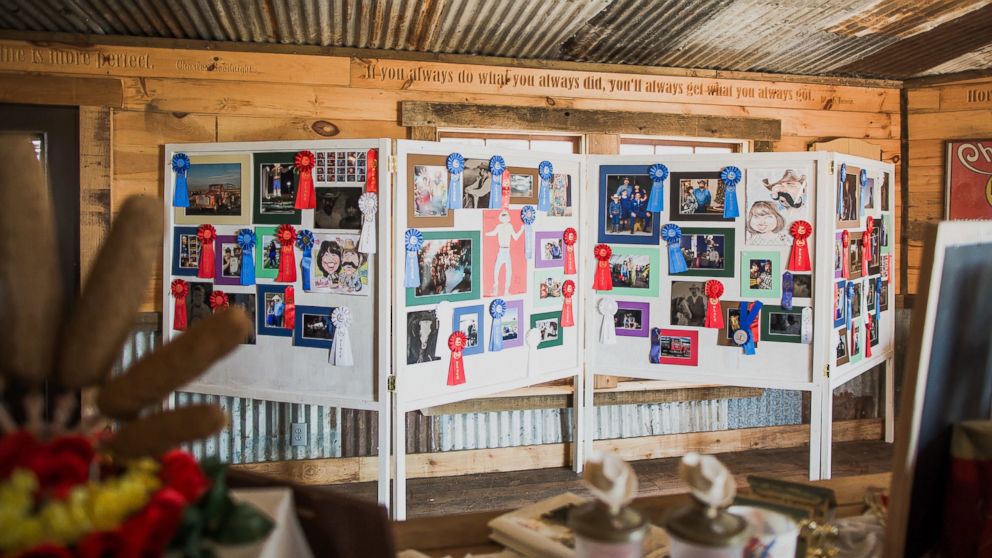 My favorite part I re-created is the Creative Arts Building," said Melissa Tate. "That's where people place their entry for photo contests, art contests, sculptures, and it's in this really poorly lit building, and it's just old school.
"I created that in one of the buildings we had," she said. "I took about 70 pics of Evan and I over the years and had them printed in the size you have to submit it to the state fair and had them matted and displayed on this accordion board that Evan built. I bought 200 prize ribbons, so each picture looked like an entry."
Dessert bar's 'baking contest'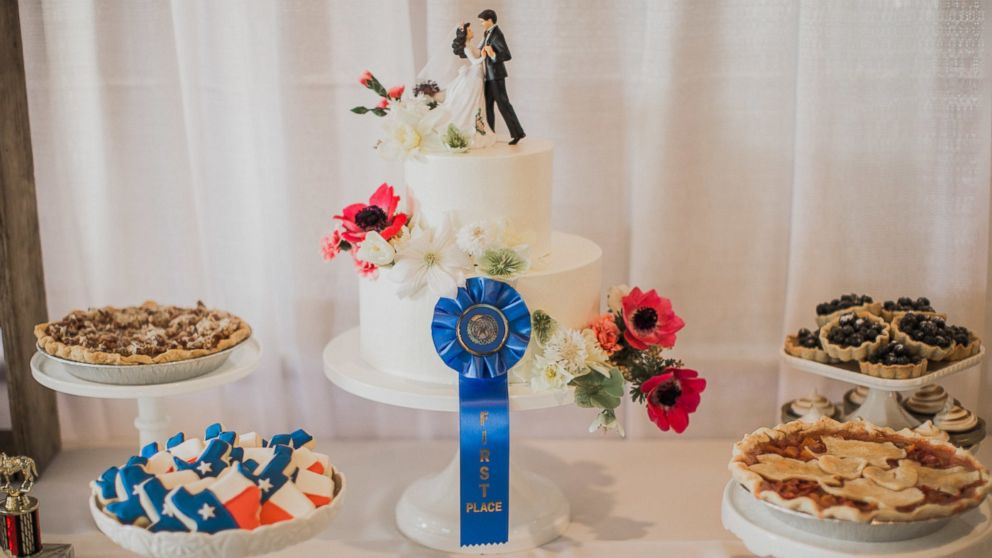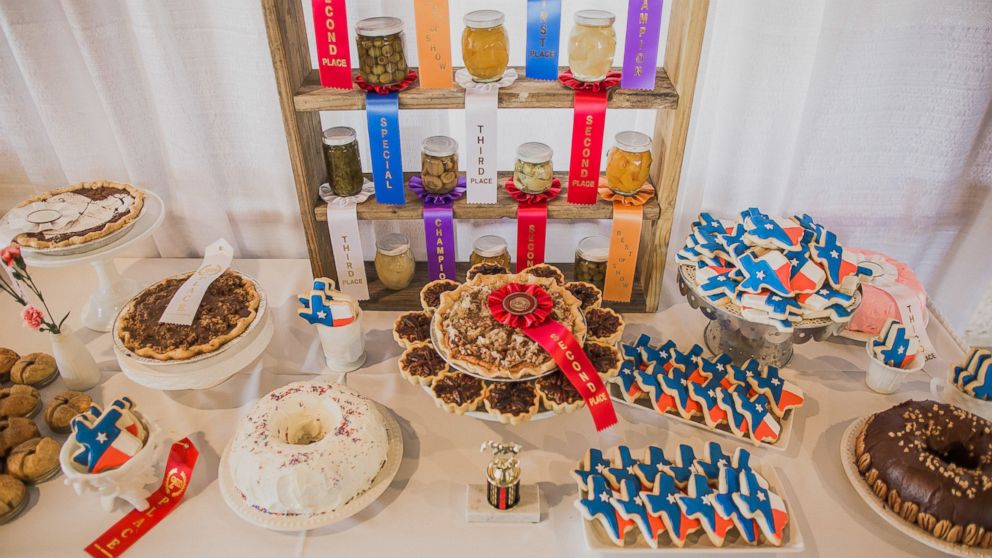 "The dessert bar with our wedding looked like a baking contest," said the bride. "It had eight different whole pies, then bundt cakes that my mom made, then we had 100 skinny pies and some Texas-shaped cookies, and all of these had prize ribbons with them like a baking contest."
But, of course, their wedding cake took home the "big first place ribbon," she said.
Maps and decorations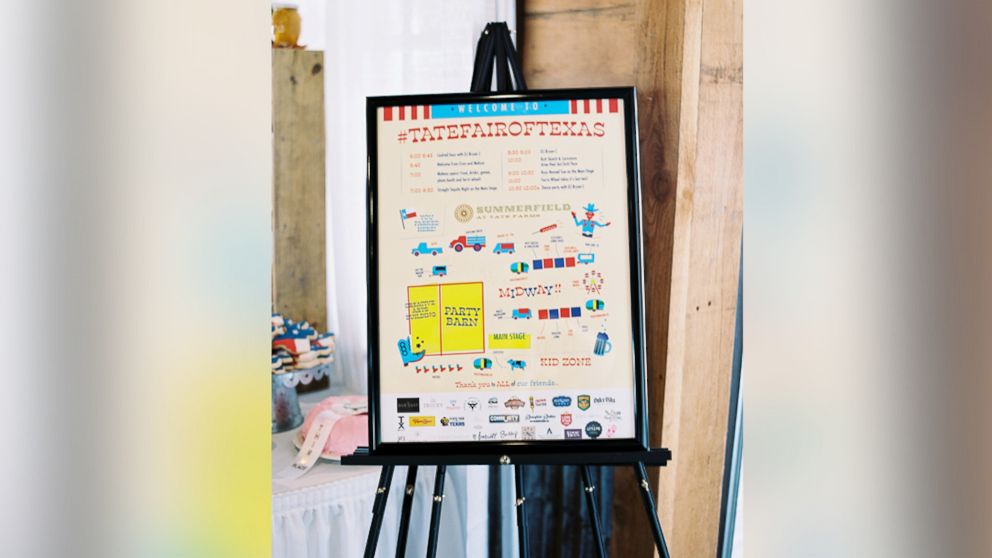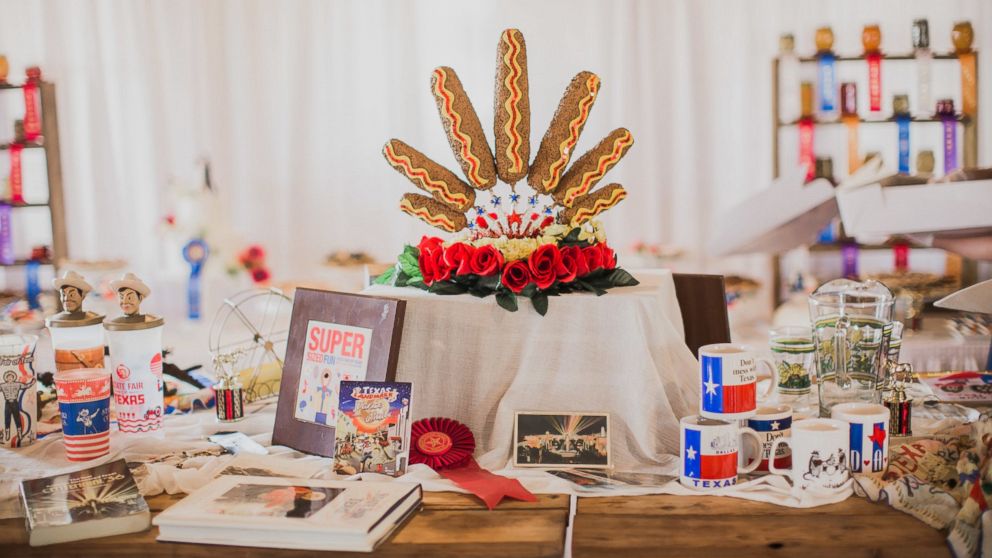 "I had these maps made that was like a schedule of the state fair," said Melissa Tate. "It had the schedule of when the DJ was playing, and it had a map of the fairground and all of our sponsors. I honestly did that because I am organized and I would want to know what was happening.
"I also did the ticket rolls, and I did all Texas brands on everything," she added. "Dr. Pepper is a Texas brand. All of our liquor was from Texas producers. I did the vintage Dr. Pepper bottles and ticket rolls as the centerpieces."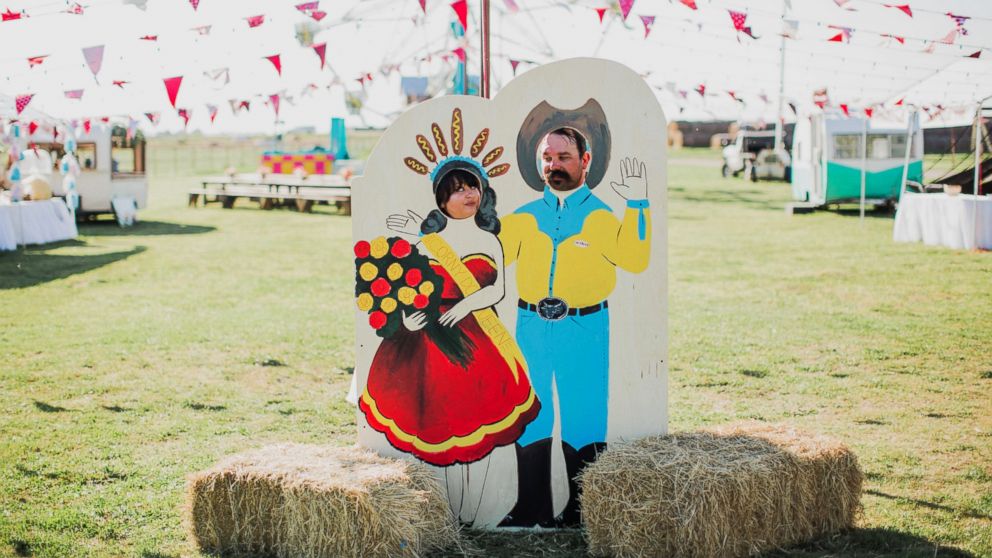 The newlyweds used the hashtag #TateFairofTexas to commemorate their big day with their last name. For Melissa Tate, whose love of the fair stems from its taking place each year around her Oct. 3 birthday, it was a dream come true for them to have a "personal state fair."
"It was a celebration of us and our relationship and of all the things that we do and have fun together doing," she said. "The State Fair of Texas is a celebration of the state of Texas, and I felt like Tate Fair of Texas was a celebration of us."