Couple's Lost Wedding Ring Returned From Hawaii Thanks to Coordinates Inscribed on Band
"It just worked out too perfectly," said the groom.
— -- Newlyweds Brandon and Megan Schumacher can finally breathe a sigh of relief.
While honeymooning in Maui, Brandon lost his wedding ring. But weeks later, with the help of a good Samaritan and a really helpful inscription inside the band, it's safely back on his finger.
"I took my ring off to put in the nosepiece of my goggles because I was tired of getting sunscreen caked on it," Brandon, 26, told ABC News of his fateful decision. "I was thinking, 'You can't possibly lose it if it's in the nose of the goggles. You have to look right at it before putting them on.' But then I started messing with my GoPro and got distracted and noticed there was sand in the goggles later and took them to the water to rinse out.
"An hour and a half later I noticed I wasn't wearing my ring and I started freaking out," he added.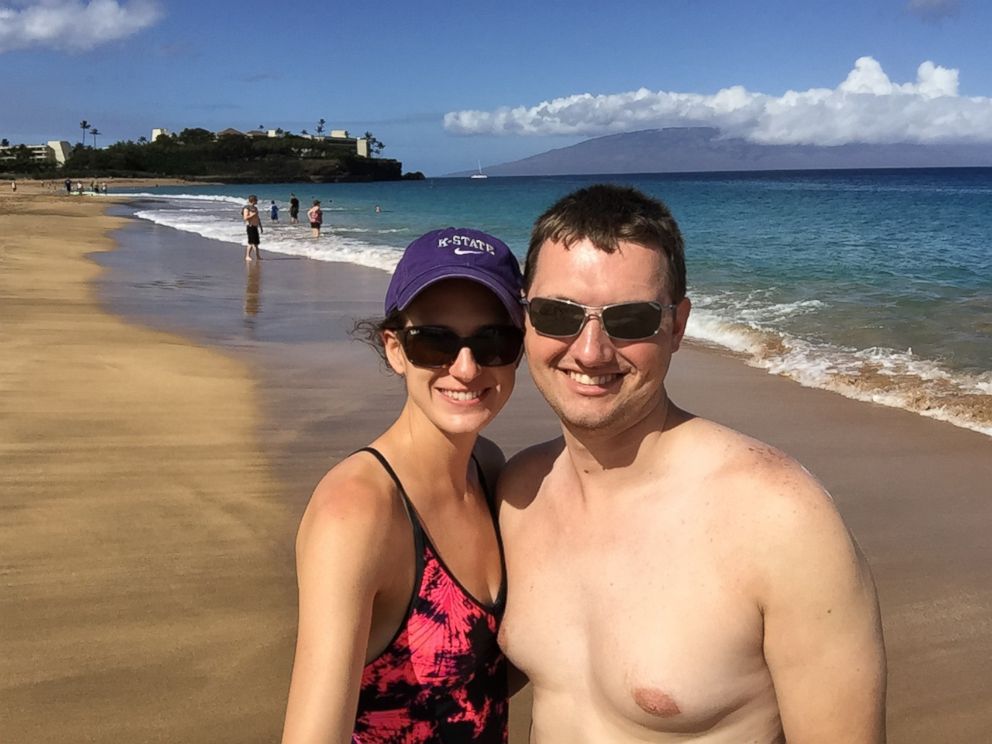 The couple had been swimming in a rocky area of the beach and had since moved to a calmer location, about 100 yards away. As soon as they noticed the ring was missing, they both began sprinting back to where they thought he lost it.
"I ran back to where I originally took it off and searched for about an hour," said Brandon. "My wife ran up to the beach bar who told her about this guy who's main job is using a metal detector to find wedding rings. We called him and he searched for a few hours and found nothing."
The next day, July 5, the couple went about their previously planned honeymoon activities trying to make the best of the trip, while the man with the metal detector continued to hunt, to no avail.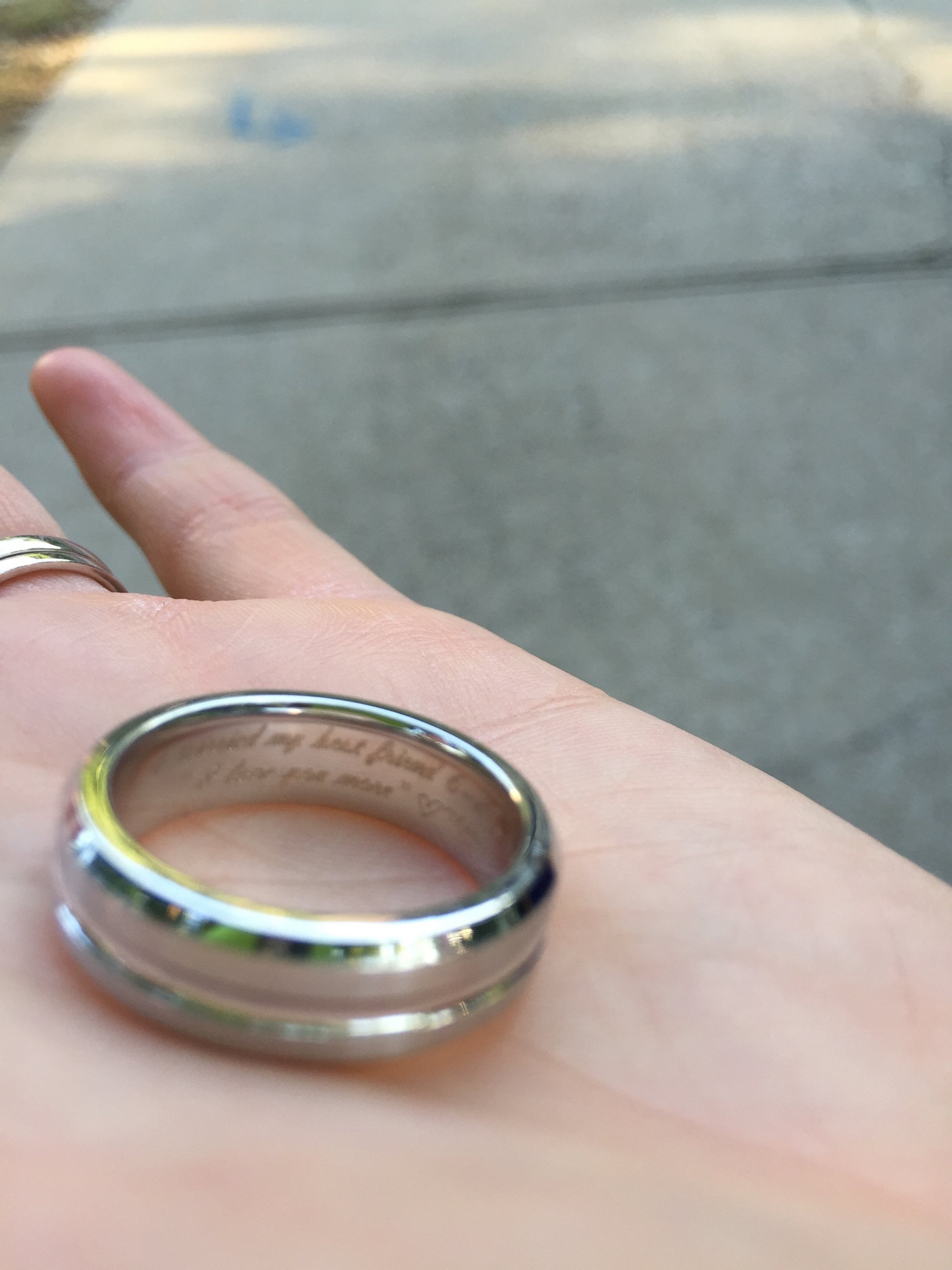 As they were out, the newlyweds heard a story on the radio about a man in New York getting $187,000 returned to him after losing it in a cab thanks to having filed a police report, so they took that advice and filed a report the same day. They also checked local pawn shops with no success.
Discouraged, the Schumacher's left the island to fly home, accepting the fact they'd need to order a new ring.
But, Brandon's ring had one very important clue inscribed inside the band -- the coordinates of the church where the newlyweds tied the knot.
After ordering a replacement ring on July 11, his wife Megan said she was "at peace with the fact he lost it, realizing it was just a material item."
But then came an unexpected turn. On July 18, the secretary from their church emailed them with excellent news. A man from Oregon who had been vacationing with his family in Maui found the ring.
"It was 9:30 at night and was almost pitch black," Brandon said of how the man, Dean Barnes, and his wife, Young, described finding the ring. "They were walking in ankle deep water and his wife saw something dark in the water. She saw a dark spot and stepped on it and she just kept pushing until the water went back, and picked it up and noticed it was a wedding band."
The Barnes' told him they noticed the numbers inside but didn't think anything of it, until they showed their son-in-law and daughter back at the condo. The son-in-law recognized they were coordinates and typed them into Google.
"It took them right to our church," Brandon explained.
"At that point they were like, 'Oh my gosh, this couple's going to get their ring back,'" Megan added.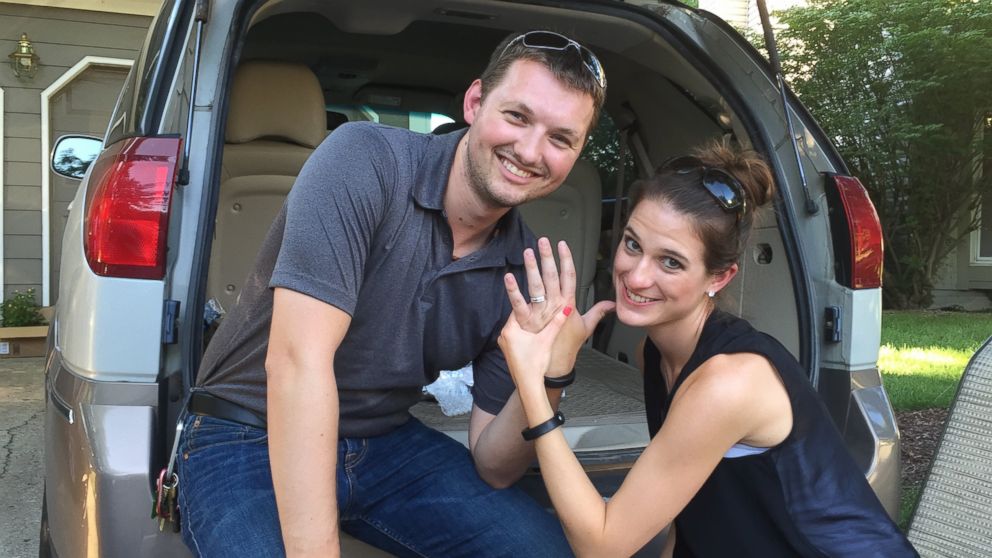 And that's exactly what happened. The church helped connect the two sets of strangers, who are both thrilled the ring is now happily home where it belongs.
When Brandon and Megan tried to offer a reward to the Barnes', they refused.
"I informed Megan that it was not our ring and that she did not owe us anything," Dean Barnes wrote in a letter describing the entire saga. "All I asked was that Megan and Brandon go back to Maui or another vacation and enjoy themselves and leave their rings at home.
"Finally," the letter continued, "I informed Megan that we did not do anything and that God deserved 'all' of the glory. None of us did anything."
The Schumacher's agreed there was something larger at play in getting Brandon's ring home than just pure luck.
"There were too many things that had to go right," said Brandon. "Be in the right spot at the right time, step on something in the water, had to have the coordinates, everything. And it just worked out too perfectly. We keep looking back and there was just too many things for it to just be a coincidence."