— -- A Texas mom and dad are showing their gratitude to the police deputy who helped deliver their daughter last month when mom couldn't make it to the hospital in time.
Destiny Hall, 26, and her husband Caleb, 28, of Granbury, honored Deputy Constable Mark Diebold of the Tarrant County police by having their newborn Evelyn photographed with his badge.
"It was amazing," Diebold told ABC News today. "It was heartfelt and it was a big deal. That photo shoot reminded me that [police work] is what I need to keep doing until it's my time to stop."
The Halls told ABC News that Destiny went into labor in the early morning hours of July 18.
While speeding to the hospital, Caleb Hall was flagged down by Diebold who insisted on escorting the couple.
But during the drive, the baby started coming unexpectedly.
"[Destiny] said, 'Pull over, I'm having the baby' and I said, 'No!'" Caleb recalled. "When she told me that it was happening, we were behind Officer Diebold and he had his lights and sirens going. I kind of had a small glimpse of hope that maybe we would make it."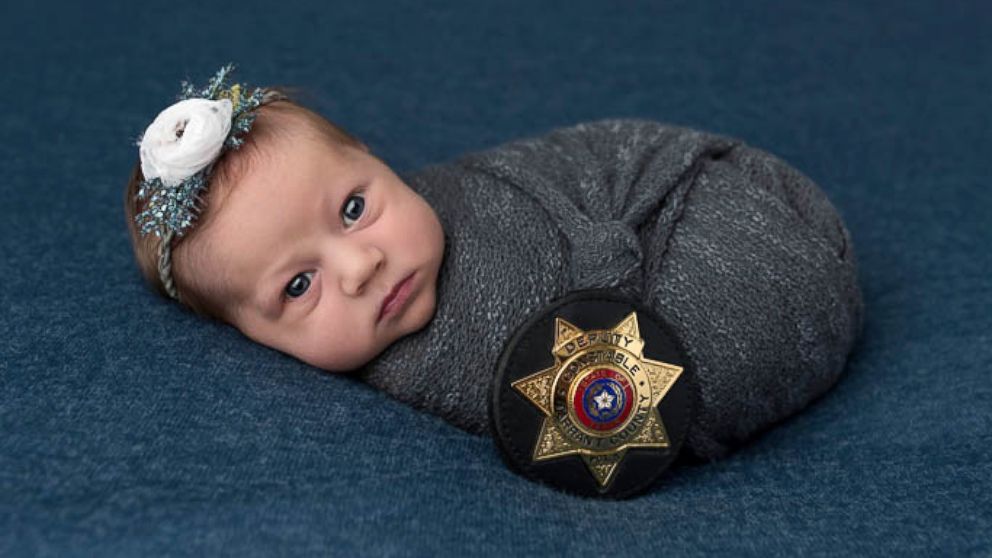 About three miles down the road, the Halls were forced to pull into a gas station parking lot.
Luckily, Diebold was there to assist.
"[Caleb] started screaming for me and I ran to the passenger side," Diebold said. "There were no complications. He caught the baby, I cleared the airway and she started crying. I wrapped her in a blanket and put her on mom. It was an awesome experience."
Evelyn Joy Deborah Hall was born that day at 6 pounds, 11 ounces.
On July 28, Evelyn was photographed in a shoot dedicated to Diebold.
"It was such a remarkable way of her being born and I just never wanted to forget it," Destiny Hall said. "It blew me away of how much this meant to him and his family. They were in tears. So I really wanted to give him something to memorialize this day ... something sweet to have. This event was really life-changing."