— -- Twenty-somethings Laura D'Asaro and Rose Wang are buzzing with excitement, about bugs. They have launched a company called Six Foods (because "six legs are better than four") that has one ambitious goal: to get Americans to eat insects. That's right, insects.
It may sound far-fetched, but they are already well on their way to making their dream come true. They launched a Kickstarter campaign last May with the slogan, "Chirps: Eat what bugs you" and a well-produced video. In just three days, they met their goal of $30,000, then went on to raise $70,000 to launch their first product: a bean-based chip made with cricket flour called "Chirps Cricket Chips" that had three times the protein and 40 percent less fat than normal potato chips.
Today, Echoing Green, a global nonprofit that funds early-stage social entrepreneurs, announced more good news: D'Asaro and Wang have won coveted slots as 2015 Echoing Green Fellows, which means they'll get $90,000 in seed funding over the next two years.
"They called me and Rose and we absolutely freaked out," D'Asaro told ABC News. "There was jumping and screaming and hugging. I was pretty speechless.
"We had made a deal with our parents that they would support us for a year and then we would support ourselves. This fellowship means we can do that. It's a big deal."
So how did it get to this point? In their Application Video for Echoing Green, D'Asaro explains how it all started: "I was studying abroad in Tanzania and met a woman selling fried caterpillars. I'm vegetarian and so I hesitated, but I bought one and put it in my mouth and my first thought was, 'Wow, this takes like lobster.'"
When she returned from Tanzania, D'Asaro called her former college roommate from Harvard, Rose Wang, to tell her about the trip. "It so happened that she had just been in China and someone dared her to eat a fried scorpion," D'Asaro said. "She thought her scorpion tasted like shrimp."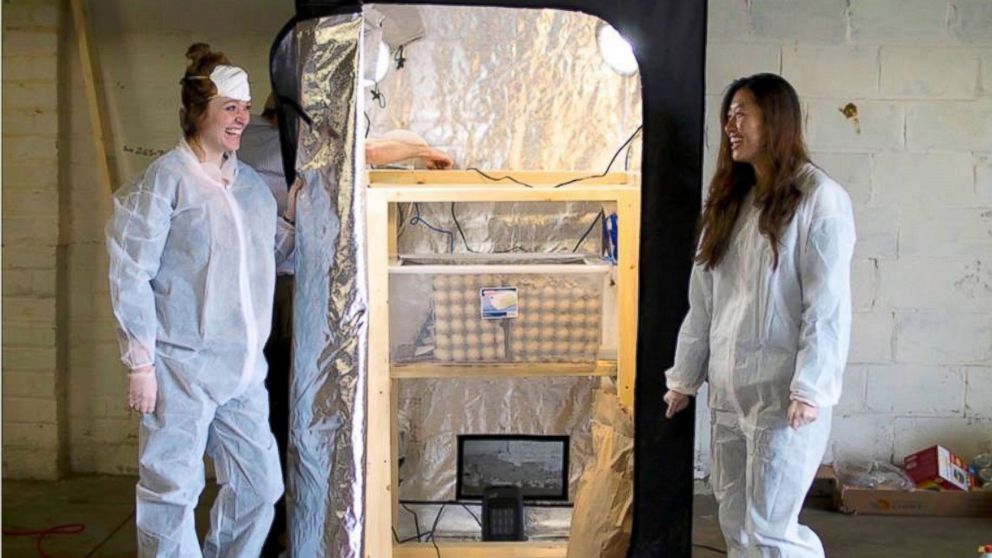 The former roommates began doing research and came across a 2013 report produced by the United Nations called Edible Insects. It described how it takes 2,000 gallons of water to produce 1 pound of beef, but D'Asaro and Wang calculated it would take only 1 or 2 gallons of water to produce a pound of crickets. And how the livestock industry is responsible for 18 percent of the greenhouse gas emissions, but insects produce about 100 times fewer greenhouse gas emissions than cows.
"When we read the report, we thought: 'Why aren't we eating insects?' There are amazing benefits," D'Asaro said. "But the big problem is getting Americans over the 'ick' factor."
The target demographic for Six Foods is millennials, 50 percent of whom want to eat less meat, according to Six Foods' market research. By providing an alternative to meat that's delicious, healthy and sustainable, Wang and D'Asaro believe their bug-based snacks will literally "fly" off the shelves.
They said they are working with a manufacturer in northern California that produces the chips according to Wang and D'Asaro's specifications. Cricket Chips are sold on Amazon, and Six Foods is planning a big public-relations push in the fall. But that's just the beginning.
"Chips are just the first step on our journey," D'Asaro told ABC News. "The big vision is not just chips, but all sorts of food. You have chicken burgers and beef burgers. Why not insect burgers? We just need to figure out how to make eating insects cool."
Here's the full list of the 52 emerging social entrepreneurs who are 2015 Echoing Green Fellows.