— -- When Tiffany Gambill was diagnosed with a neuromuscular condition at age 15, a doctor told her she would need to use a wheelchair within five years and not to do anything too physical in the meantime.
This month, Gambill, now 27, crossed the finish line of a nearly 5-mile Spartan Race, having crossed over fire, scaled walls and crawled under wire and through water with the help of five teammates.
"She was smiling the whole time," Gambill's mother, Joan Gambill, told ABC News of the race. "She was ecstatic, especially jumping over the fire pit at the finish line."
Joan Gambill of Bridgewater, Massachusetts, joined a local CrossFit gym six years ago to gain strength to be able to help her daughter, who has Friedreich's ataxia.
The disease causes damage to the nervous system and leads to "impaired muscle coordination that worsens over time," according to the National Institutes of Health.
Tiffany Gambill was diagnosed with the disease during her freshman year of high school and was using a wheelchair full-time before she graduated from college.
Gambill began training with a co-owner of her mom's CrossFit gym a few years ago to build upper-body strength. Last year, she told her coach, Sonia Caldas, that she wanted to do a triathlon but broke her shoulder during training.
So they instead set their sights on a Spartan Race near Boston earlier this month. Caldas and her husband, Jason Caldas, put out a call for the race to their CrossFit members and four quickly signed up.
"It warmed my heart so much to see these people doing some of the most difficult things they've ever done and they were doing it for Tiffany," Joan Gambill said of team members Jason Caldas, Haley Chakalos, Carrissa Ayoub, Bill McSweeney and Arvin McGowan.
The five teammates equipped Gambill in a climbing harness and strapped harnesses they use to pull a sled at the gym onto her wheelchair.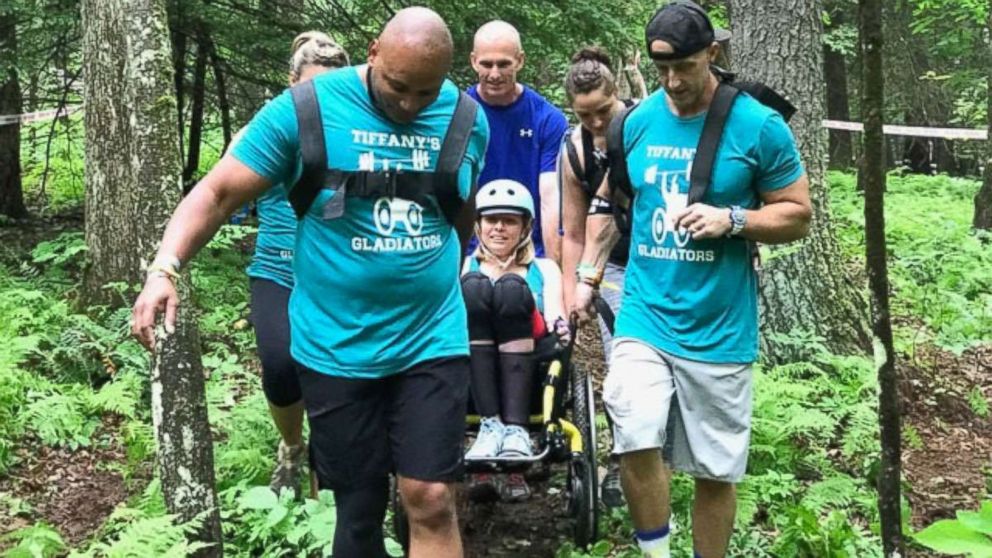 They had no idea the obstacles they would face or even the length of the Spartan Race route when they began. The race is described as "delivering 20-23 obstacles over 3-5 miles," on the organization's website.
"It started out really slow and it looked like it was overwhelming and we would never make it through," Jason Caldas said. "It took us over an hour and a half I would say to do the first mile and then we just kept trucking along and we ended up getting better and better at it."
The terrain was so unsteady that there were very few moments when they could just push Gambill's wheelchair across the ground. They developed a system where two or three people would lift her and her chair – around 170 pounds combined – while the other teammates would rest.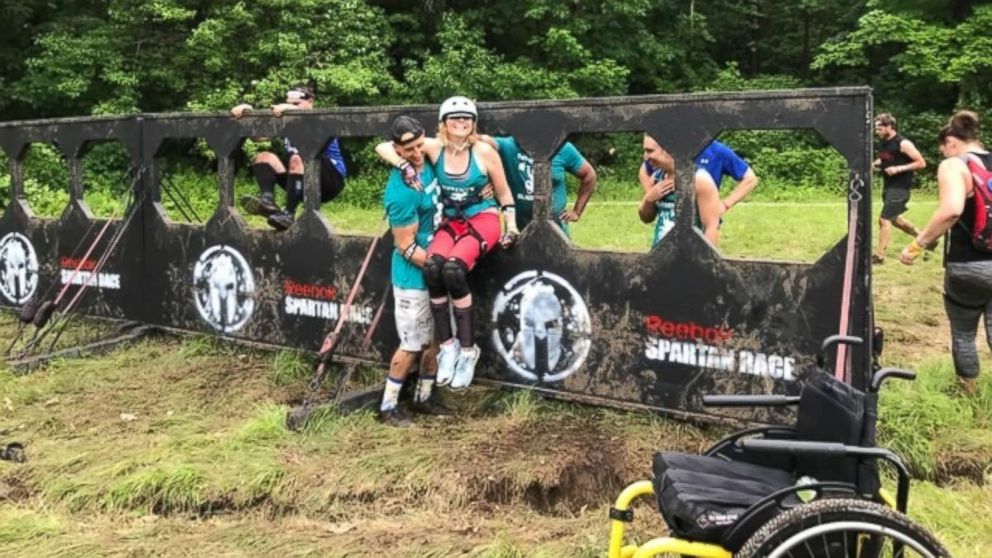 "They were unbelievable, what they did for her," said Joan Gambill, who also completed the race alongside her daughter's team, providing support as needed and serving as the team's photographer.
For obstacles that Gambill couldn't complete, her team did the required penalty burpees. In other instances, Gambill demanded that her teammates let her do it herself.
"The look on her face every time she did an event or we got through something tough, she just kept us going," Caldas said. "And she'd say to us, 'I really feel like I'm doing this now.'"
Team members crossed the finish line in about five hours – a few hours behind the top finishers -- carrying Gambill on their shoulders as they ran over the fire pit.
"It started out as the hardest thing I've ever done and then it was the most rewarding thing I've ever done by the end," Caldas said. "The team we did it with, we have a Facebook group and we've been talking every day since. It's still surreal that we did it."
Gambill is among a small group of athletes who have completed a Spartan Race in a wheelchair, the organization told ABC News.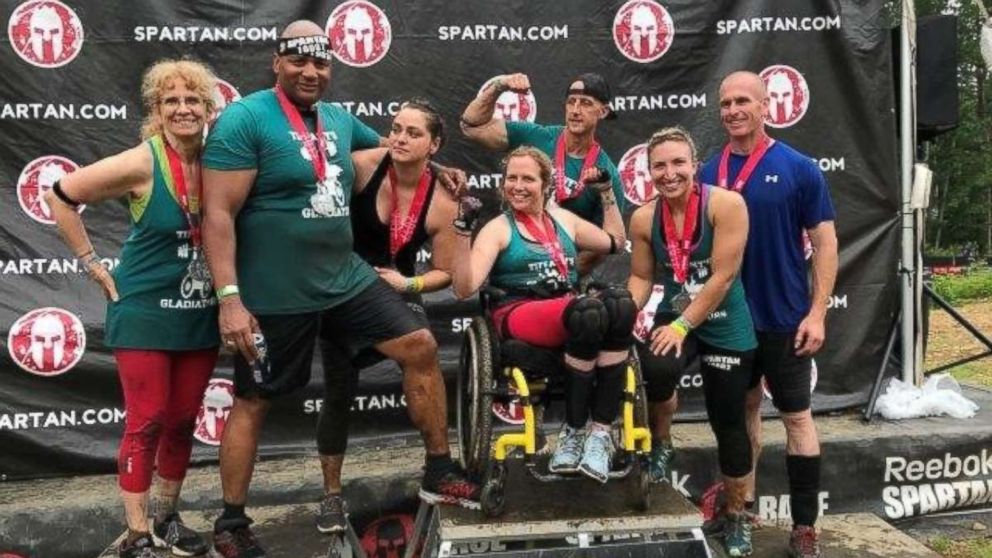 "Tiffany and her team are a true inspiration. Her determination to complete a Spartan Race is incredible and the support of her teammates, who helped her through it, embody the true grit and spirit of a Spartan," Spartan Race Founder and CEO Joe DeSena said in a statement. "I know I'll keep her story with me as I approach life's everyday obstacles as it will have a lasting impact on my frame of reference, and I hope others draw encouragement as well. All of us need to realize how easy we have it, and that complaining is not an option in life."
Gambill, who is starting to lose her speech, hearing and sight to the disease, wants to do a triathlon next year. She also competes in bike races to raise money for Friedreich's ataxia research.
"I think she wants to prove to herself that even though she can't do what [others can] do, she can do something," Joan Gambill said. "She wants to do something physical to prove that she can still do it."