— -- One dad might be enjoying his daughter's birthdays more than she does.
For the past five years of Brooke Scott's life, save for her 19th birthday when the family was out of town on vacation, her dad has been surprising her with enormous, elaborate birthday signs on the front lawn of their home.
"This is all started when she was 18 and I've carried it through until 23," Mike Scott, of Aberdeen, South Dakota, said of his daughter's Aug. 3 birthday. "She's one fun one to surprise, that's for sure."
Neighbors have all come to know and love Brooke's birthday, often coming out in droves to take part in the spectacle alongside her.
"It definitely puts a special spin on the day but he really enjoys it," said Brooke.
For her 18th birthday, it was a big sign at the end of the driveway adorned with 18 balloons.
"That was my senior year of high school so that was a little embarrassing at first, but then it was pretty special," she recalled of the first year he surprised her. "It's neat that he goes to all of that work just for me."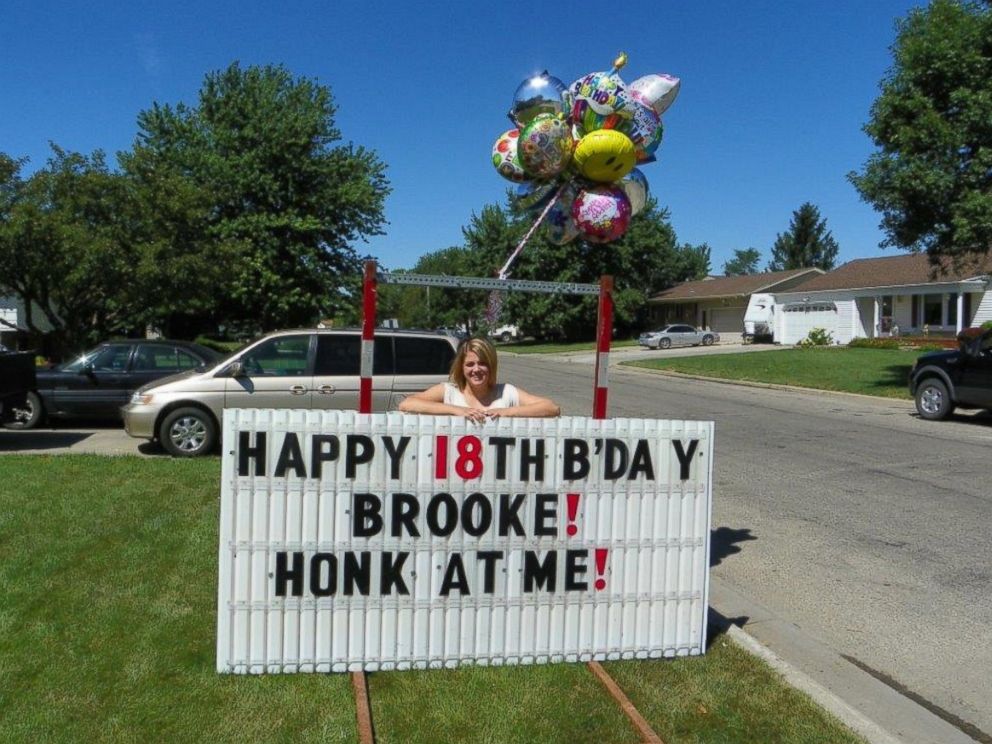 For her 20th birthday, he mowed "Happy 20 Brooke" loudly and proudly into the family's front lawn.
"It was neat to pull up in the yard and see something and everybody wants to drive by and see it," said Brooke.

For her 21st, he built a giant 21 out of plywood and painted the garage door, which you can still faintly see today.
"The 21, it took me a while. I tried to get it done the night before," said Mike. "And I actually painted the 'Happy Birthday Brooke' on the garage door. The primer didn't quite cover it all so to this day you can still see it."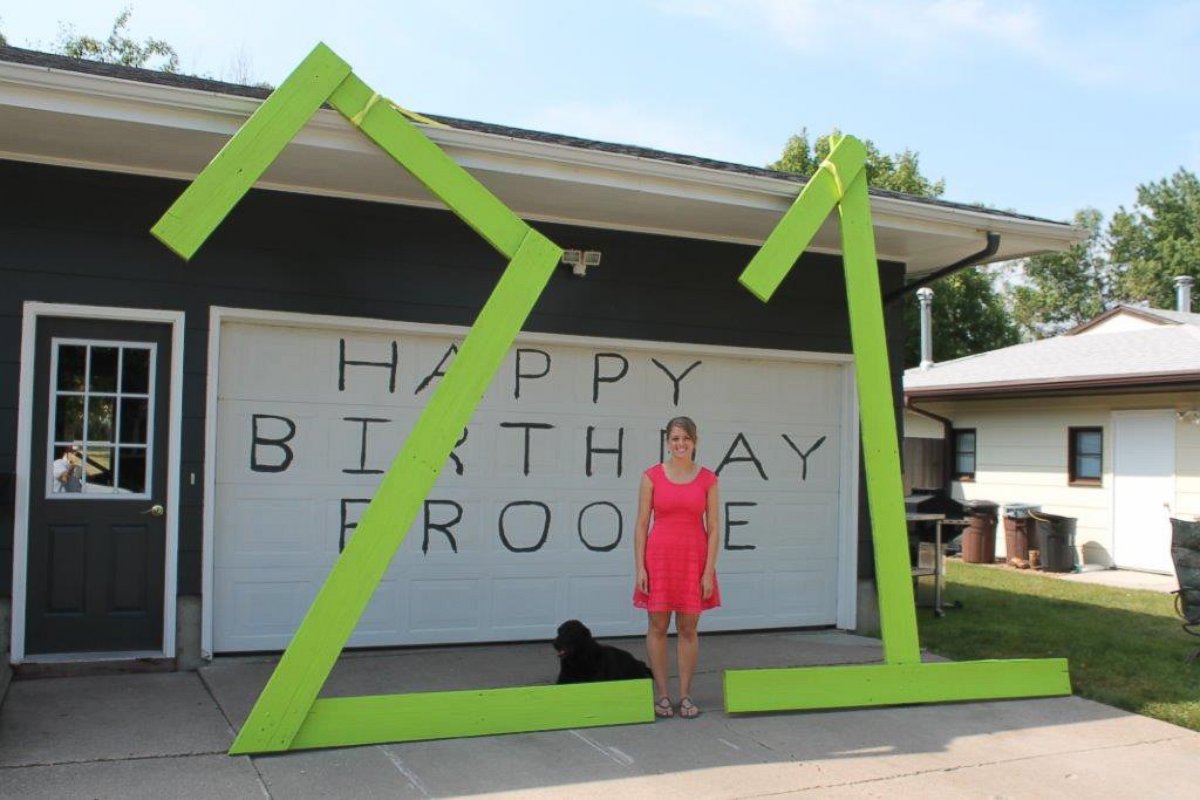 For the 22nd, he created another giant 22 and lined the roof of house with 22 balloons.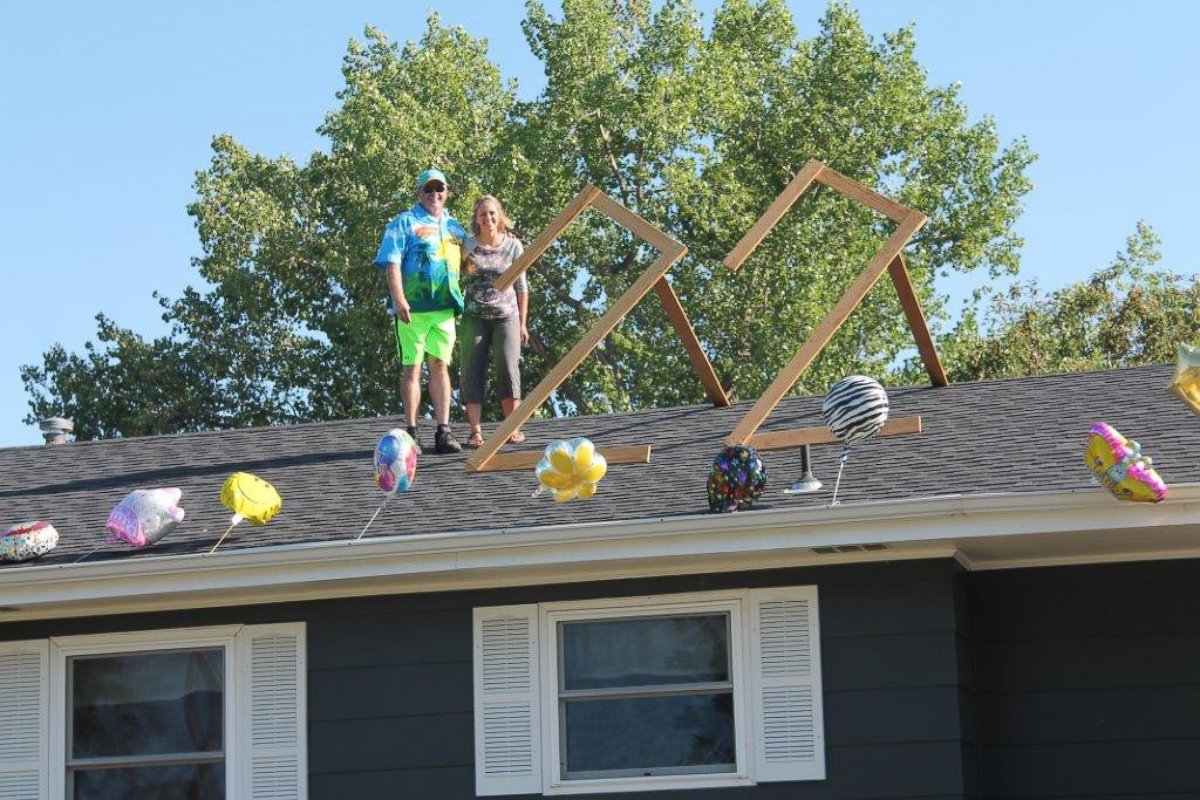 The 23rd birthday this year takes the cake, though.
"The box one this year was the one of the best," said Mike. "It took me quite a bit of time to paint everything on the boxes to get it set up like a birthday cake with the candle on the top. She never got to see that part because the wind knocked it over before she got home, but at least we got some pics of it. That was stretched 80 feet long across the front of the house. I had to have a neighbor help me."

Brooke said she "got a little spoiled" over the years with these over-the-top celebrations.
"It's so special. I've always been a daddy's girl," she said. "It's just neat that he cares so much to make the day special. It's good memories for sure."
As far as carrying on the tradition in years to come, "The hubby is gonna have to take over and we'll see what he comes up with," Mike joked of his daughter's fiancé, whom she's marrying next year. "The sky's the limit and I think we're gonna pass the torch onto Carson, so we'll see what he can do."