Deaf Cashier Photographed as Patrons Patiently Write Down Food Orders
The photo has been shared over 21,000 times on Facebook.
— -- A Texas man was unknowingly photographed at his job last weekend as customers learned he was hearing-impaired and began writing down their food orders.
The picture documenting the kind act was shared over 21,000 times on Facebook in just a few days.
"The story going viral," Taylor Pope, 20, wrote to ABC News today. "[It's] so heartwarming to know there are so many good people in the world that lets me be their inspiration.
"My job isn't always so fun but the only thing that makes it worth it is my co-workers and the customers."
Pope was working his job as cashier and team leader at a Whataburger fast-food restaurant May 15 in Denton, Texas, when a stranger, Kolbie Sanders, was observing nearby.
Sanders, 21, told ABC News she had gotten off her shift waiting tables and tending bar when she and her boyfriend decided to grab something to eat.
"Whataburger is the only place that's open late," she said. "I realized the drive-thru line was too long. The inside line was kind of long, too, but I was already there and was going to commit."
As Sanders got closer to the front of the line, she noticed cashier Pope mouthing to the customers, "I'm deaf," she said.
"He smiled and got a pen and paper out of his pocket, and the woman said, 'OK,' and she wrote her order down," Sanders recalled. "I thought that was very interesting because I work in the food-service industry and you don't come across nice and patient people that often."
As she waited for her food, Sanders witnessed a long line of patrons jotting down their orders for Pope, but it was the kindness and patience they showed to him that impressed her the most, she said.
"I wondered if someone was going to be mad and say something, but no one was," she said. "Everyone was polite and that's when I took the picture."
Sanders posted the photo on her Facebook page with a caption detailing the event. It read, in part:
"... after seeing so many people bully others on a daily basis, I can't tell you how refreshing it was to see these small acts of kindness demonstrated from so many different people. Seeing people forget their pride or their problems or even their hunger is something you don't see often. But at the end of the day, it's about others, not ourselves."
After the picture received an outpouring of support, media outlets came calling for interviews and that's when Sanders and Pope were able to meet, face to face.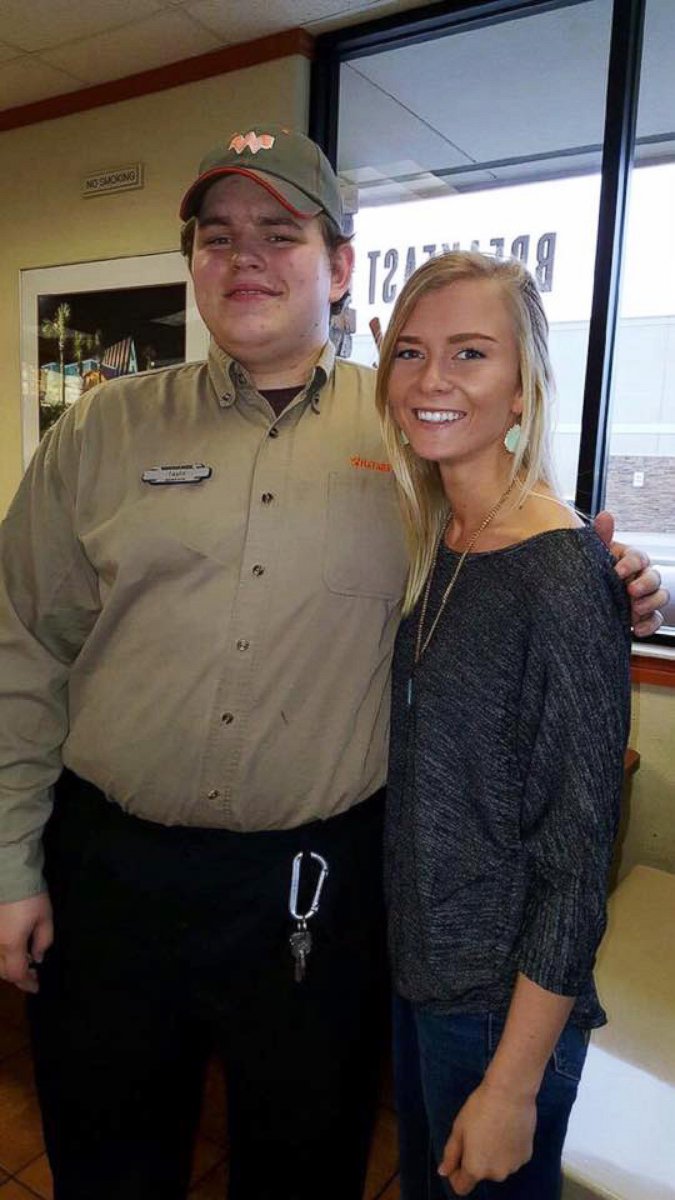 "He and I text now, we're friends and it's pretty cool," Sanders said. "[Pope's] extremely shy, but you can tell by his eyes, he's very kind and sweet. [Whataburger] is one of the only places that would hire him because he's deaf. He's hoping that since this story's going viral, more people will be able to see the things he's capable of doing."
Pope's mother, Jennifer Pope, told ABC news that Sanders' Facebook post has boosted her son's confidence.
"I think it's wonderful," she said. "More of the fact that Kolbie took the time to write that and being so observant for what's going on. For Taylor, it gave him a sense of pride that the hard work he's done is paying off for him. He's struggled in the past to fit in, so it's great."
Jennifer Pope added: "It's been hard. He's totaled his car and taking an Uber right now. It's being the protective mom in me, wanting the best for him. Whataburger's been really great for him, but he kind of wants to go beyond that."
Her son said he has recently been promoted to team leader and is working hard in hopes of becoming manager.