Deaf Girl Teaches Puppy Sign Language in Heartwarming Video Encouraging People to Embrace Being Different
Julia is deaf, and so is her puppy Walter. But the two don't mind it at all.
— -- Meet Julia and her four-legged best friend Walter.
Julia was born deaf, and so was Walter -- but the two don't mind being different. In fact, they embrace it, according to the Pasadena Humane Society and SCPCA in California.
A heartwarming video showcasing the special bond between Julia and her puppy was recently posted to the humane society's Facebook page. The video, produced with the help of 1620 Media, has received more than 246,000 views and hundreds of positive comments since it was shared last week.
In the video, Julia can be seen teaching Walter sign language, including sign commands for "sit," water" and "food."
"I love Walter," she says in sign language. "Walter is my best friend."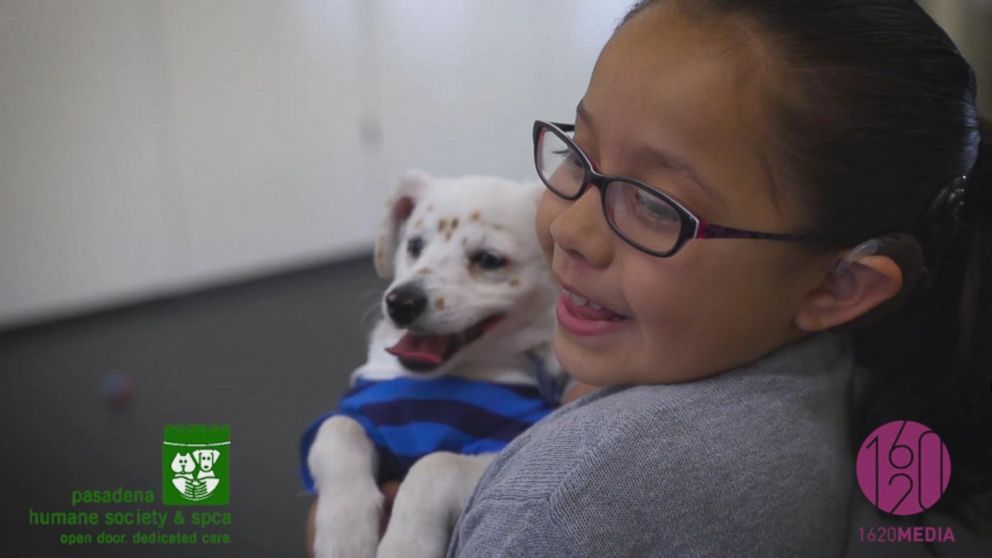 Walter first came to the Pasadena Humane Society and SPCA last December, according to Jamie Holeman, community relations associate for the organization.
A Good Samaritan had found Walter and his littermates abandoned and brought them in, Holeman told ABC News today. Walter was only 6 weeks old when he was found, she said.
Once the resilient pup was old enough to be put up for adoption, the shelter posted a photo of Walter to its Facebook page, Holeman said. Julia and her mother saw Walter's photo on the page and immediately fell in love.
The love at first sight only grew stronger when Julia and her mother went to meet Walter in person.
"When I first held Julia, since she couldn't really hear my voice she would smell my neck -- and when I first held Walter, he did almost the same exact thing," Julia's mother says in the video recently shared by the humane society.
"I remember just looking at him, and I just knew that he was meant to be ours," she adds. "They're the same."
Holeman said she hoped that the video would remind people that "there's always someone out there for everyone."
Julia's family asked not to be identified by their last name.