'Double Take' Superhero Wedding Cake Is One-of-a-Kind
Kia Parsons and Billy Bunning's unique cake stunned their wedding guests.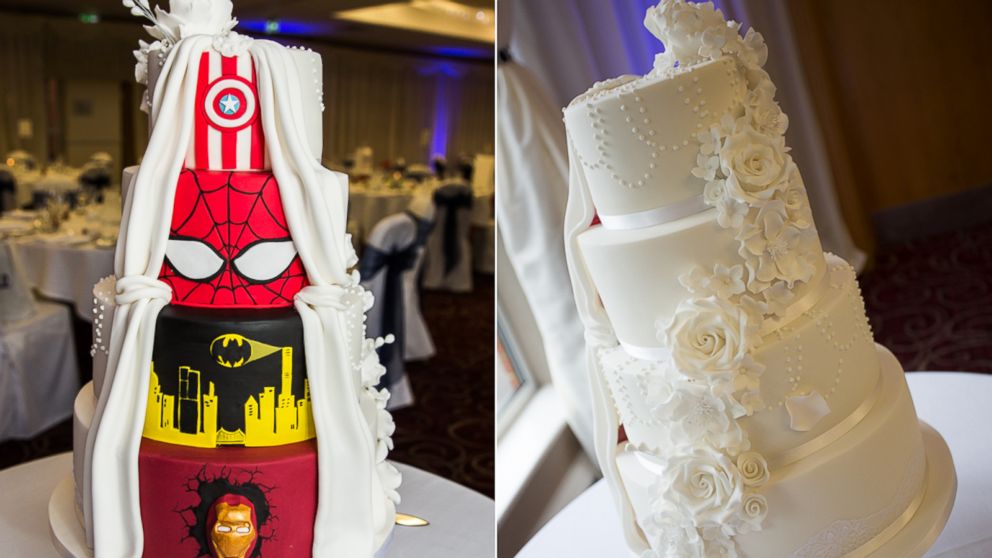 — -- A British couple who wanted to give their guests a superhero surprise did so in a major way thanks to their one-of-a-kind wedding cake.
The bride, 27-year-old Kia Parsons, told ABC News she and her husband, Billy Bunning, 41, were determined to incorporate superheroes into their Aug. 14 wedding in Milton Keynes, England, but wanted to avoid "turning our wedding into a children's party."
"We kept the superheroes to the table names and table plan, the groomsmen's socks and cufflinks and our guest book," Parsons said. "Somehow the cake became the focal point of the surprise."
The couple enlisted Julia Baker of Tier By Tier to help pull off the surprise.
Baker, who operates out of her home kitchen, is known for her "double-take cakes" where an elegant, typical wedding cake is accented by a sliver of a surprise decoration.
In the case of Parsons and Bunning's cake, the surprise was a four-tier montage of superheroes that included Spider-Man, Iron Man, Captain America and Batman.
"We didn't actually see the cake until we arrived at our reception venue," Parsons said. "We were completely overwhelmed by how brilliant it looked.
"From most angles of the room the cake looked like a traditional wedding cake, just what we had wanted," she said. "It wasn't until the cake was moved for us to cut that our guests realized there was a hidden extra."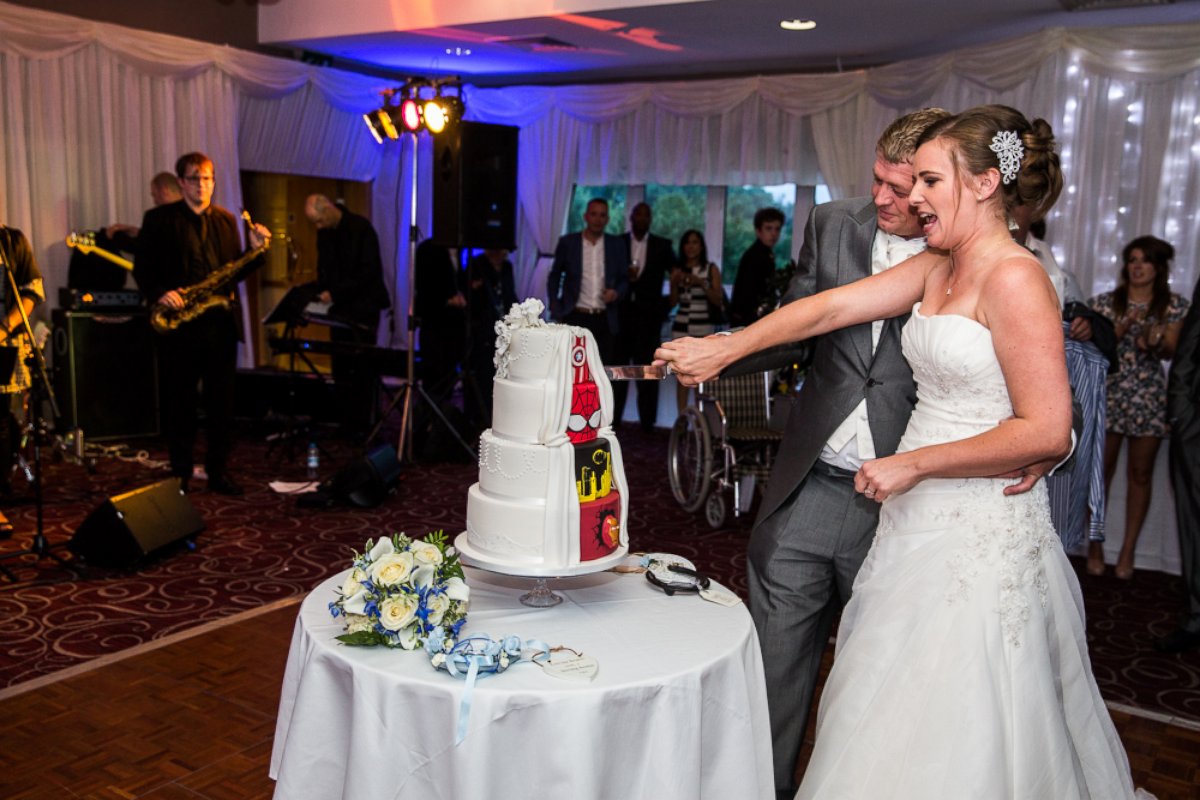 Parsons added that some of their wedding guests did not even realize the hidden-superhero layers of their cake until seeing it after the wedding in photos by other guests and wedding photographer John Doran.
Baker says the couple's "double-take cake" took her about 40 hours total to complete. She spent 12 hours creating the sugar flowers that cascaded down the front of the cake and the rest of her time was spent on baking and building the sponge cake, chocolate ganache, buttercream and fondant-laden creation.
"I wasn't sure how it would look so it was a bit of a trust game," Baker said of the superhero design requested by the couple. "But it all went pretty smoothly considering I have two young daughters and it was a school holiday and I was juggling them plus making another wedding cake.
"I was very pleased that they liked it," she said.
Parsons says the wedding cake made a lasting impression on her guests, and not just for the design.
"The cake tasted delicious," she said. "We even had guests asking if there was leftover cake the next day."