— -- A father-of-eight from Texas has come up with an invention that could transform the way hot summer days are spent and will likely have you asking yourself, "Why didn't I think of that."
The product is called Bunch O Balloons and it's just that, a bunch of balloons, 100 to be exact, with a special hose attachment that allows you to fill those 100 balloons with water in under one minute.
"Our family does a lot of water ballooning in the summer and we've always filled and tied them the old fashioned way and tried the gadgets that are supposed to help but didn't," the inventor, Josh Malone, told ABC News. "After tens of thousands of balloons we started thinking of a better way."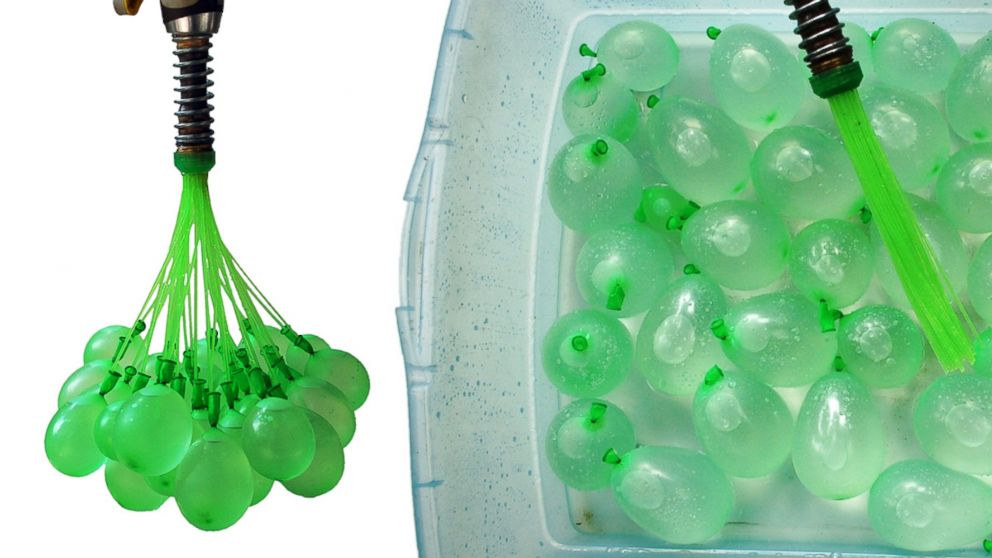 The 6 Fastest Kickstarter Campaigns to Reach $1 Million
The Potato Salad Kickstarter That Raised Over $37,000
Kickstarter Success Could Lie in Your Words
The "we" in Malone's invention story includes his wife, Alison, and their eight kids, ranging in age from 4 to 18. Malone estimates the Texas-based family has together filled "thousands of water balloons."
After testing many ideas -- including one that involved filling balloons with marshmallows -- Malone, 41, came up with the idea to use a tube to transport the water from the hose into the balloons and using an elastic ring around the necks of the balloons to seal them.
Once you tie the Bunch O Balloons attachment to the garden hose, the only other item you need is a small container filled with water below the hose to protect the balloons when they pop off the hose, sealed and filled with water.
"It's so obviously simple it should have been done a long time ago," Malone said. "This one went a lot smoother than a lot of my ideas and pretty much worked the first time, which was a pleasant surprise."
Malone first debuted Bunch O Balloons at the American International Toy Fair in New York City in February and launched a Kickstarter campaign Tuesday to raise money to bring the idea to mass production.
"We sold out our entire capacity of them within 24 hours of when Kickstarter launched," Malone said, noting a $15 pledge bought one package of Bunch O Balloons containing 100 water balloons.
As of today, the Kickstarter campaign has raised over $121,000.
Malone, an inventor by trade who owns his own design firm, says the approach he took to creating Bunch O Balloons is nothing new, literally.
"The name of my business is TINNUS, which stands for, 'There Is Nothing New Under the Sun,'" he said. "For me, it's a matter of God bringing it to my mind."
"I can't create something new," he said. "I can just work with the things He's already made and this product is a good example of that."