— -- Two sanitation workers paid it forward this Christmas after hearing heartbreaking news about a child who waves to them through her window.
Brandon Olsen and Taylor Fritz of Hometown Sanitation left gifts for three sisters who wave to them each Thursday after learning that one of them, 3-year-old Rose, had been fighting cancer.
The men also gave their parents free garbage service for one year.
"When they did that, it was a few weeks out from the diagnosis when every day just felt so impossible," said Rose's mother, Angie Evenson, of Blue Earth, Minnesota. "Nothing in reality changes Rose's diagnosis, but it's those little acts of kindness. What they did made us feel like we are truly not alone in this fight."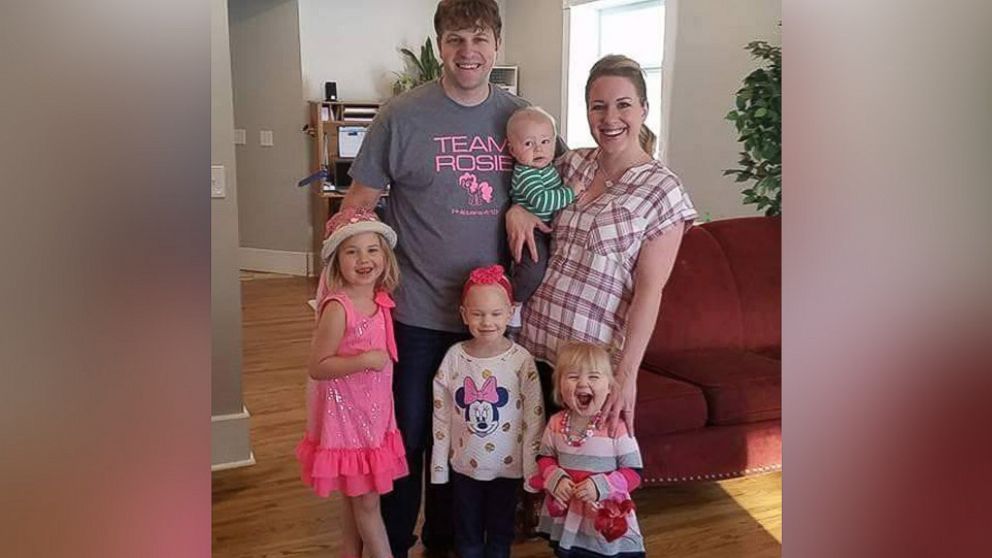 With binoculars in hand, Rose and her two sisters, Grace, 5, and Sophia, 2, sit by the window and wave at their garbage men, Olsen and Fritz, as they drive by during their weekly route.
Olsen, 29, and Fritz, 24, told ABC News that the girls' smiling faces are what they look forward to while working -- the two men even left Halloween candy for the girls this year to show their appreciation.
But weeks later, Evenson wrote Olsen and Fritz a note explaining that little Rose wouldn't be able to wave to them for a while since she'd be undergoing chemotherapy. Rose had been diagnosed with stage 4 kidney cancer in September.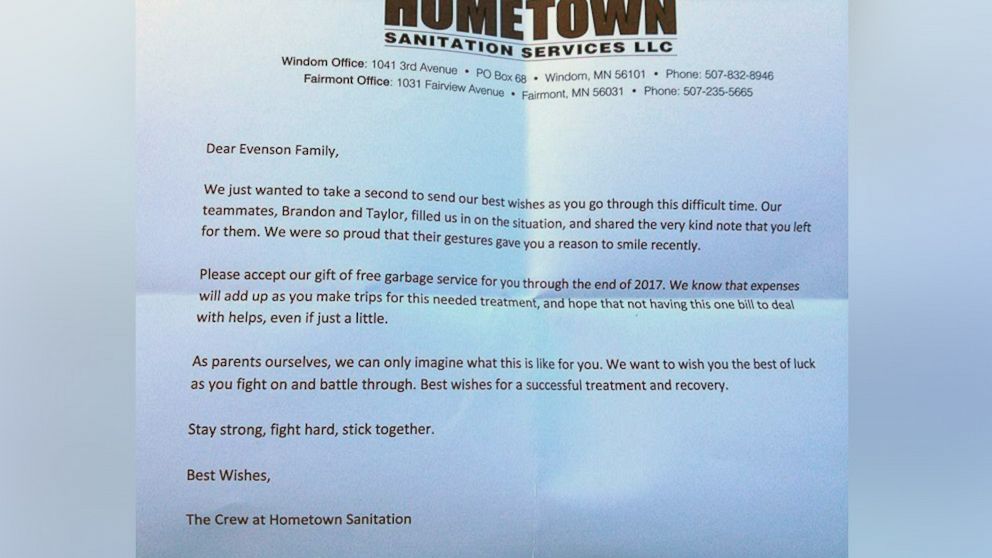 "As a father of three, it changed my outlook on things," Olsen said. "It opened my eyes ... you don't know what someone else is going through."
Fritz said he cried when he read the note. "I got to the chemo part and there were tears running down my face," he recalled. "I don't have any children of my own, but I can imagine if someone very close to me was diagnosed, I'd be heartbroken."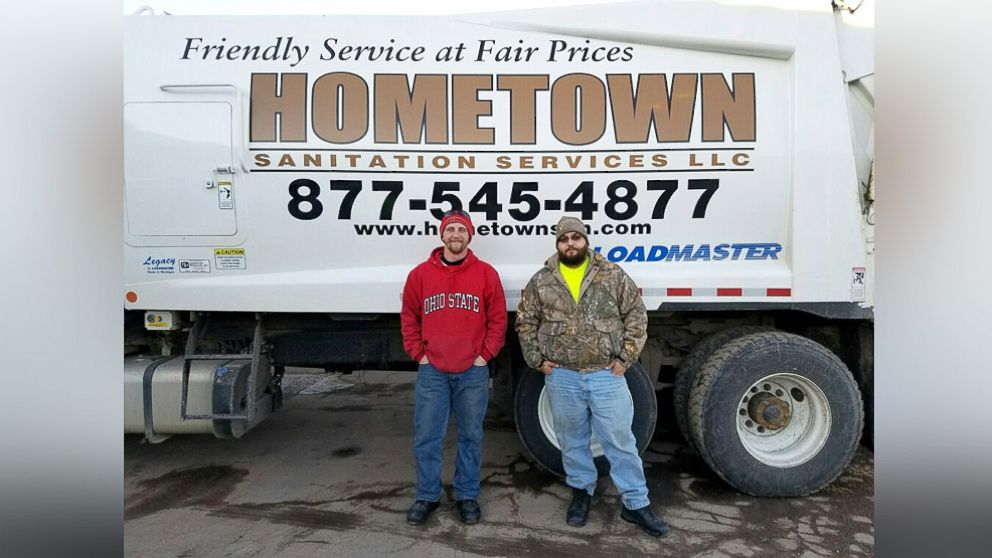 Just before Christmas, Olsen and Fritz left Rose and her siblings presents along with a letter their mom and dad offering free garbage service for one year on behalf of the company they work for.
"Our teammates, Brandon and Taylor, filled us in on the situation and shared the very kind note that you left for them," the letter reads. "We were so proud that their gestures gave you a reason to smile recently."
Rose is being treated at Sanford Children's Hospital in Sioux Falls, South Dakota. She will miss a few more Thursdays waving to her garbagemen, but her chemo sessions are soon switching to Mondays and she'll be back in the window early next year, her mother said.