— -- When students at the International Community School in DeKalb County, Georgia, walked to the school's front door Monday morning, the largely immigrant and refugee students were welcomed with dozens of signs of support from their community.
Monday was the student's first day back to school after President Trump signed an executive order over the weekend instating an immediate travel ban on refugees and people traveling to the United States with visas from seven majority-Muslim countries.
The signs welcoming the students to the school contained words of support like "We're with you" and "You belong here."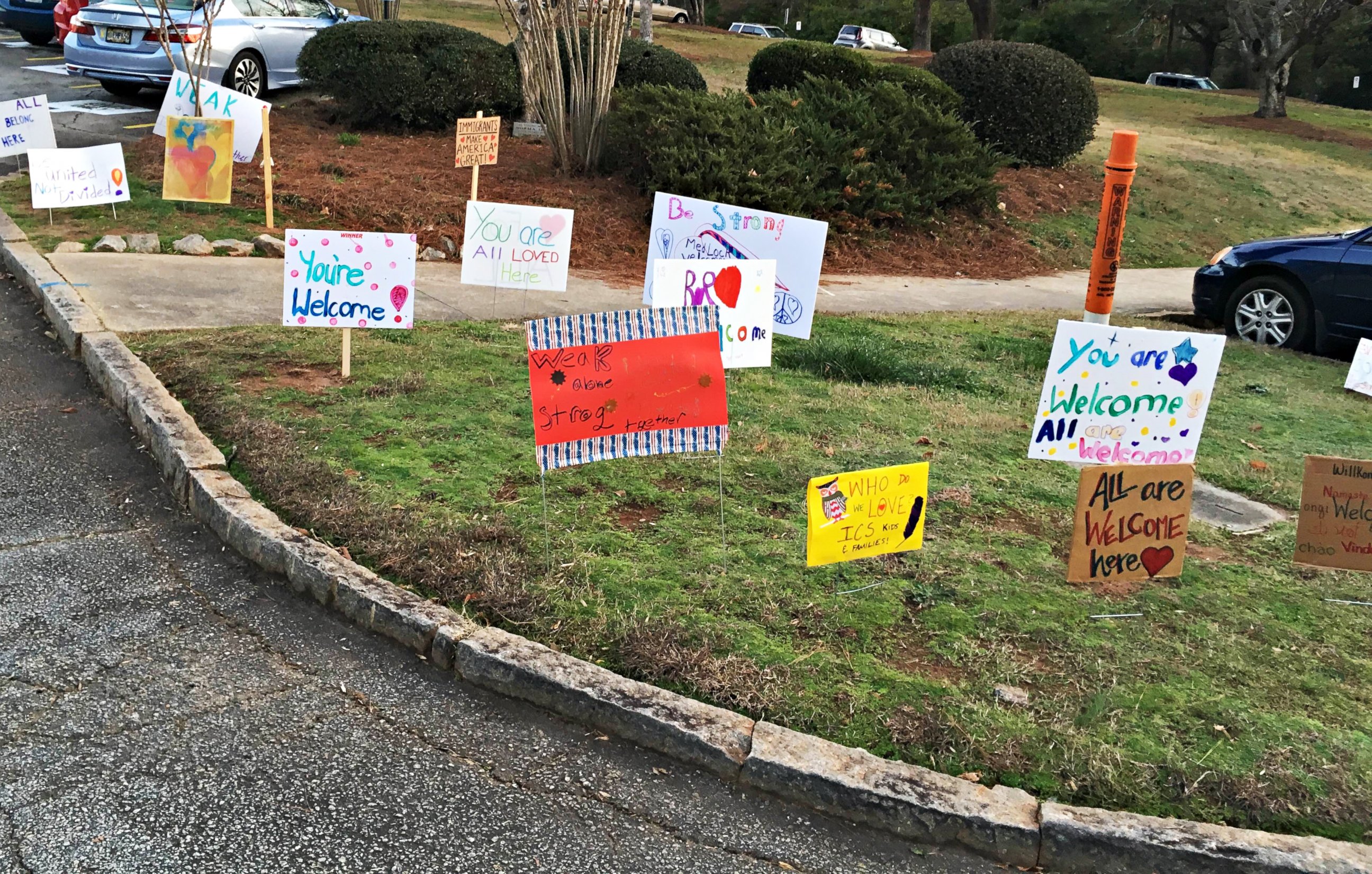 "We just walked up Monday morning and saw all the signs," said Aalia Mujtaba, whose 8-year-old son is in third grade at the school. "Everyone was gathering around."
Mujtaba, who was born in the U.K. to Pakistani parents who are now, like her, U.S. citizens, said she felt a wave of relief when she saw the signs' messages.
"This is the first time since I was a child that I felt as an outsider in my country," she said. "It's been difficult, and I want my son to grow up feeling like he's secure in his home and he's not going to be picked out of a group because I'm his mother."
She explained, "The show of support at the school was really affirming."
The signs began popping up at the school, a public charter school, Sunday after a neighbor posted on Facebook a photo of a single sign she left at the school. ICS serves 400 students from grades K through 5, "representing more than 30 nationalities and speaking 25 languages," according to its website. The school was founded in 2002 to "bring together refugee, immigrant and local children" in an academic environment.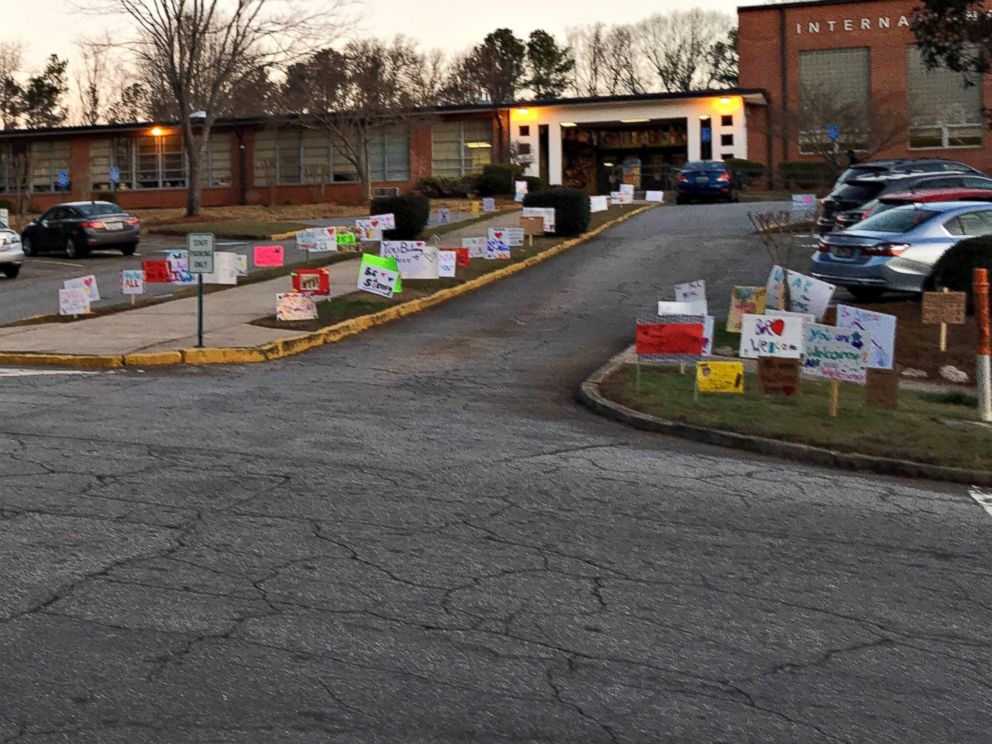 It was the neighborhood Facebook post that prompted Danny Vincent, a mother of two who lives near the school, to host a signmaking party at her home for friends.
"Amelia started listing people she thought might want to make signs, and we went to the store and got supplies," Vincent said of her 8-year-old daughter, who does not attend ICS. "I saw it as an opportunity for her and me, frankly, to not just stand against something but to do something very personal and very loving and take care of people who are very vulnerable."
Vincent's signmaking party produced dozens of signs that the kids and adults used to line the school's walkway.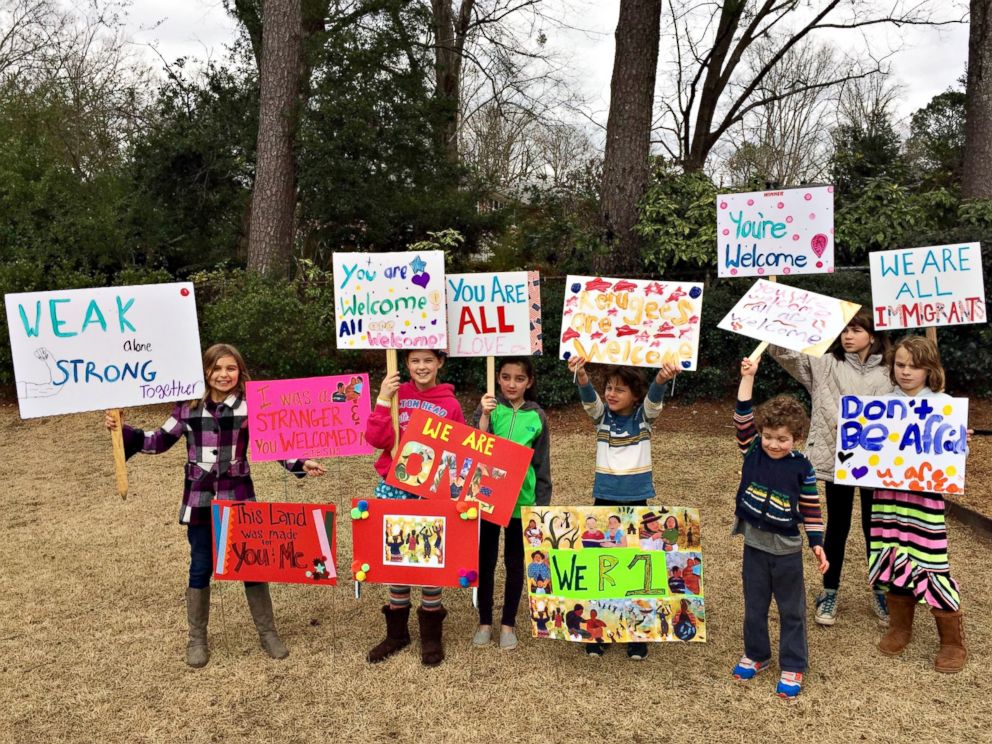 "The idea that kids would be taking the bus to school on Monday morning after a weekend of such uncertainty and fear and be surprised by love and support, it was so powerful," said Gina Sims, who, with her children, helped make signs at Vincent's home. "This was a very simple act of love and support for a community that just needs some support and love right now."
"We got a note from a teacher that said the teachers had been taking the kids out class by class and letting them take their time, walking through and reading each sign," she added. "The kids were able to absorb the messages and internalize them on their own time."
By Monday morning, the number of signs outside the school had reached nearly 60 as other neighbors contributed. A large number of signs were also planted at PATH Academy, a nearby school that also serves a largely immigrant and refugee population.
The signs have remained posted at both schools throughout the week.
Among the 102,000 students in the DeKalb County School District, about 4,000 students are refugees, and 140 languages and 180 nationalities are represented in the student body, a school district representative told ABC News.
The district's Superintendent R. Stephen Green released a statement after Trump's executive order.
"Imagine how hard it is to come to a new country and start life over without familiar ties to family, culture or language. DeKalb schools give an anchor to our new citizens," the statement read. "Our role as school leaders is to help learning in our schools to become love … love for a new place, for our way of life and, ultimately, for one another."