"Good Morning America" is spotlighting dog adoption all month long to help pups find forever homes.
We teamed up with North Shore Animal League America to select participating shelters all across the country for our biggest dog adoption event ever, Mission PAWsible: The 'GMA' Doggie Adoptathon.
Check out the list of participating shelters below and find one near you. We want you to get involved and we want to hear your rescue stories.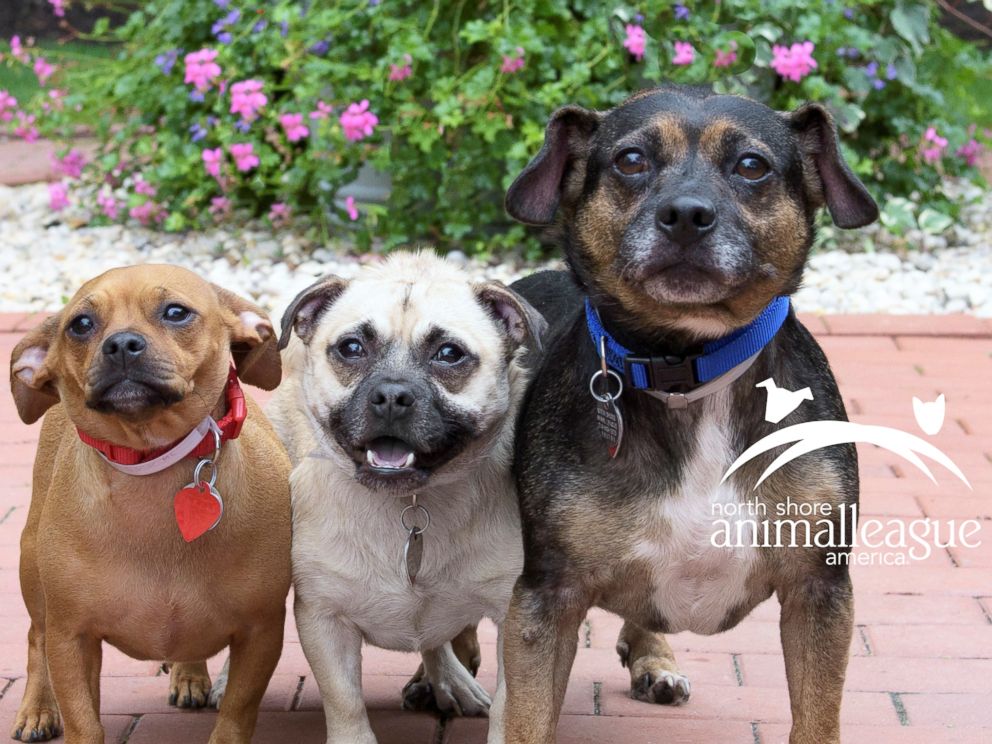 To highlight the effort, "GMA" will this month tell the stories of rescue dogs who've found their forever families. From the stories of the adorable pups from North Shore Animal League America who were live in our studio and were up for adoption, to dogs such as Mick -- who was once a stray and is now strutting the streets of Hollywood as the star of Disney Channel's "Dog with a Blog." And Jack and Jill, the pups who tag team Nana on Broadway's "Finding Neverland."
And then there's Haus, the rescue German shepherd who was hailed as a hero after he stood between 7-year-old Molly DeLuca and an eastern diamondback rattlesnake. The dog was bitten three times and received nine vials of antivenin before being released from the animal hospital to rejoin his family.
Share a photo of your dog adoption inspired by "GMA" using the hashtag, #GMAPawdoption, on Twitter or Instagram. Your picture could appear on our show or website! Click here for more info.
Shelters Coast to Coast
Muttville Senior Dog Rescue
Rescue Row 255 Alabama St.
San Francisco, CA
http://www.muttville.org/
BARCS
301 Stockholm St.
Baltimore, MD
http://baltimoreanimalshelter.org/
Animal Rescue League of Boston
10 Chandler St.
Boston, MA
https://www.facebook.com/AnimalRescueLeagueofBoston/
MSPCA Animal Care and Adoption Center
350 S Huntington Ave
Jamaica Plain, MA
https://www.mspca.org/medical-centers/angell-animal-medical-center-boston/
Milton Animal League League
181 Governor Stoughton Lane
Milton, MA
www.miltonanimalleague.org/
Animal Welfare League
10305 Southwest Highway
Chicago Ridge, IL
http://www.animalwelfareleague.com/
Animal Rescue League of Boston
10 Chandler St.
Boston, MA
https://www.facebook.com/AnimalRescueLeagueofBoston
Loving Companions Animal Rescue Inc.
1360 Old Richardson Hwy
North Pole, AK
http://lovingcompanionsanimalrescue.org/
Florence/Lauderdale Animal Shelter
702 E. College Street
Florence, AL
https://www.facebook.com/florencelauderdaleanimalshelter
Tuscaloosa Metro Animal Shelter
3140 35th Street
Tuscaloosa, AL
http://www.metroanimalshelter.org/
300 Snow Drive
Birmingham, AL
https://gbhs.org/
North Little Rock Animal Shelter
1 Championship Dr
North Little Rock, AL
http://www.animalshelter.org/shelters/North_Little_Rock_Animal_Shelter_rId293_rS_pC.html
Coconino Humane Association
3501 E Butler Ave
Flagstaff, AZ
http://www.coconinohumane.org/
Burbank Animal Shelter
1150 N Victory Pl
Burbank, CA
http://www.burbankpd.org/programs/animal-shelter/
Second Chance Dog Rescue
4284 Cass Street
San Diego, CA
http://secondchancedogrescue.org/
Humane Society of South Platt Valley
2129 W Chenango Ave
Littleton, CO
New Haven Animal Shelter
81 Fournier St
New Haven, CT
http://www.cityofnewhaven.com/animalshelter/index.asp
Delaware Humane Association
701 A St
Wilmington, DE
https://delawarehumane.org/adopt/available-dogs
Dogs and Cats Forever
4600 Selvitz Rd
Fort Pierce, FL
http://dogsandcatsforever.com/
Palm Beach County Animal Care & Control
7100 Belvedere Rd
West Palm Beach, FL
http://www.pbcgov.com/snap/
PAWS, Atlanta
5287 Covington Hwy
Atlanta, GA
http://www.pawsatlanta.org/
Last Hope Animal Rescue
1823 16th Ave SW
Cedar Rapids, IA
http://www.adopthope.org/
Idaho Humane Sociey
4775 Dorman St
Boise, ID
https://www.idahohumanesociety.org/
Indianapolis Animal Care and Control
2600 Harding St
Indianapolis, IN
http://awos.petfinder.com/shelters/IN113.html
Muncie Animal Shelter
901 W Riggin Rd,
Muncie,IN
http://www.cityofmuncie.com/muncie-animal-shelter.htm
Ashland Animal Rescue Fund
3238 Rt. 5
Ashland, KY
http://www.aarfky.com/
Plaquemines Animal Welfare Society
455 F Edward Hebert Blvd
Belle Chasse, LA
http://paws4life.org/
Quincy Animal Shelter
56 Broad St
Quincy, MA
http://quincyanimalshelter.org/
Lincoln County Animal Shelter
27 Atlantic Highway
Edgecomb, ME
http://lincoln.coastalhumanesociety.org/
Coastal Humane Society
30 Range Rd
Brunswick, ME
https://www.coastalhumanesociety.org/
Greater Hillsdale Humane Society
3881 S Tripp Rd
Osseo, MI
http://hillsdalehumane.webs.com/
APA of Missouri
1705 S Hanley Rd
St.Louis, MD
https://apamo.org/
Hawk Creek Animal Shelter
250 28th St
Willmar, MN
http://www.thehskmc.com/
Wayside Waifs
3901 Martha Truman Road
Kansas City, MO
http://www.waysidewaifs.org/site/PageServer
Humane Society of South Mississippi
2615 25th Ave
Gulfport, MS
https://hssm.org/
Cut Bank Animal Shelter
113 E. Main St.
Cut Bank, MT 59427
http://www.montanapets.org/cas/
Watauga Humane Society
312 Paws Way
Boone, NC
http://wataugahumanesociety.org/
Central Nebraska Humane Society
1312 Sky Park Road
Grand Island, NE
http://www.centralnebraskahumanesociety.com/
Liberty Humane Society
235 Jersey City Boulevard
Jersey City, NJ
http://www.libertyhumane.org/
Watermelon Mountain Ranch
3251 Westphalia
Albuquerque, NM
http://www.wmranch.org/
Santa Fe Animal Shelter
100 Caja Del Rio Rd
Santa Fe, NM
http://sfhumanesociety.org/
Northeast Ohio SPCA
9555 Brookpark Rd
Parma, OH
http://www.northeastohiospca.org/
North Shore Animal League America
25 Davis Avenue
Port Washington, NY 11050
http://www.animalleague.org/
Humane Society of Tulsa
6232 E 60th St
Tulsa, OH
http://www.tulsapets.com/contact-us
The Humane Society of the Ochocos
1280 Tom McCall Rd
Prineville, OR
http://www.hsonokillshelter.org/
Luvable Dog Rescue
Eugene,OR
http://www.luvabledogrescue.org/
Pennsylvania SPCA
350 East Erie Avenue
Philadelphia, PA
http://pspca.org/
Western Pennsylvania Humane Society + Animal Rescue League
1101 Western Avenue
Pittsburgh, PA
animalrescue.org
;
http://wpahumane.org/
Providence Animal Rescue League
34 Elbow St
Providence, RI
http://parl.org/
The Humane Society of McCormick County
1351 Hammond Street
McCormick, SC
http://hsmc.rescueme.org/
Humane Society of the Black Hills
18-20 E Saint Patrick St.
Rapid City
http://hsbh.org/
Humane Society of Memphis & Shelby County
935 Farm Road
Memphis, TN
https://memphishumane.org/
Citizens for Animal Protection
17555 Katy Fwy
Houston, TX
http://www.cap4pets.org/
Austin Animal Center
7201 Levander Loop
Austin, TX
http://www.austintexas.gov/department/aac
San Antonio Humane Society
4804 Fredericksburg Rd
San Antonio, TX
http://sahumane.org/
Paws in the City
Dallas, TX
http://www.pawsinthecity.org/
Humane Society of Utah
4242 300 W
Murray, UT
https://www.utahhumane.org/
Martinsville SPCA
132 Joseph Martin Highway
Martinsville, VA
http://www.spcamhc.org/
Springfield Humane Society
401 SKITCHAEWAUG TRAIL
Springfield, VT
http://spfldhumane.org/
Missy's Rescue
12322 Lake City Way NE
Seattle, WA
https://www.facebook.com/pg/missysrescue/about/
Humane Animal Welfare Society
701 Northview Road
Waukesha, WI
http://hawspets.org/
Raleigh County Humane Society
325 Grey Flats Road
Beckley, WV
http://hsrcwv.org/
Cheyenne Animal Shelter
800 Southwest Drive
Cheyenne, WY
http://www.cheyenneanimalshelter.org/