It's the most wonderful time of the year, otherwise known as ugly holiday sweater season, where people cover themselves with jingle bells, bows and tinsel galore. From elves to bells, to snowmen and reindeer, nothing is off limits for the crafting-obsessed.
Ugly Christmas sweater DIY searches are up 68 percent year over year, a Pinterest spokeswoman told ABC News, and our "Good Morning America" viewers are proving the trend is as hot as ever.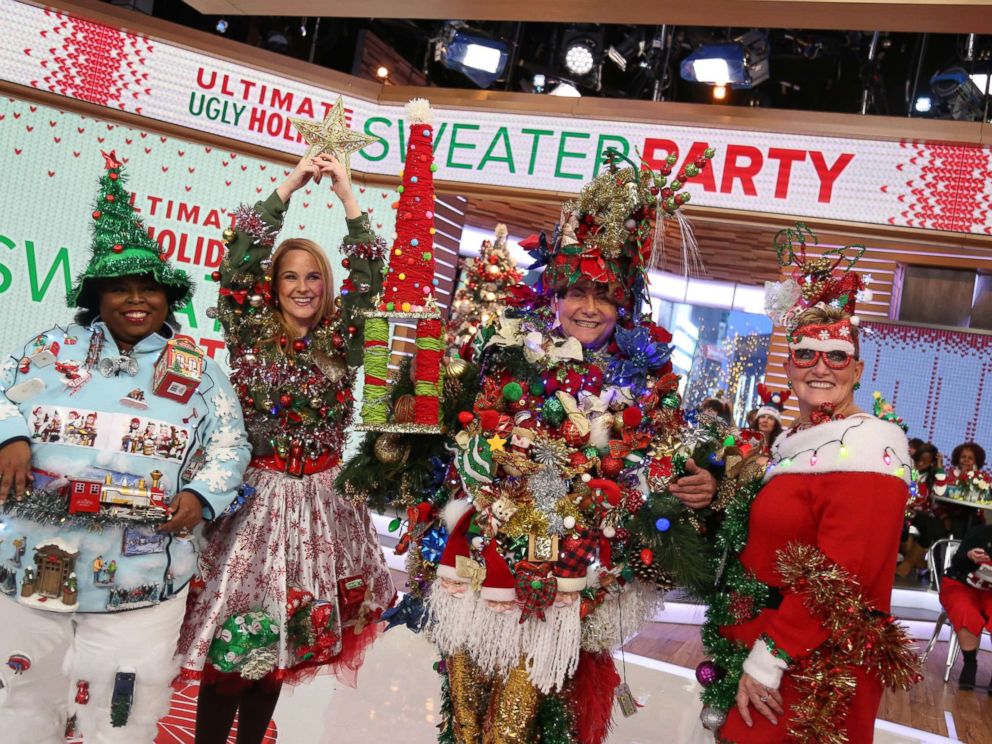 They take their festive frocks to the next level, decking themselves out with plenty of holly jolly accessories and submitting photos to our website in hopes of being highlighted for their very merry efforts.
Although "GMA" received hundreds of amazing submissions, the crowned winner was Steve Kemble, a wedding planner from Dallas.
"I love to dress up for the holidays, especially in a year like we've had. There's a lot of sadness in the world right now," Kemble, 58, said on "Good Morning America," showing off his epic outfit covered in 300 bows. "And if I can walk into a party or walk down the street wearing something crazy like this that puts a smile on somebody's face, that makes me so happy."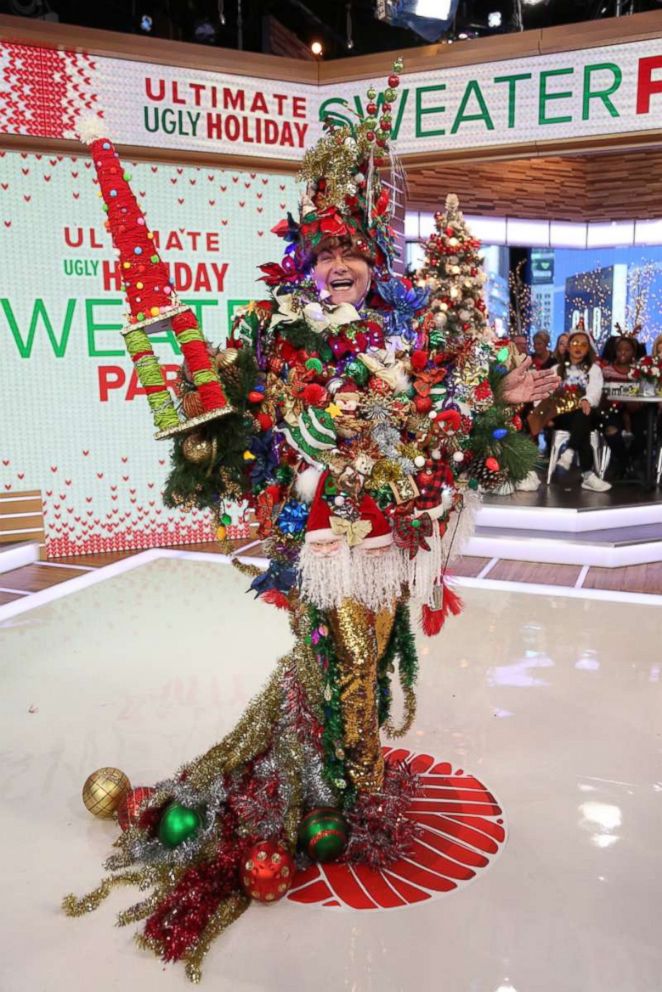 Here are some of our favorites:
Steve Kemble of Dallas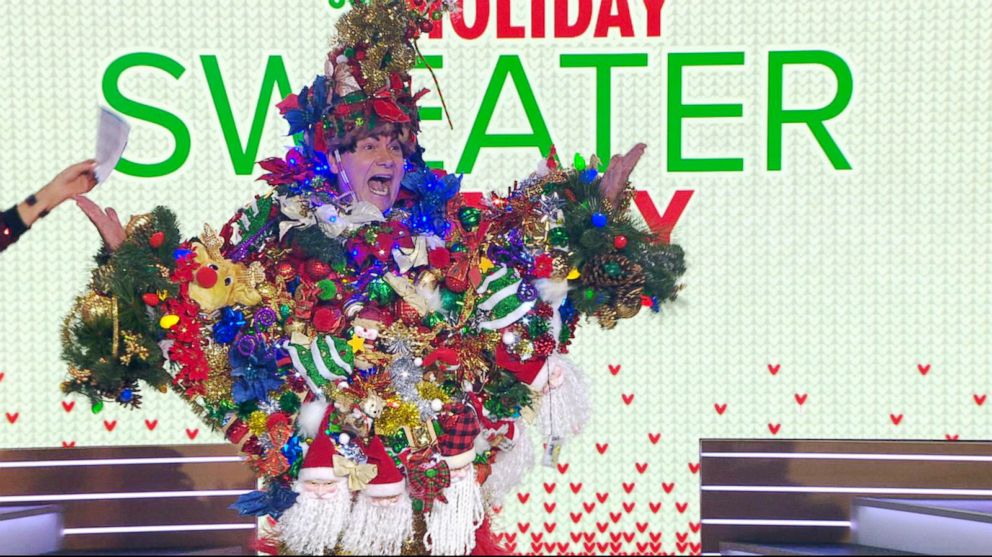 Kemble, 58, told ABC News he has not only been creating ugly sweaters, but entire outfits, for more than 15 years. He calls his sweater an "ornament blizzard."
"This is my most fabulous holiday sweater to date! It's almost as big as a Rose Bowl Float!" he wrote to ABC News in his submission of his 40-pound sweater. "It even has a train made from yards and yards of tinsel, hundreds of ornaments, hundreds of gift bows, a collar made of a wreath adorned with poinsettias and blinking lights."
Sarah Frick of Gainesville, Florida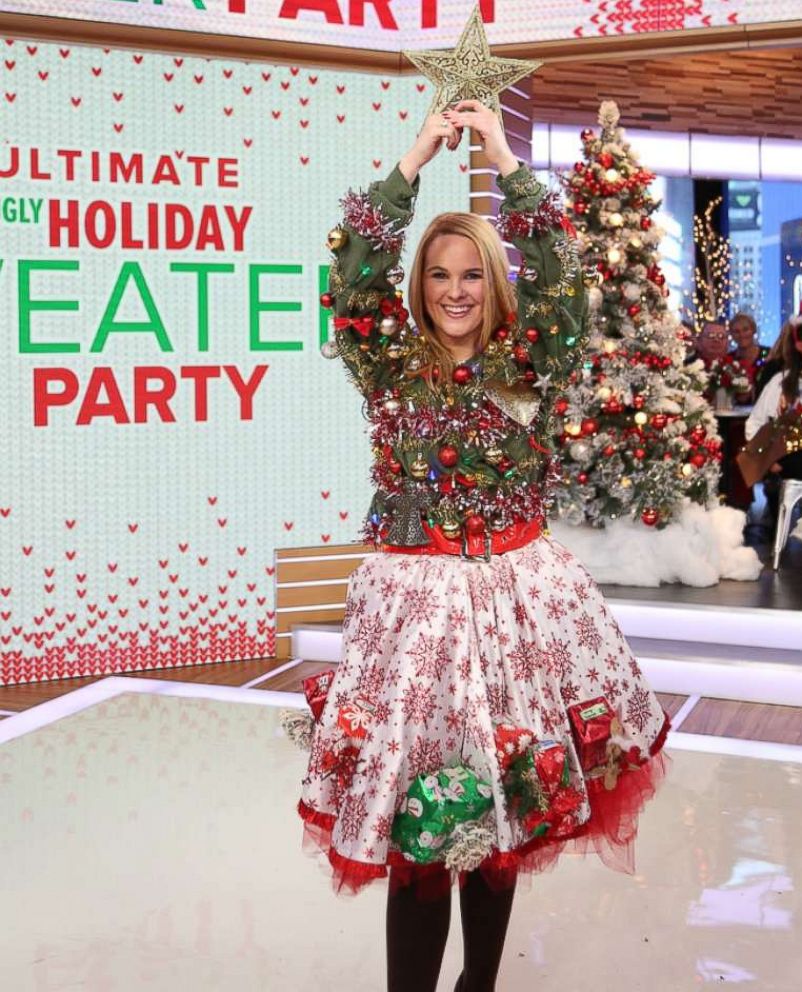 Sarah Frick, 26, said her arms get tired after holding them out for so long to pose in pictures with people.
"Everyone loves it and laughs when I wear it," Frick wrote to ABC News of her Christmas tree-themed sweater. "I often get questions about how heavy the star is on the end of the sleeve -- people are just curious! I've had people ask me to make them one too. When I wear it, everyone wants to take a picture with it, so my arms start to get sore from standing like a Christmas tree all night!"
Shamva Wright-Shingler of Stony Point, New York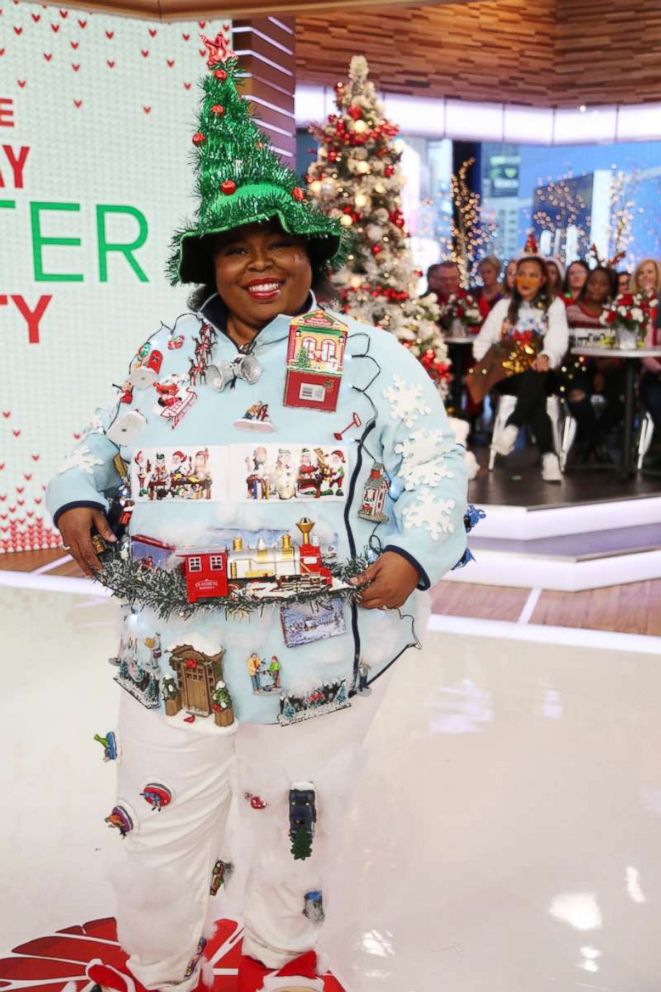 Shamva Wright-Shingler, 38, calls the craft store her second home and said her family thinks she's crazy for her elaborate sweaters. She went with a theme all about the North Pole and Santa's workshop.
"My family thinks I am a weirdo because I love being creative," she wrote. "They love the creations at the end though. I will make a gift basket instead of buying gifts sometimes. My sister is just as funny as I am, so she loves pitching in and helping out."
Jennie Taylor of Wichita, Kansas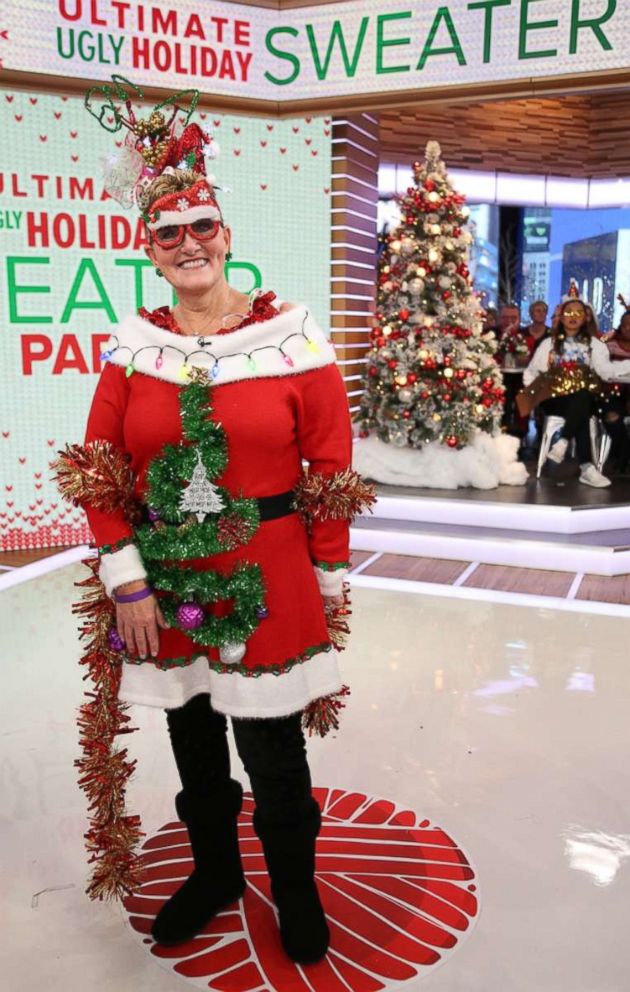 Jennie Taylor, the wild card "GMA" audience member who was chosen to compete, said her look was "Dollar Tree avant-garde." She is a retired grandma from Wichita, Kansas.
Susan Hinebaugh of Liverpool, New York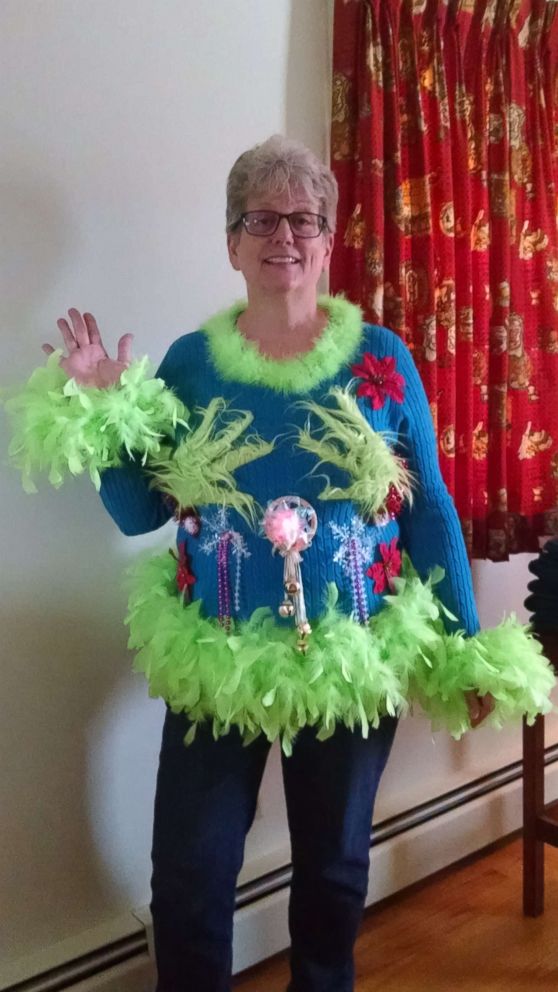 Susan Hinebaugh said her sweater was inspired by one of her favorite books and movies, "How the Grinch Stole Christmas."
"I taught school for 31 years and it was also a favorite of my school children," she wrote to ABC News. "As you can see, the front has lots of feathers, bells, ribbons, a blinking bow in the center, and of course the Grinch's long-fingered mischievous hands. The back has a message written, Grinch-style."
Sandra Nelson of Tampa, Florida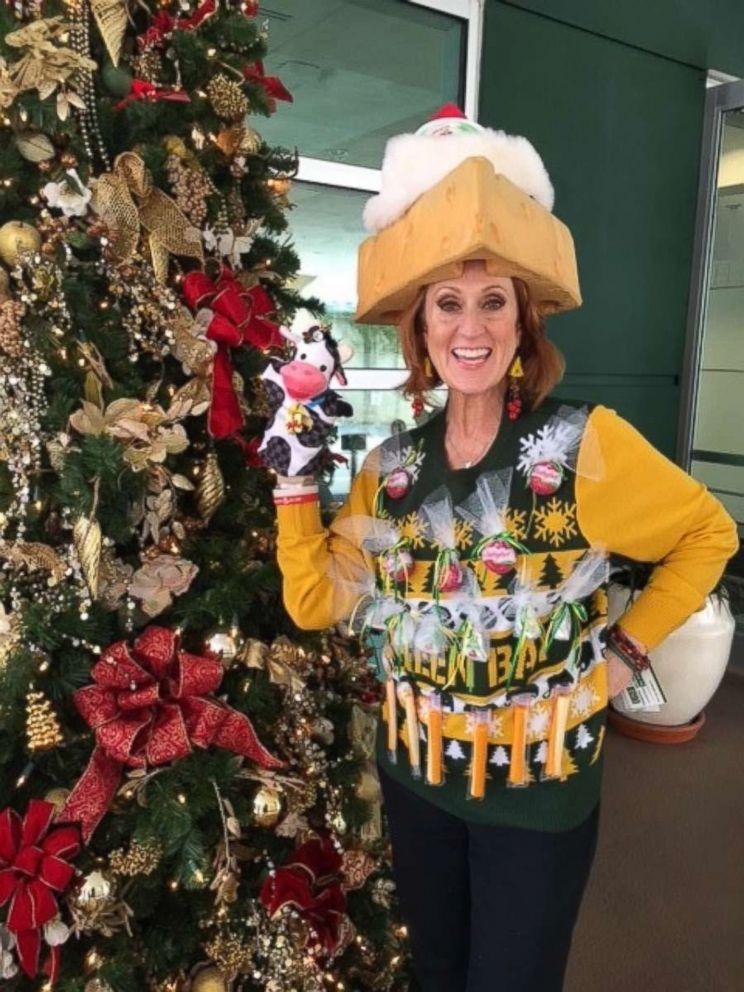 Sandra Nelson or Tampa, Florida, said she is "a true cheesehead from Wisconsin" and created the sweater to prove it.
"Can you say 'cheesy' Christmas?" Nelson wrote. "I'm a true cheesehead from Wisconsin, living in Florida now. I had to show my Green Bay Packer spirit along with some good ole Wisconsin cheese added. By the end of the day, I had people eating off of my sweater."
Tati White of Delran, New Jersey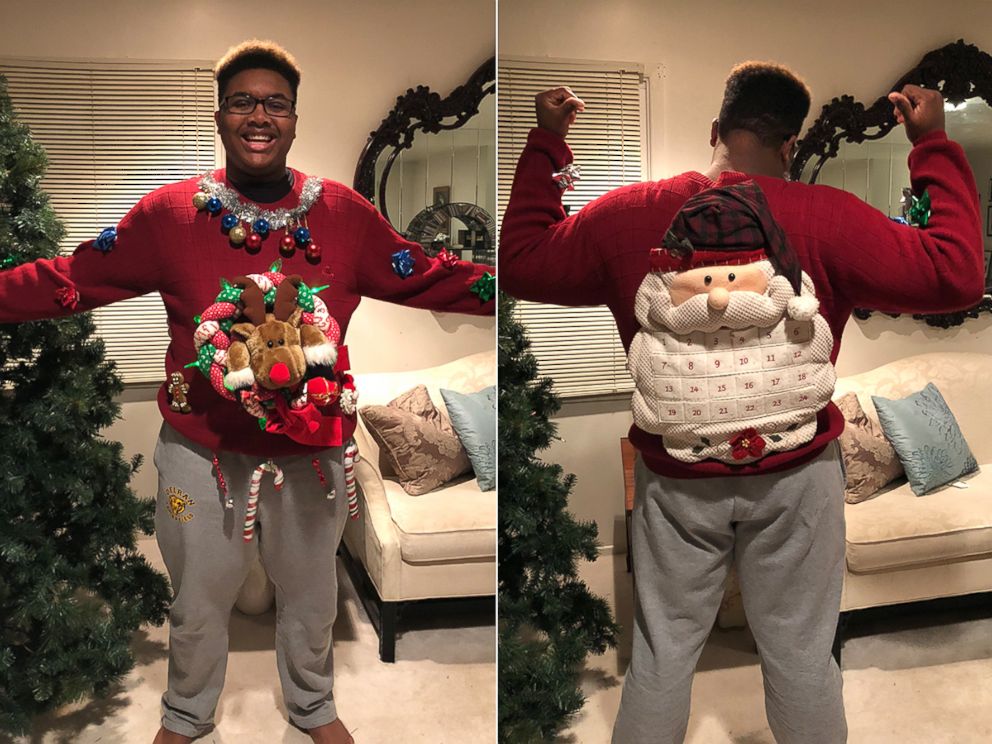 Tati White of Delran, New Jersey, said he has been rocking this ugly Christmas sweater since his mom made it for him in the eighth-grade.
"My mom made this sweater for me for an 'ugly Christmas sweater' contest," White said. "On the day of the contest, my grandmother had to take me to school and the car wouldn't start. I ended up being late to school and was unable to participate in the contest. However, when the principal saw me in the hallway, she said I would have won had I been on time. I've been wearing this sweater during the holidays ever since."
Roxann Gunn of New Castle, Pennsylvania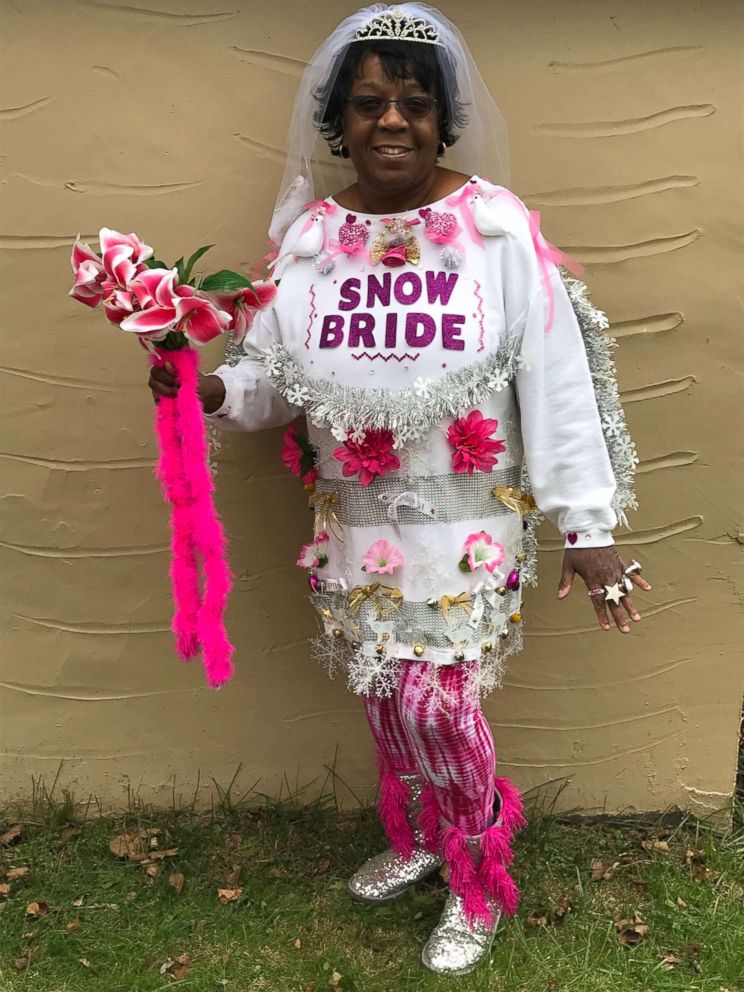 Roxann Gunn of New Castle, Pennsylvania, said her Snow Bride sweater is covered in flowers, a tiara, veil, a bouquet and lots of rings.
"I enjoy making ugly sweaters," Gunn said. "We have an annual ugly sweater day at work. I usually make extra sweaters for my co-workers. We spend the day laughing at each other!"
Noelle Olver of Waymart, Pennsylvania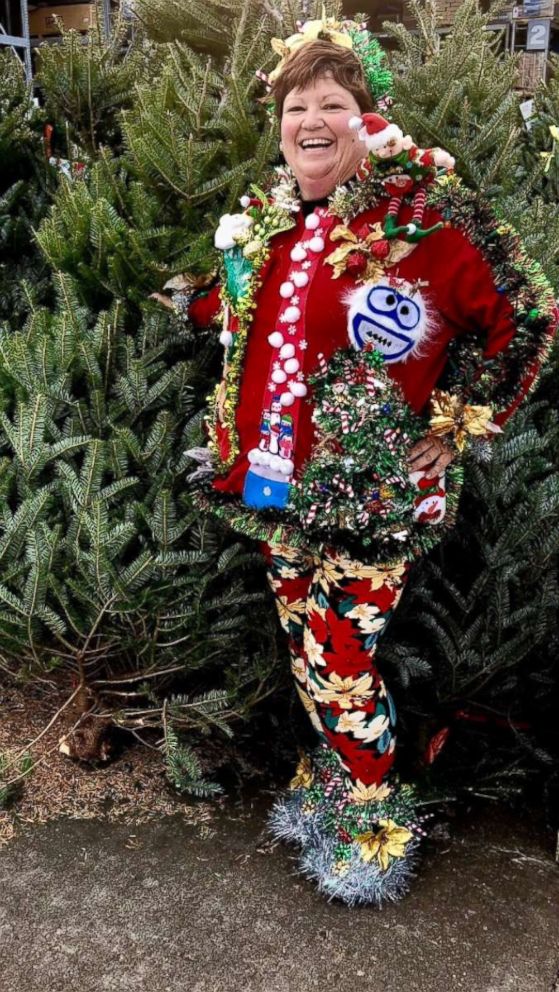 Noelle Olver of Waymart, Pennsylvania, said she loves "Rockin' Around the Christmas Tree" in her ugly holiday sweater.
Penny Cothran of Charlotte, North Carolina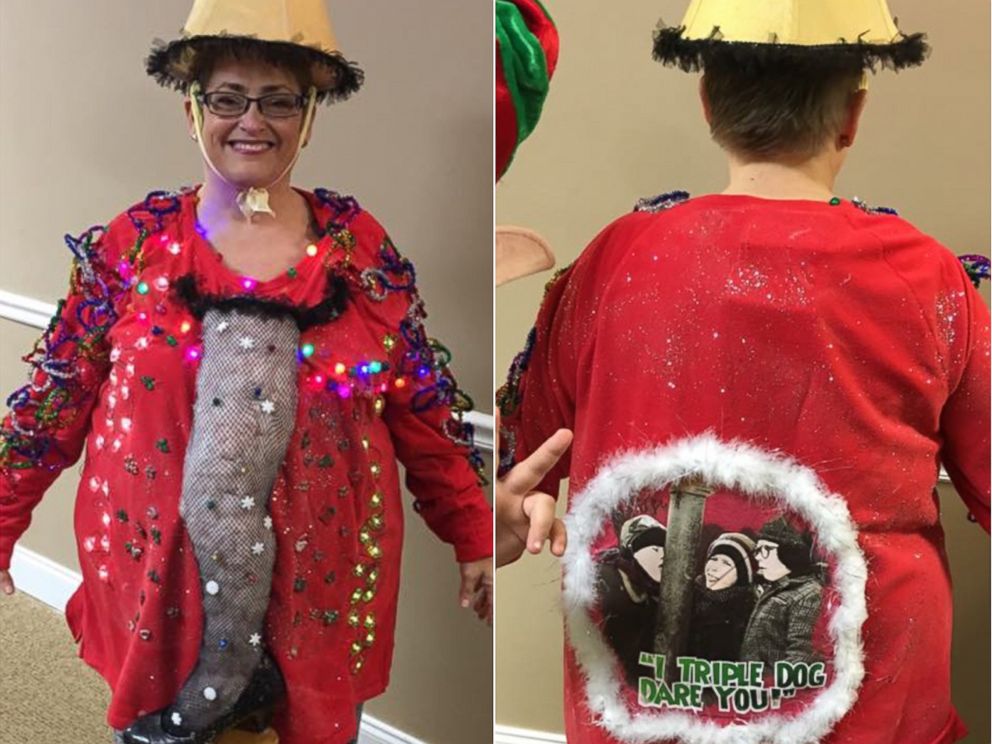 Penny Cothran of Charlotte, North Carolina, turned her sweater into "A Christmas Story" leg lamp.
"I had a blast making it! The shoe is actually my shoe!" Cothran wrote to ABC News.
Mary 'Merry Elf Elfson' Nelson of Austin, Minnesota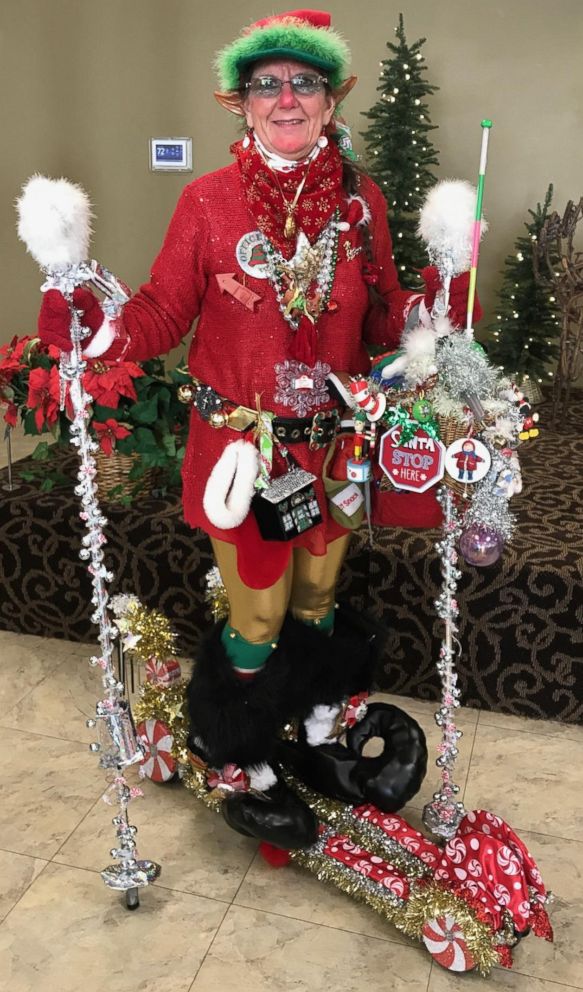 Mary Nelson of Austin, Minnesota, calls herself "Merry Elf Elfson," the unofficial No. 1 Elf from Elfville.
"I love watching 'GMA' while working in the elf shop," she wrote to ABC News. "Merry Elf Elfson dreams of elf skiing for 'GMA,' elf skating at Rockefeller Center, and seeing New York City! Santa, Mrs. Claus and all the reindeer send Christmas Wishes to 'GMA' and all the children while they get ready for Christmas Day."
Jwan McGregor of Chicago, Illinois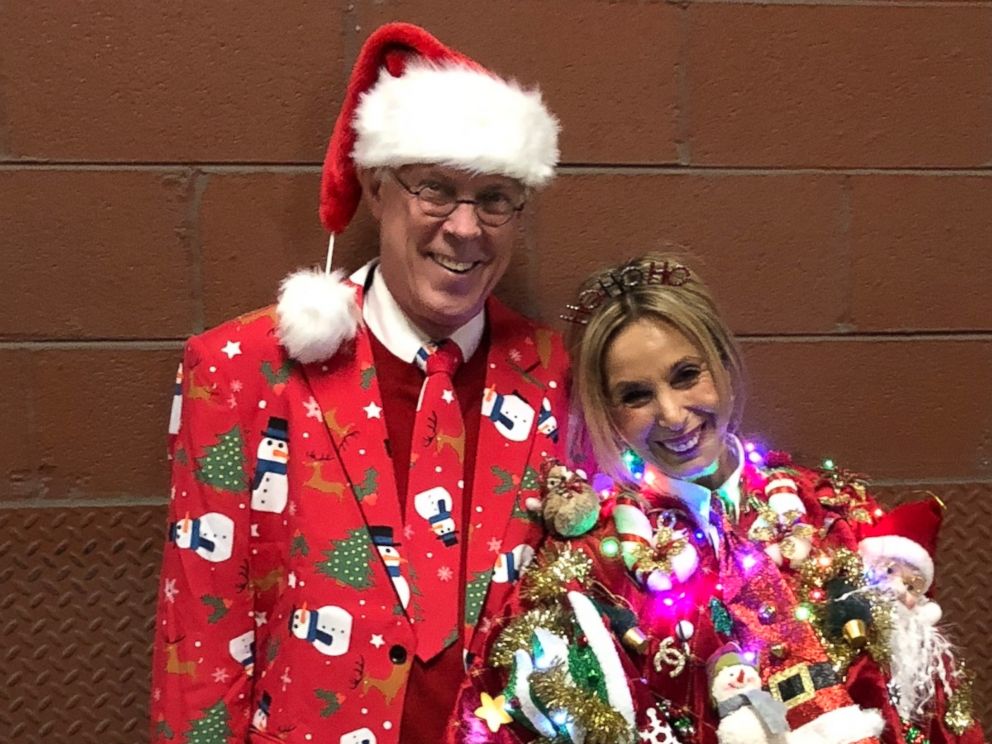 Jwan McGregor of Chicago, Illinois, said she sported her ugly holiday sweater out for a night on the town with her husband.