— -- The celebrity chef Gordon Ramsay appeared live on "Good Morning America" today to judge a battle of the burgers competition, offering his famously fiery feedback on two burger recipes prepared by "GMA" viewers.
The restaurateur and star of the upcoming show, "The F Word with Gordon Ramsay," also gave his own advice on how to grill the ultimate burger at home this summer.
"For me, the secret to a burger is in the blend," Ramsay told ABC News. "We've got chuck, we've got the most amazing ground beef, and a little bit of brisket."
Once the patties are prepped, "first things first -- season it," Ramsay said.
"Try and get this done the day before," the chef said of seasoning raw patties. "If you get this done the day before, set them in the fridge so they stay nice and firm -- that way they don't fall apart on the grill."
Ramsay also says to remember to season all sides of your patty, advising to, "roll the seasoning around the edge of the burger."
Before tossing them onto the grill, especially if you season the night before, Ramsay says to let the meat sit at room temperature for a little bit.
"Let the meats relax a little bit, don't take them out of the fridge ice cold, otherwise they will be dry on the outside and raw in the middle," the chef explains.
"Once you put a burger on the grill, the secret is to move it as less as possible," Ramsay told ABC News. "The more you move it, the more chance you've got of breaking the burger."
Next, Ramsay adds that you should always remember to toast your buns to avoid sogginess.
"There is nothing worse than a soggy bun," the chef said. "I'm a firm believer in toasting both sides of my bun."
Ramsay's last secret for a perfect burger is to lightly brush both sides of the burger with butter while they are on the grill, saying this is what "makes the burgers so tasty."
"If you want to become even more chef-y," Ramsay said, "Make it a red wine butter, a chipotle butter...it is up to you to sort of make it your own."
As far as toppings, he recommends adding cheese, tomato, lettuce, a bit of mustard, mayonnaise and grilled onions between your buns. Ramsay says to add the cheese to the top of the burger 30 seconds before they come off the grill.
The 'GMA' battle of the burger viewer recipes:
Two "GMA" viewers competed in a live burger battle from Times Square, with Ramsay as their judge.
Meshach Cisero, 27, from Washington, D.C., made Ramsay his recipe for a double-stacked bison and chorizo burger. Cisero said he chose bison because it is a lean meat, to which Ramsey replied, "You don't want to get lean eating a burger. You want to get fat, right?"
Maura Hohman, 25, of New York, prepared her unique pork adobo burger recipe for the celebrity chef. Hohman said the secret to her Filipino-inspired burger is grinding bacon into the patty to get a juicier flavor.
Ramsay said the goat cheese added a "richness" to the burger and praised the burger as "delicious."
In the end, Ramsay awarded the battle of the burger trophy to Hohman.
Maura Hohman's Pork Adobo Burger Recipe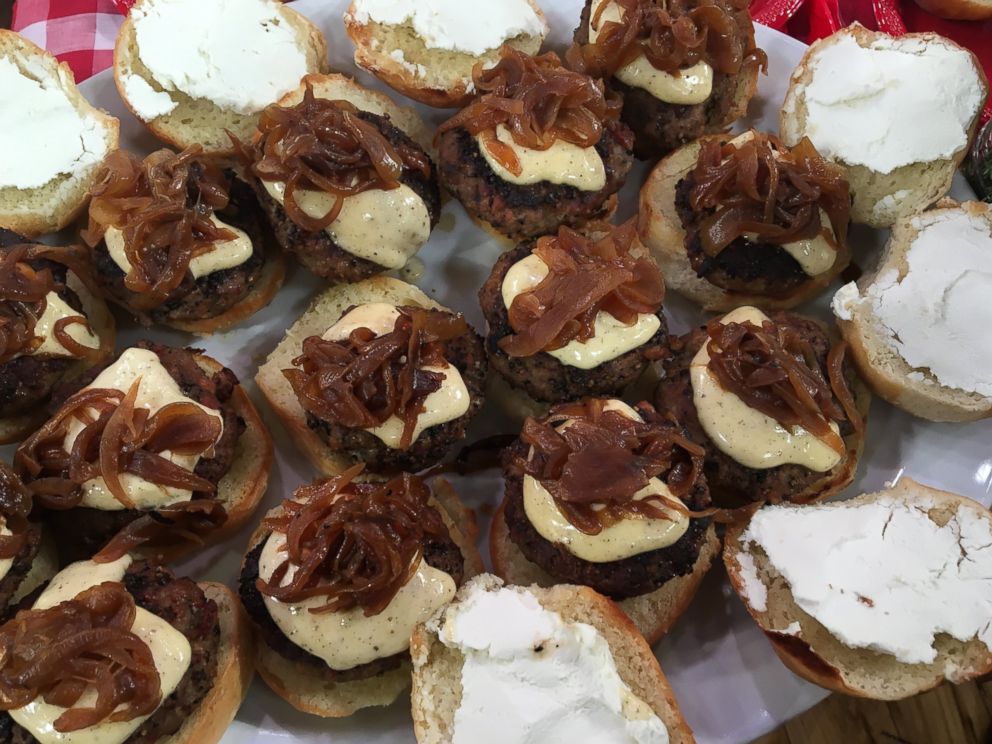 Ingredients:
1 lb Ground pork
.5 lbs Bacon
2 cloves Garlic
2-3 tablespoons Soy sauce
1-2 tablespoons Red wine vinegar
Whole peppercorns (with pepper grinder)
Pinch of salt
Butter or cooking oil (for cooking)
3/4 teaspoon Crushed bay leaves or dried thyme
1 large onion (for topping)
1 brick Goat cheese (for topping)
1 package Hawaiian rolls
Instructions:
Grind bacon and garlic in blender until coarsely ground. Combine pork, soy sauce, vinegar, freshly cracked pepper, bay leaves and salt in bowl.
Add garlic and bacon mixture. Combine into patties. Add light crust of ground pepper corn around the outside of patty. Cook on grill or stove with cooking oil or butter.
Caramelize the onions, toast the pandesal.
Spread the goat cheese on the pandesal, add the patty and top with onions.
Meshach Cisero's Bison and Chorizo Double Stacked Burger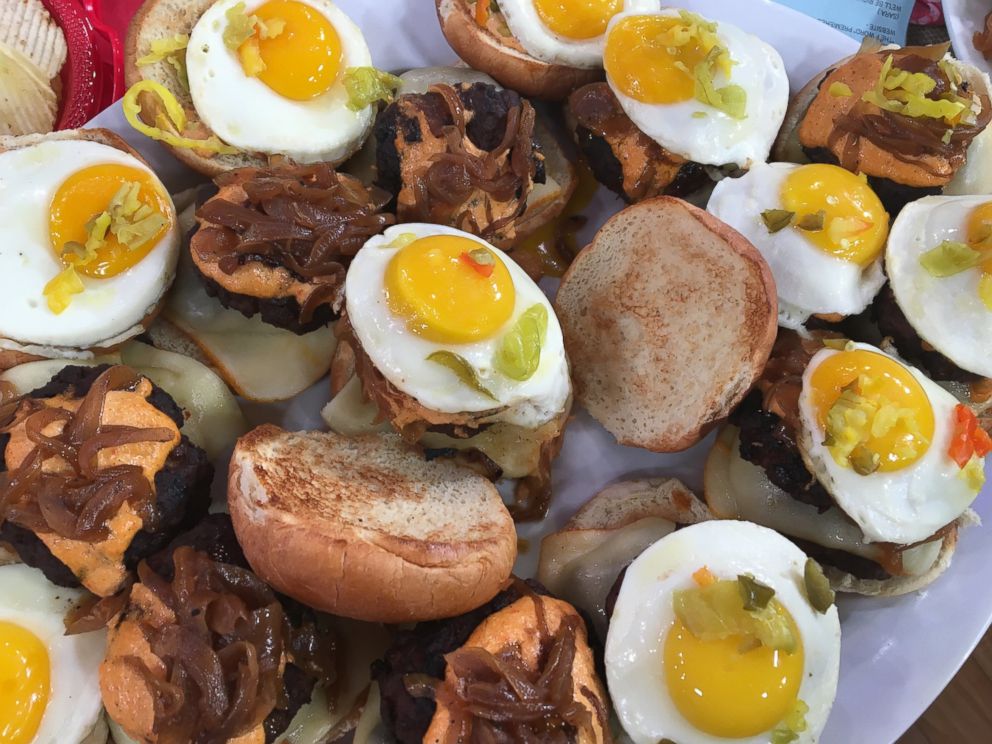 Ingredients:
1/2 lb ground bison
1/2 lb chorizo sausage
1 tablespoon vegetable oil
1 small onion, chopped
1 roasted red pepper, quartered
1 cup ranch dressing
1 teaspoon of cumin
1 teaspoon smoked paprika
1 tablespoon vegetable oil
3 medium onions, sliced
1 teaspoon brown sugar
salt and pepper
2 large Kaiser rolls
1 tablespoon warm butter
2 slices of Munster cheese
Pickled hot peppers
2 eggs
Instructions:
In a large bowl, mix together the cumin, ground bison and chorizo using your hands. Set aside to let the flavors blend. Heat one tablespoon of oil in a skillet over medium-high heat. Add one chopped onion, and sauté until tender.
Transfer the onion to a blender. Add the red pepper, Ranch dressing and paprika. Pulse until smooth.
Refrigerate until needed. Heat the remaining oil in a large skillet over medium heat. Add the remaining onions, brown sugar, salt and pepper. Cook and stir for about 15 minutes until the onions are golden brown. Set aside. Preheat the grill for high heat.
Form the meat into patties, slightly larger than the buns. Place burgers on the grill, and cook for five minutes per side, or until done to your liking.
Split buns in half, and spread butter on the inside. Place on the grill to toast briefly. Set aside.
Lightly fry two eggs (salt and pepper to taste).
Place burgers onto buns, eggs onto burgers and top with caramelized onion and the roasted pepper ranch sauce. Sprinkle with a few hot peppers, and place the top of the bun on top.
Serve with chips or fries.